DIGITAL APRON. We see a future in which the Internet of Things (IoT) and a higher software maturity create smarter, automated and tightly integrated airport processes and systems.  Increased operational efficiency helps eliminate congestion and flight delays to deliver a better passenger experience. Our Digital Apron Solutions including SafeControl Apron Management, Safedock A-VDGS, Analytics Tools and AS-Vision, support airport and airline transformation and digitalization strategies from approach to departure.
Optimizing gate operations with safer, faster and more predictable aircraft turns
To improve efficiency at airports, we need a more integrated approach. Currently, at many airports, stakeholders concentrate on their own role without realizing the effect their actions can have on the chain of events. This can lead to delays – there is no point in making best use of available runway space if aircraft are stuck at the apron. The apron is key to making everything work smoothly together and is the ideal place to interconnect landside with airside.
By connecting an Advanced Visual Docking Guidance System ( A-VDGS) to an Apron Management System, airports and airlines will maximize safety and efficiency through integration, data sharing and customized control and monitoring of the systems, equipment and processes on the apron. Vital information is shared in support of A-CDM, increasing situational awareness and allowing the right decisions or corrective actions to be taken to ensure smooth and safe operations.
Real-time control and monitoring
ADB SAFEGATE´s SafeControl Apron Management uses Safedock A-VDGS as intelligent sensors to collect and distribute real-time gate intelligence between airport, airline and air traffic control systems.
SafeControl Apron Management is a web-based and mobile-friendly system that offers centralized management with user-based views. The system is used to configure adjacent gate rules to ensure aircraft/gate compatibility and to automatically initiate the A-VDGS process. SafeControl Apron Management provides constant monitoring of the A-VDGS and connected systems, allowing ground personnel to know the precise status of gate equipment. Ground staff also receive alerts to potential issues before an aircraft arrives so that delays can be avoided.
Ramp Information Display System (RIDS)
When a Safedock A-VDGS is not actively docking an aircraft, it can receive information from SafeControl Apron Management and display critical arrival or departure information for pilots and ground crew. Information is sent to the Safedock display via an automatic feed from a connected system or as free text entered from a SafeControl Apron Management workstation. It is also possible to show the status of connected GSE on the RIDS display.
Digital Apron
On the Digital Apron all stakeholders must collaborate very closely – only by close collaboration, aided by integrated systems, can the Digital Apron become a key element in airport and airline strategy to drive efficiency.
ADB SAFEGATE´s Digital Apron builds on our experience as the market leader in aircraft docking and apron management solutions, our landside systems such as AODB, FIDS, baggage handling and resource management, as well as our vast experience in the airfield ground lighting and tower domains. These domains and their systems will be perceived as one on the Digital Apron, and the system itself or autonomous equipment will perform many turnaround tasks. Stakeholder systems will work together to drive efficiency through four pillars:
The first pillar is awareness – making sure everyone on the apron has the information they need to do their job effectively. This is achieved by bringing together terminal, gate, tower and AGL systems to give everyone involved a complete, real time view of the current situation.
The second pillar is predictability – being able to predict what might happen to better cope with capacity constraints. We are improving the ability to predict through techniques such as Machine Learning and Artificial Intelligence.
Decision support is also vital – systems that help people make better decisions by suggesting courses of action to deal with new conditions. We are improving decision support by expanding our use of techniques such as data analytics for better insight.
We are also looking towards more automated and autonomous ramp operations. Advanced surveillance and detection solutions, like Safedock X, provide greatly improved safety around the apron, cutting human error. Clear, automated processes allow decisions to be quicker, giving better predictability, shorter turnaround times and clean energy.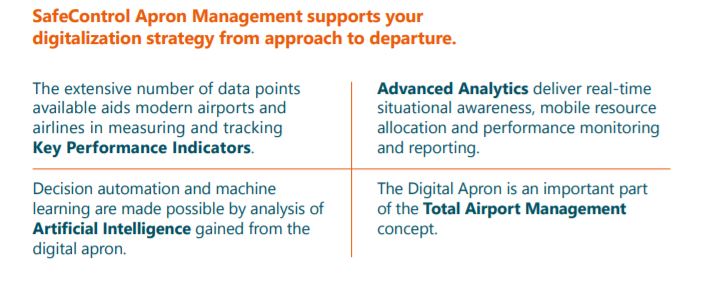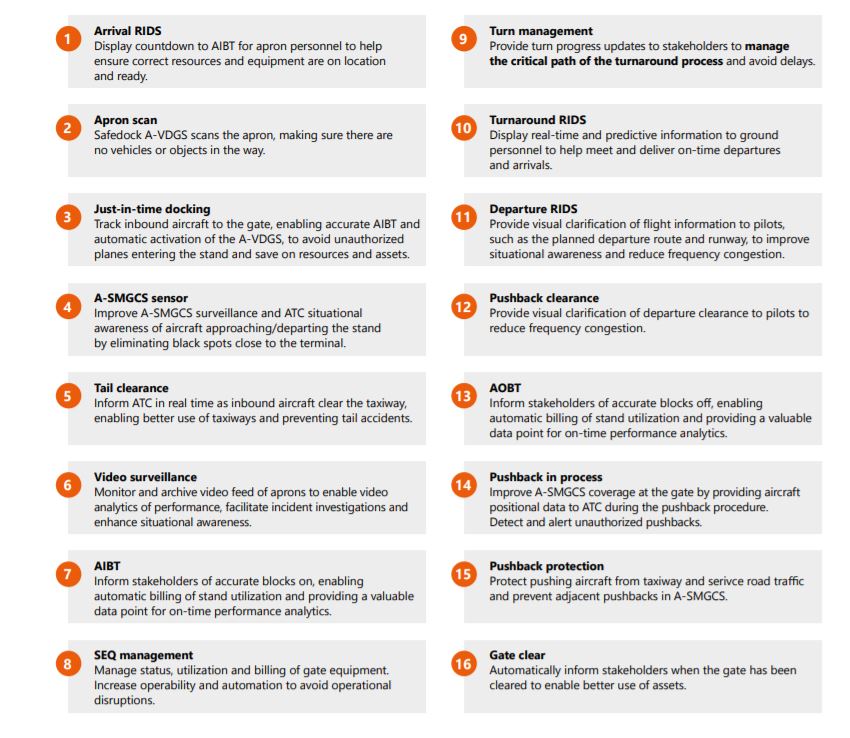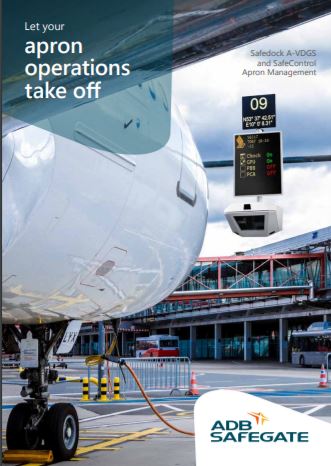 Find out more in our apron management brochure >>
ADB SAFEGATE is a leading provider of solutions that boost efficiency, improve safety and environmental sustainability, and reduce operational costs for airports and airlines worldwide. Its solutions tackle every aspect from approach to departure – airport traffic handling, airfield lighting, tower-based traffic control systems, gate and docking automation, services and advanced analytics – to increase airport performance. ADB SAFEGATE has more than 1,000 employees in more than 20 countries and operates in more than 175 countries, serving more than 2,500 airports.