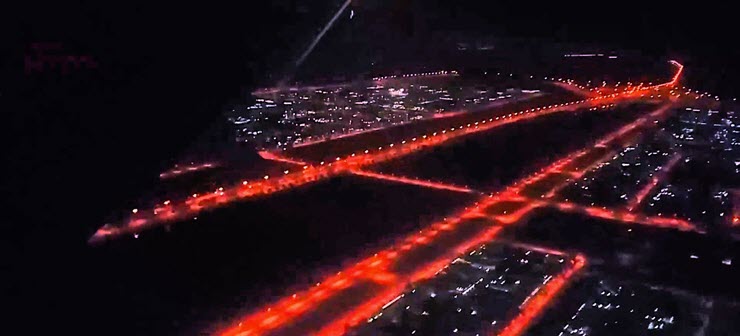 Abu Dhabi International Airport is undertaking one of its most ambitious expansion projects, where ADB Group has been selected as the main contractor. This partnership will enable the airport to be innovative, dynamic and improve traveler experience while maintaining world-class standards of airside safety and compliance at its existing terminals to create additional capacity for traffic growth. Using ADB's SmartExpansion Path* methodology, the airfield will be redesigned after a survey of the existing airside infrastructure. ADB will also optimize the airport's AGL infrastructure including lighting, power, control, and surface guidance systems.
Multi-year framework agreement covers design, construction, operation and maintenance of airfield lighting systems works and service
"At Abu Dhabi International Airport we are constantly setting new benchmarks in delivering a world-class traveler experience and a state-of-the-art airfield with faster turnaround, while remaining committed to safety," said His Excellency Engineer Mohamed Mubarak Al Mazrouei, CEO, Abu Dhabi Airports. "As our passenger figures rise to record numbers and Etihad Airways' growth continues, we are creating cutting-edge airport infrastructure to accommodate this expansion. With our Midfield Terminal Complex set to open in 2017, Abu Dhabi International Airport will be able to handle 45 million passengers per year, positioning it as a global aviation hub and moving Abu Dhabi Airports closer towards its vision of becoming the world's leading airports group."
ADB will set up its regional headquarters and locate its experts and operational competencies at Abu Dhabi to support ADAC and the Middle East region, one of the world's fastest growing aviation markets. More than 70 personnel across key functions and levels – from project and service management, system engineers and maintenance technicians, to health and safety management will be based at this office and will also support the needs of the Middle East, one of the world's fastest growing aviation markets. In addition, this Center of Excellence will incorporate a Spare Parts Warehouse to allow for fast intervention in Abu Dhabi Airports and the Middle East region.
The scope of the agreement between ADAC and ADB covers three phases: (1) extensive airfield survey of air navigation and visual aids, consult with the airport operations and management on how to re-use or improve the setup (2) design and upgrade of the AGL, control and monitoring, communication systems and integration of a solution to automate ground movement (3) maintenance services. ADB will also ensure the infrastructure of the airport's upcoming midfield terminal is integrated in this expansion.
The airport is tackling its operational challenges in a holistic manner with specific ADB solutions. These include its latest AGL and related systems to improve visual guidance, runway availability and safety, operational flexibility and capacity. ADB will install its AGLAS airfield light control and monitoring system, and integrate an A-SMGCS Level 2 and Level 4 system for smoother ground movement. The system will support air traffic control and pilots in low visibility conditions and improve airfield safety.
"Abu Dhabi Airports is taking a visionary approach to strengthen its position as a key global aviation hub, and we're happy to support their ambitions with our SmartExpansion Path methodology," said Christian Onselaere, CEO, ADB Group. "We will steer the project in collaboration with our partners and support the complete survey-design-build-maintain lifecycle."