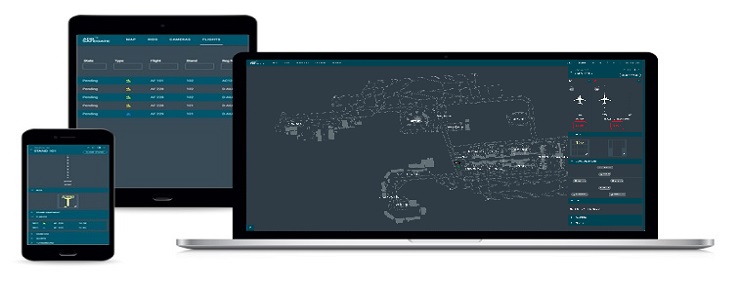 ADB SAFEGATE continues the transformation of our SafeControl Apron Management (SAM) solution from a stand/gate centric system towards a complete apron management support platform. The latest release provides traffic situational awareness to apron controllers and airport operations control centers for cooperative assets and provides a low-cost entry receiver with ADS-B as a data source.
By offering a full view of aircraft movements, SAM delivers a new level of situational awareness on the apron and airfield. Controllers and apron personnel benefit from early information on pending traffic to be managed at the gates, as well as a virtual view of taxiway and taxi lane traffic in real time. This enhances operational efficiency.
A more complete view of ground traffic, together with real-time updates on stand operations, equipment status and the turn progress, let operators make better decisions to mitigate disruption and enhance operational efficiency. Available from anywhere in the airport, SAM is a valued information resource to Airport Operations Control Centers.
SAM receives the tracks information through integration with the Advanced Surface Movement Guidance Control System (A-SMGCS), or alternatively, via ADB SAFEGATE´s ADS-B receivers which offer a low-cost option for airports without A-SMGCS.
To read more about SafeControl Apron Management please visit our product center.
ADB SAFEGATE is a leading provider of intelligent solutions that deliver superior airport performance from approach to departure. The company partners with airports and airlines to analyze their current setup and operations, identify bottlenecks, and jointly solve them using a consultative approach that enables airports to improve efficiency, enhance safety and environmental sustainability, and reduce operational costs. Our integrated portfolio includes solutions and services that harmonize airport performance, tackling every aspect of traffic handling and guidance, from approach, runway and taxiway lighting, to tower-based traffic control systems, and intelligent gate and docking automation. ADB SAFEGATE has more than 1200 employees in more than 20 countries and operates in more than 175 countries, serving more than 2,500 airports.