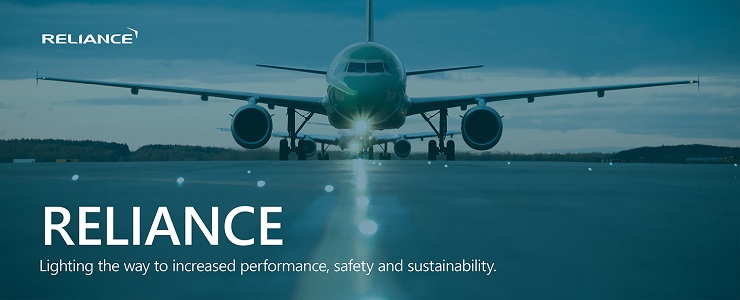 PRESS RELEASE. At inter airport Europe 2019, ADB SAFEGATE is showcasing RELIANCE, its intelligent airfield portfolio.  Redesigned to be fully compatible, highly modular and robust, the products work together seamlessly to boost airfield efficiency and safety, while reducing costs and environmental impact. Visit us at inter airport Europe 2019, at Booth 1320, Hall B5 to learn more about the RELIANCE intelligent airfield portfolio.
ADB SAFEGATE's RELIANCE takes airfield performance, safety and sustainability to the next level
New products within the brand include the RELIANCE omni lights, the RELIANCE LED sign and the industry's first Red/Green taxiway centerline light. The full portfolio features LED lights and LED signs, a transistor CCR, Airfield Lighting Control and Monitoring System (ALCMS) and Individual Light Control and Monitoring System (ILCMS). With rising air traffic and shorter windows to perform airfield maintenance, an airfield light is not just a light. It's part of an ecosystem of solutions enabling efficient and safe airport performance,
RELIANCE builds on our 70-plus years of AGL experience. We've cherry picked our very best solutions and combined them to create this portfolio. RELIANCE products are intelligent, future-ready, fully compatible, more robust, and easier to integrate and maintain. With the airfield operating smoothly, airports can focus on other aspects of their business, said Christian Onselaere, CEO, ADB SAFEGATE.
New products
(1) RELIANCE Red/Green taxiway centerline light: Based on the unique integrated intelligence (internal ILCMS remote technology), this light fixture can be used as a taxiway centerline light and a stop bar. By switching the light output from green to red, airports can now give pilots a clear indication to stop, eliminating the need for stop bar installations at taxiway intersections.
(2) RELIANCE LED omni directional lights: This product family caters to a range of applications that require omni directional lighting for e.g. taxiway edge and apron stand guidance. Since these are typically very exposed, and still subjected to the high loads present at an airfield, a unique protected prism design delivers the best possible protection.
(3) RELIANCE LED sign: This latest generation guidance sign is built to handle higher wind load requirements and harsh conditions, and is still one of the slimmest designs in the industry. A new mounting system ensures that mounting profile can be installed and aligned for a quick and easy setup.
RELIANCE's stand-out features and capabilities
Airports can expect better performance, safety and sustainability with these capabilities:
• modularity across mechanical, electrical, optical and software platforms that ensures sustainability and longevity, and simplifies installation and maintenance
• the capability to fully configure, and scale to meet every airport's current and future needs
• compatibility within the RELIANCE portfolio between LED lights, ILCMS, and CCR
• robustness which surpasses international standards and ensures products withstand the harshest conditions
• full system testing based on worst case scenarios for high reliability
• re-use of components for easier maintenance and spare parts management
• light calibration stored on LED boards ensures conformity of light output to the company's standard, year after year, spare part change after spare part change
Visit us and listen to the Reliance presentation live
Visit ADB SAFEGATE at inter airport Europe, at Booth 1320, Hall B5 to learn more about the RELIANCE intelligent airfield portfolio. During inter Airport, Andreas Wirandi will be giving his presentation  "RELIANCE AGL: for a safer & Intelligent airside"  at the Presentation Theater at the ADB SAFEGATE booth:
• Wednesday OCT 8 at 16:00
• Thursday OCT 9 at 13:00
Press releases
You can find the full press release "ADB SAFEGATE's RELIANCE takes airfield performance, safety and sustainability to the next level" on the ADB SAFEGATE web . You can also download the Press release as a PDF via the button below.  Under Press Releases in the About section you will find all Press Releases from ADB SAFEGATE.


ADB SAFEGATE is a leading provider of solutions that boost efficiency, improve safety and environmental sustainability and reduce operational costs for airports, airlines and ANSP's. The company works with customers to identify performance bottlenecks and jointly solve them through integrated solutions that improve airport and airline performance. These solutions address every aspect from approach to departure – airport traffic handling and guidance, airfield lighting, tower-based traffic control systems, intelligent gate and docking automation, services and advanced analytics. ADB SAFEGATE has more than 1,100 employees across 45 nationalities in 25 countries, and operates in more than 175 countries, serving more than 2,500 airports globally.