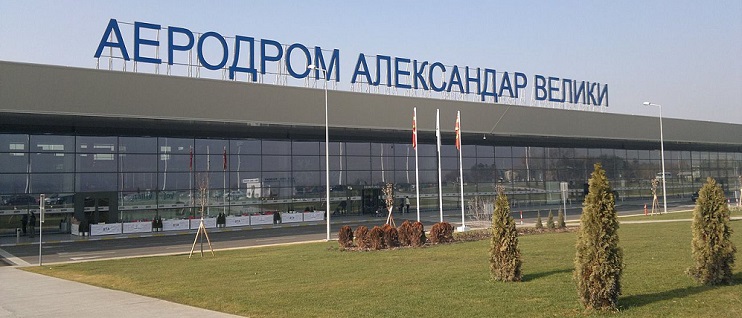 ADB SAFEGATE's turnkey project at Macedonia's Skopje Airport, one of the biggest international airports in the Balkans, demonstrates the significant improvements in reliability and safety offered by the company's latest generation airfield lighting control system (ALCS) and AGLAS, individual light control and monitoring systems (ILCMS).

Skopje Alexander the Great Airport is not only the biggest airport in the Republic of Macedonia, it is also the country's busiest international airport, serving nearly one million passengers annually. The Macedonian government has ambitious plans to develop Skopje into a major transit and cargo hub for Southeast Europe, and in line with this, the government entered into an agreement with TAV Airports in 2008 for the construction and management of Skopje Airport.
When the airport embarked on a major expansion drive in 2011, implementing state-of-the-art airport infrastructure to effectively manage future growth of air traffic was at the top of its agenda. Airfield safety was paramount and the airport also wanted to modernize its existing airfield lighting control system (ALCS), which was installed in 1999. After years of service, some key components, including electronics and information technology systems, of this ALCS were outdated, and lacked capabilities offered by newer systems.
A public tender was issued for the upgrade of most of the airfield lighting system, including the power system and the light control systems. ADB won the contract not just on the strength of a long-standing relationship with the airport, but for its capabilities and vast experience in delivering turnkey solutions.
Goran Jandreoski, Technical Manager at TAV Macedonia DOOEL, Skopje Alexander the Great Airport, confirms this:
ADB SAFEGATE's past projects with us have amply demonstrated its product and service quality, and more importantly its customer focus. We wanted a partner who could offer the latest generation of ALCS, and manage the complete upgrade in a smooth, cost-efficient manner. ADB has done exactly this and we will certainly welcome their participation in future projects.
In addition to upgrading the Airport lighting Control System (ALCS), ADB SAFEGATE has installed the latest version of its highly reliable and flexible AGLAS ILCMS. In order to guarantee constant operability and to comply with regulations, ADB has introduced redundancy on a number of existing communication channels to decrease the probability of failures.
The existing MCR current regulators are being upgraded from a single into a dual J-BUS system, while the fiber-optic link used for all airfield communications is closed to form a ring. This makes the system more redundant and decreases the probability of failures. Together, these changes considerably improve the safety, efficiency, flexibility and reliability of airfield operations.
Christian Onselaere, CEO, ADB SAFEGATE says,
Having worked with Skopje Airport over the years has given us good knowledge and understanding of the airport's installed systems. We have a strong partnership, and our team has collaborated closely with the airport representatives to ensure a speedy and high quality implementation.
ADB SAFEGATE is a leading provider of intelligent solutions that deliver superior airport performance from approach to departure. The company partners with airports and airlines to analyze their current setup and operations, identify bottlenecks, and jointly solve them using a consultative approach that enables airports to improve efficiency, enhance safety and environmental sustainability, and reduce operational costs. Our integrated portfolio includes solutions and services that harmonize airport performance, tackling every aspect of traffic handling and guidance, from approach, runway and taxiway lighting, to tower-based traffic control systems, and intelligent gate and docking automation. ADB SAFEGATE has more than 900 employees in more than 20 countries and operates in more than 175 countries, serving more than 2,000 airports.