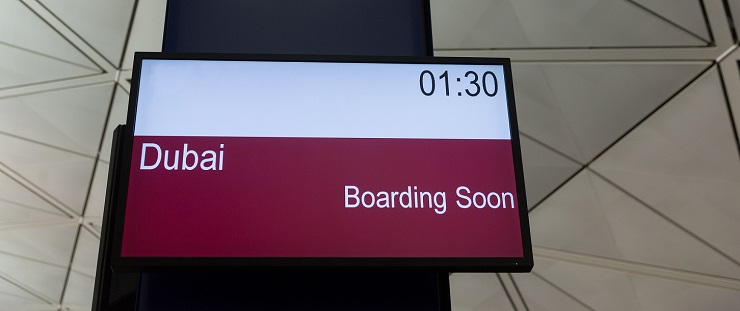 The Middle East is home to many world-class airports, making it a key global aviation hub. The  aviation market is forecast to grow by 5 percent and will see an extra 322 million passengers a year on routes to, from and within the region by 2036. A report by the International Air Transport Association (IATA) said the total market size will expand to 517 million passengers within 20 years. ADB SAFEGATE has rich experience in Middle East. Connect with our experts at Airport Show in Dubai, May 7-9 – Booth 6470.

As Middle East airports vie to become top international aviation hubs, they've embarked on some of the biggest and most ambitious development projects in recent times. That's why Integration makes sense. It's when all airport systems are harmonized and work together smoothly, like one unit.
We're powering mega development projects at leading regional airports. Our team of 250-plus specialists have the perfect combination of global know-how and local experience to support your airport's operational needs and improve airport performance from approach to departure. We have rich experience in Middle East with Hamad International Doha, Qatar and Abu Dhabi International Airport airports being shining examples of how we have delivered complex airport development projects.
Every airport is different…
… and that's why our experts use a consultative approach to understand your operational challenges, and deliver the right mix of innovative, cost-effective and integrated solutions to help your airport achieve safer, more efficient and environment-friendly aircraft movements.
Integrated airport solutions and services can help these airport hubs to keep pace with growth without facing capacity and performance issues. Our portfolio of world-class solutions for the Tower, Gate and Airfield deliver superior airport performance, from approach to departure:
Integrated tower systems optimize throughput and strengthen safety 
Advanced docking and apron management systems improve predictability and achieve faster time-to-gate 
Intelligent airfield lighting for safer and more efficient landing and take-off
Services from our Infinity range make your airport operational 24×7
Visit us at the Airport Show in Dubai, May 7-9 
 Demo of our integrated tower solutions, and docking systems connected to the tower setup
Presentations on Interactive Airport and our capabilities in Gate, Airfield and Services.
Connect with our experts at Booth 6470. Do more with what you already have

ADB SAFEGATE is a leading provider of intelligent solutions that deliver superior airport performance from approach to departure. We partner with airports and airlines to analyze their current structures and operations, and jointly identify and solve bottlenecks. Our consultative approach enables airports to improve efficiency, enhance safety and environmental sustainability, as well as reduce operational costs. Our portfolio includes solutions and services that harmonize airport performance, tackling every aspect of traffic handling and guidance, from approach, runway and taxiway lighting, to tower-based traffic control systems and intelligent gate and docking automation. ADB SAFEGATE has 1,000+ employees in more than 20 countries and serves some 2,500+ airports in more than 175 countries.