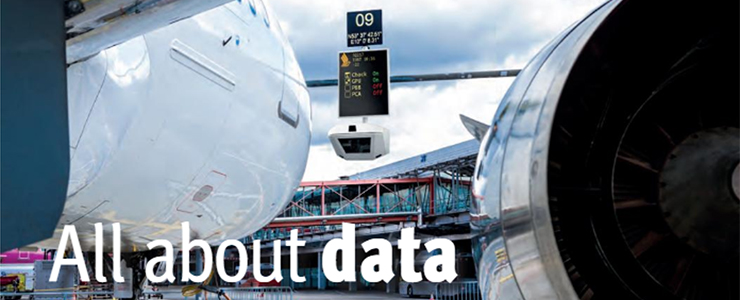 As part of a special report on information technology, Airport World, the official magazine of the Airports Council International (ACI), published an article written by ADB SAFEGATE's Thorben Burghardt on closing the data gaps to automate airport operations. The article looks at how data has become the new integration layer for applications of multiple vendors.
Closing the data gaps to automate airport operations is vital to efficiency post COVID, , writes Thorben Burghardt, ADB SAFEGATE's vice president for gate solutions.
The new oil of the 21st century is a well-known metaphor used to express the increasing value generated by data.
In a recent study, IDC and Qlik have taken it a step beyond by declaring the implications of data to be those of the new water. Many analogies can be made between data and water, such as the necessity for clarity and availability, and accessibility, without which viability is mitigated.
From data we derive information, often subsumed and simplified by the term Artificial Intelligence. Data has become the new integration layer for applications of multiple vendors.
Instead of deeply integrating (melting) heterogenous applications from different vendors, today's integration starts with the data layer.
For airports, concepts like Total Airport Management or a Digital Apron cannot be achieved without data of high-integrity and efficient means of omni-channel data sharing. The digital transformation to a data driven business is a bumpy road. How long this road actually is has become apparent during these COVID afflicted times where airport operations are preserved with minimal staff, revealing gaps between existing 'integrated' systems.
Closing gaps to automate the apron, for example, is vital to efficiency and a key challenge. This leads to changes in how, when and where decisions are taken.
To read the full article from Issue 6 of Airport World Magazine, click here.
ADB SAFEGATE provides integrated solutions that raise efficiency, improve safety, boost environmental sustainability and reduce operational costs for airports, airlines and ANSPs. The company works with airports and airlines to solve operational bottlenecks from approach to departure. Solutions encompass airfield lighting, tower-based traffic control systems, intelligent docking automation and services, as well as applying advanced IT and analytics to deliver industry-leading Total Airport Management. For more information about ADB SAFEGATE, please visit our website at adbsafegate.com