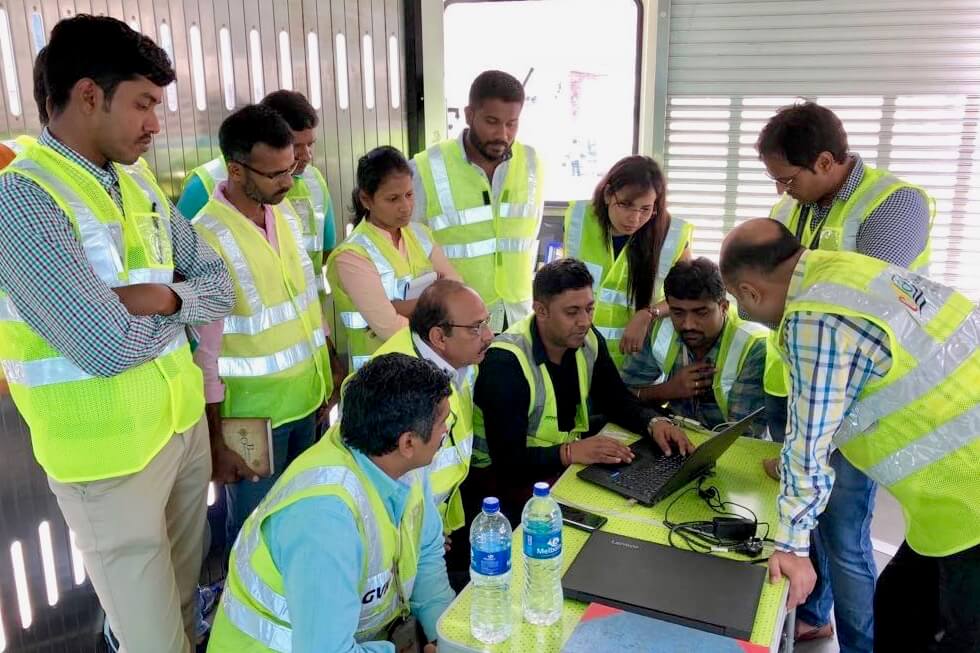 India's aviation sector has a lot going for it – favorable demographics, a rising middle class population, high disposable incomes, and rapid economic growth. In 2017, with 117 million domestic passengers and 17.31 percent year-on-year growth, India was ranked the world's fastest growing domestic travel market. The country is expected to become the world's third largest aviation market by 2026 and the largest by 2030.

Opportunities abound
Airlines, both private and public, are gearing up for a new future. In July 2017, the Union Cabinet of India formally approved the privatization of national airline Air India and five of its subsidiaries. As of December 2017, the existing fleet of aircraft stands at 548 aircraft, and another 920 aircraft are expected to be inducted into the fleet by 2025. India is estimated to see an investment of USD 25 billion in the next decade in the airports sector, and traffic growth of 13 percent, according to Morgan Stanley.
Air traffic is on the rise and this is creating challenges in terms of capacity and infrastructure constraints. In a recent interview, the Chairman of the Airports Authority of India (AAI) said the AAI plans to build 15 new terminal buildings in financial year 2019. While the larger airports have embarked on their modernization journey, the government's plans to boost regional connectivity means that 50 new airports will be set up over the next three years. The construction of 18 greenfield airports has already been approved, with an estimated investment of USD 4.66 billion. Of these, the noteworthy projects are Navi Mumbai in 2019-20 and NOIDA (near Delhi) in the next five to six years.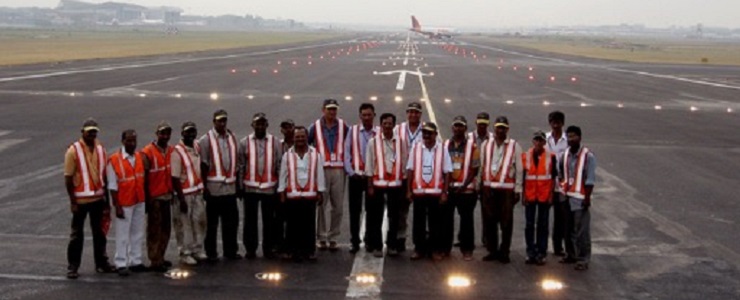 A strong presence
ADB SAFEGATE has been in India for nearly four decades now. Today, our brand commands an impressive presence in the country, with installations at all major private airports of New Delhi, Mumbai, Bangalore, Hyderabad, Cochin and Kannur, as well as numerous AAI airports such as Chennai, Kolkata, Amritsar and many others. We have the largest installation base for inset AGL lights in India and more than 370 Advanced Visual Docking Guidance Systems (A-VDGS) in operation.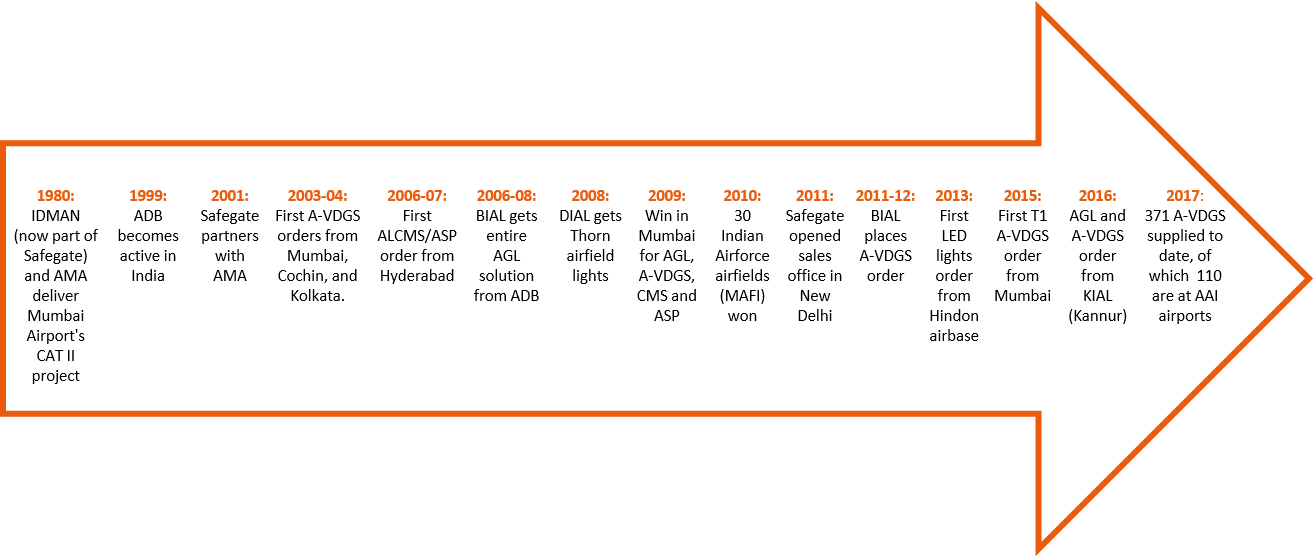 Powering India's airports
Hyderabad International Airport, which serves as a key hub for many airlines and saw more than 15 million passengers in 2016-17, now holds the distinction of placing India's first SafeLED IQ lighting order. A long-standing customer of ADB SAFEGATE, the airport already has our ALCMS, ILCMS, CCRS and A-VDGS, installed in 2008.
As a larger plan to be energy efficient, Hyderabad wanted to shift from halogen to LED for its airfield lights. When they explored various options available in the market they were convinced with our SafeLED IQ lighting solution. They chose ADB SAFEGATE's unique IQ technology for easy individual lamp monitoring and control. The fixture has very low protrusion, no negative slope and is optimized for easy handling. Plus, the airport does not have to invest separately on individual switching devices for each light which saves cost and enables easy integration with its existing ALCMS/ILCMS. As a result, ADB SAFEGATE has been awarded the order for the full replacement of taxi lights from halogen to SafeLED IQ.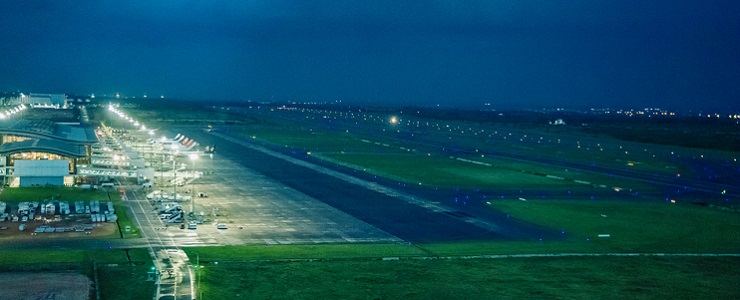 Our first LED fail-open AGL order comes from Delhi International Airport. As the primary hub serving India's national capital, the airport is Asia's 10th busiest in terms of passenger traffic. DIAL wants to migrate from halogen to LED in the apron area as part of an expansion project being undertaken at Terminal 1. We will supply 1180 SafeLED fail-open lights that will be integrated with the airport's existing ALCMS/ILCMS. ADB SAFEGATE won this order on the strength of its energy-efficient SafeLED lights with integrated fail-open technology. With this, the airport is looking to achieve energy efficiency. Also, because LED AGL has a longer life and is resilient in all weather conditions, it requires less maintenance and dramatically improves airfield availability, reducing costs associated with maintenance and shutdowns.
The coming year also looks exciting with DIAL planning to expand its Terminal 1 building, and work on a fourth new CAT III runway anticipated to start soon.
Partners in success
AMA Private Limited is ADB SAFEGATE's exclusive partner and distributor in India. Having worked with IDMAN (now part of the ADB SAFEGATE group) since the 1980s, it is a partnership that spans more than 40 years. AMA has a long and successful history in airfield lighting. Today, with 300 employees including engineers and technicians, AMA supports ADB SAFEGATE customers for AGL and A-VDGS installations and Level 1 and Level 2 after-sales maintenance for airports all over India.
AMA's team shares ADB SAFEGATE's passion for winning and is committed to providing strong support across sales, installation and services. The partnership has been instrumental in furthering the awareness and reach of our products and solutions in India.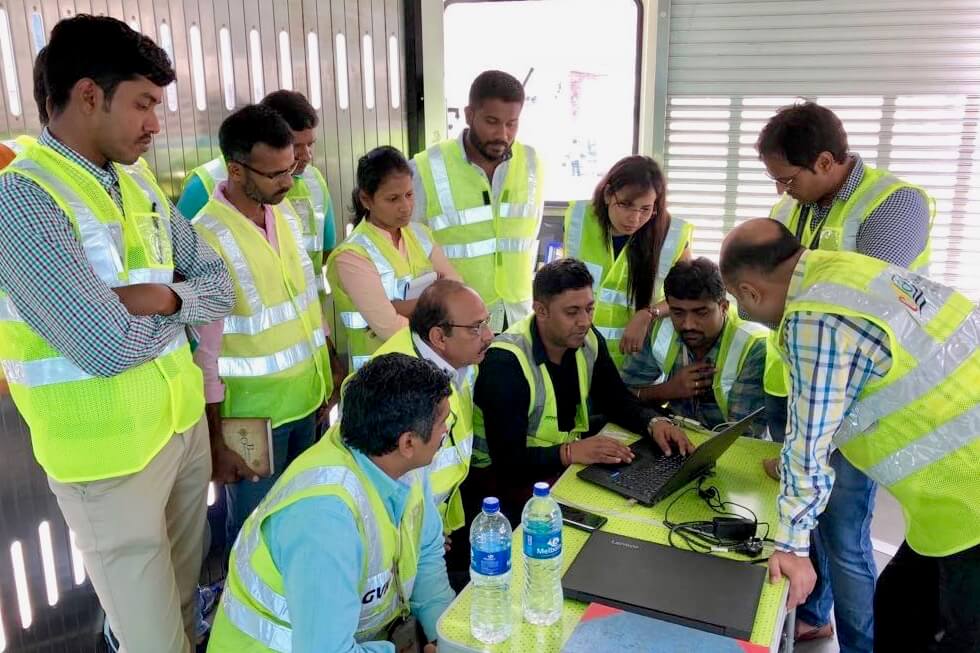 A bright future
Indian airports are looking for airport capacity and efficiency enhancement solution providers such as ADB SAFEGATE who can support them on their exciting journey. They need partners who go beyond the setup of products and equipment suppliers, and offer long-term support and partnerships.
ADB SAFEGATE is excited about the future, and looks forward to capitalizing on the vast opportunities in India. We are aggressive about our growth plans for the tower, and overall integration across the gate, tower and airfield to bring about huge improvements in airport performance. Additionally, our services business is another great opportunity with a strong focus on after sales support. Our team is currently strengthening both local and regional resources to tap into these great opportunities.
ADB SAFEGATE is a leading provider of intelligent solutions that deliver superior airport performance and operations, and jointly identify and solve bottlenecks. Our consultative approach enables airports to improve efficiency, enhance safety and environmental sustainability, as well as reduce operational costs. Our portfolio includes solutions and services that harmonize airport performance, tackling every aspect of traffic handling and guidance, from approach, runway and taxiway lighting, to tower-based traffic control systems and intelligent gate and docking automation. ADB SAFEGATE has 900+ employees in more than 20 countries and serves some 2,500+ airports in more than 175 countries.