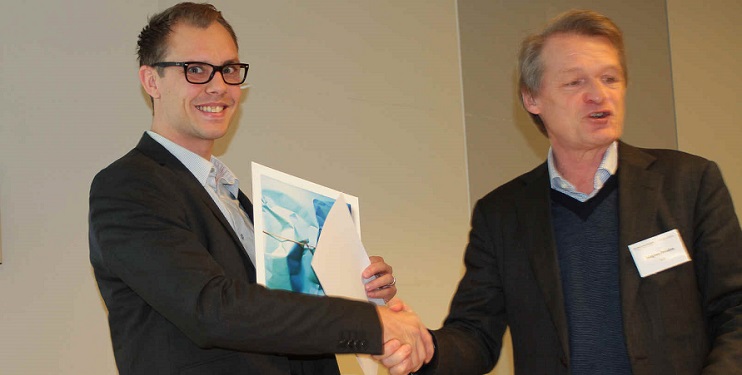 Last week at the Optics & Photonics conference, ADB SAFEGATE received Photonic Sweden's award for the Best Optics and Photonics Company, 2016. Alexander Strandberg, Product Engineering Manager at ADB SAFEGATE, had the honor of collecting the award.
Every year at the Optics & Photonics in Sweden conference the award for the Best Optics and Photonics Company  is presented to a Swedish company, successful within the field of photonics. The nominated companies are assessed on criteria such as growth, profitability, technical-scientific level, quality, marketing and public benefit.
This year, ADB SAFEGATE received the prize for having developed innovative solutions for docking of aircraft at the gates based on laser technology and for developing robust LED-based positioning lights for runways. The motivation for best Optic and Photonics Company of the year 2016 is:
"ADB SAFEGATE's innovative development of photonics solutions has contributed strongly to become the world leader in products and solutions for the safe and efficient navigation at airports. These solutions have resulted in a worldwide distribution of the company's products and given ADB SAFEGATE steady growth and good profitability. The company's products help to increase the safety of air traffic and its travellers as well as to reduce energy consumption at airports."
Alexander Strandberg, Product Engineering Manager at ADB SAFEGATE attended the ceremony to collect the award:
"We are honored to receive this award. It is a testimony to all the hard work our team has put into developing our products the past years. The solutions we provide are the result of extensive research, careful design over many years, and also based on experiences from our large number of installations and partnerships with airports around the world. So this prize is a commendation both to my R&D colleagues and the airports we have been working with for many years," said Alexander.
"What will the award mean for the future development?" Alexander thinks for a second and continues with a smile: "This prize has already opened up new opportunities for collaboration with companies and research institutes within the photonics industry."
Last year's winner for the Best Optics and Photonics Company 2015 was the Swedish-founded company Axis Communication.
PhotonicSweden, founded in 2011, is working to increase the collaboration between photonics industry, academia and institutes. The aim of PhotonicSweden is to become the voice of the Swedish Photonics industry towards the public, the government and foreign organisations.
 ADB SAFEGATE is a leading provider of intelligent solutions that deliver superior airport performance from approach to departure. The company partners with airports and airlines to analyze their current setup and operations, identify bottlenecks, and jointly solve them using a consultative approach that enables airports to improve efficiency, enhance safety and environmental sustainability, and reduce operational costs. The integrated portfolio includes solutions and services that harmonize airport performance, tackling every aspect of traffic handling and guidance, from approach, runway and taxiway lighting, to tower-based traffic control systems, and intelligent gate and docking automation. ADB SAFEGATE has more than 900 employees in more than 20 countries and operates in more than 175 countries, serving more than 2,000 airports.