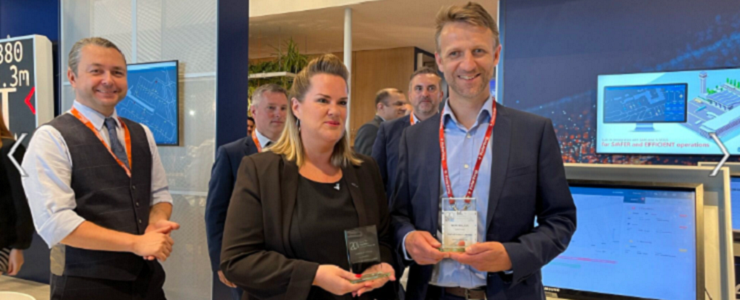 CELEBRATION. For 20 years ADB SAFEGATE have had the pleasure of providing airlines at London Heathrow (LHR) with innovative baggage management solutions (AS-TRAK). ADB SAFEGATE would like to thank the members of the airline community of LHR for their productive collaboration throughout this incredible journey as we look forward to many more mutually beneficial adventures.
Together we met the challenges of this ever growing mega airport
Key to the success of the operation at LHR has been ADB SAFEGATE's ability to understand operationally critical airport/airline systems and to interface with these systems, which include:
Departure control systems using IATA 1745 standards
Handling and sortation systems including robotics
Bag message distribution system
Local airport message distribution systems (IB/ESB)
Flight Information Display Systems & airport operational databases
Common use check-in system
Boarding gate information
SITA WorldTracer
In 2019 alone, AS-TRAK handled approximately 33 million bags at LHR belonging to 85 airlines across all four operational terminals. During this journey, ADB SAFEGATE has provided the infrastructure to support 900 scanners operating across all baggage facilities including remote stands. Today, 350 dedicated management workstations are deployed throughout LHR including browser-based connectivity for operational areas and back offices.

A special thank you to Mark Walker for visiting the ADB SAFEGATE booth at PTE in Paris to celebrate the moment. Thank you to all "colleagues" at London Heathrow for the support and we looking forward to continuing our collaboration.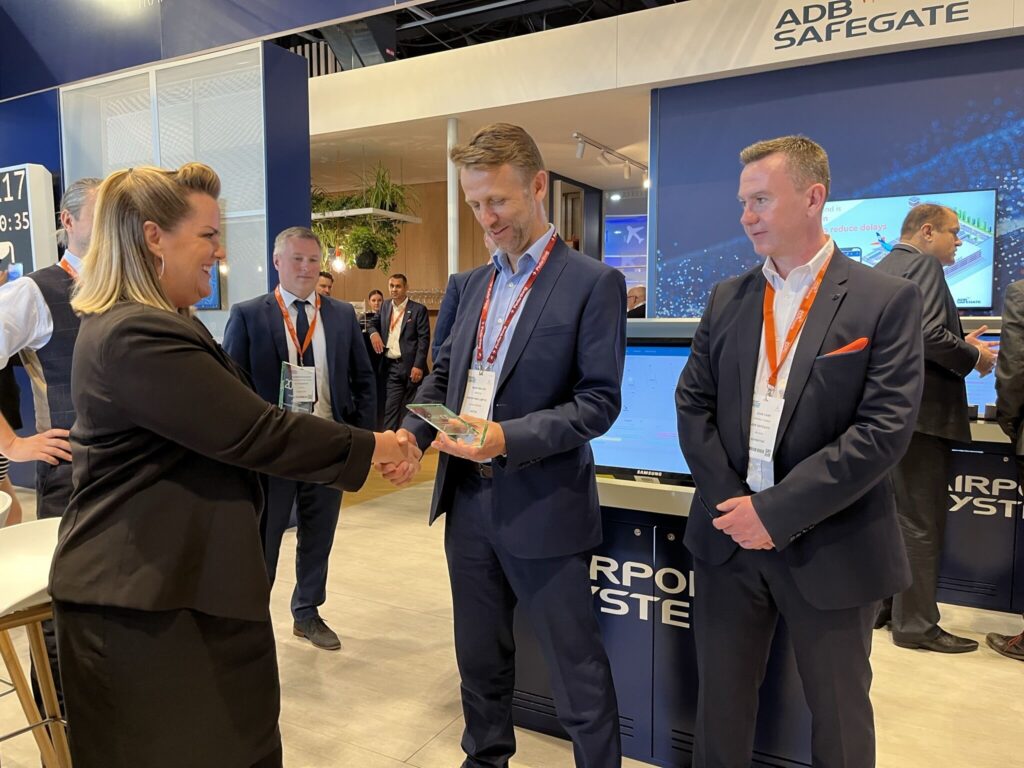 Looking for more information?
Visit the folder to read more about the 20 years of collaboration between London Heathrow and ADB SAFEGATE >>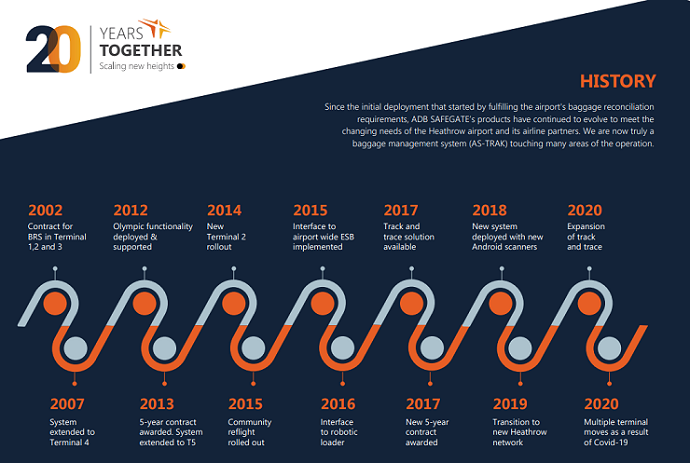 ADB SAFEGATE provides integrated solutions that raise efficiency, improve safety, boost environmental sustainability and reduce operational costs for airports, airlines and ANSPs. The company works with airports and airlines to solve operational bottlenecks, helping them navigate today's challenges and prepare for tomorrow. Solutions encompass airfield lighting, power and control systems, smart airport and tower software solutions, intelligent docking automation and aftermarket services. With more than 1,200 employees, ADB SAFEGATE serves more than 2,500 airports in more than 175 countries, from the busiest and largest like Atlanta, Beijing, Dubai, Heathrow, Charles De Gaulle, Frankfurt, Istanbul, New Delhi and Changi to fast-growing airports across Asia and Africa.