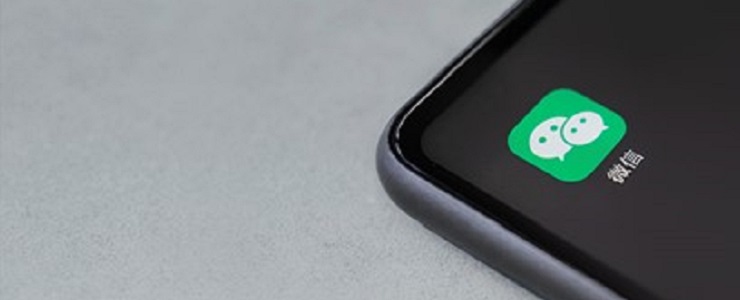 CHINA. Social media has become an integral part of modern life, and ADB SAFEGATE recognizes its importance as a communication tool. With 1.29 billion active daily users, WeChat dominates the mobile software market in Chinese-speaking areas. In the meantime, about 80% of WeChat users read WeChat Official Account, which is our current channel of choice for official information distribution in China.
Our official "ADB SAFEGATE" WeChat account  was created 25 March 2022. After two months of operation, the account posted 21 articles and accumulated more than 500 followers, reaching a total of 15,000 reads.
Followers can learn about ADB SAFEGATE in all aspects from company profile and latest news to new product releases, etc.:
About us: History of ADB SAFEGATE, core values, product introduction and local reference list, etc.
News & blog: Application cases of ADB SAFEGATE products in Chinese airports and around the world.
Contact us: Domestic contact information and overseas links, as well as recruitment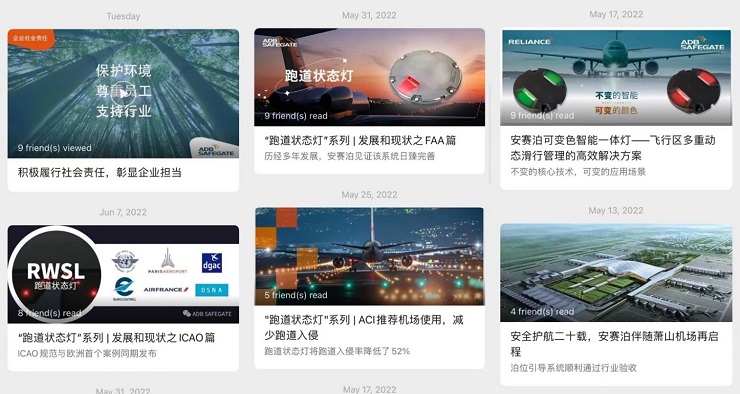 The "ADB SAFEGATE" account helps our customers with corporate news and product information in Chinese, bringing ADB SAFEGATE closer to the local market. We have printed the WeChat Official Account QR code on the back of our business card as a corporate image display. For exhibitions, offline events and seminars, not only do readers learn about news from our WeChat Official Account, but participants can register onsite by scanning the QR code to get product brochures in Chinese with a single click. In addition, online events and questionnaires are also available on our WeChat.

Articles posted on our WeChat can be reproduced by other media so that readers can follow our official account accordingly. Through online interactions, customers will have a clearer and more detailed perception of ADB SAFEGATE.
For customers who speak Chinese, WeChat provides easier access to ADB SAFEGATE with greater convenience. In the future, this Official Account will serve more potential customers and provide a richer experience.
"Today our dreams come true. The launch of our WeChat Official Account triggered very positive feedback from the market and attracts key followers such as the designers, airports experts, and our competitors. This was a critical step for our region, given the language barriers for Chinese customers and the access restrictions of some medial platforms in China. We are leading the market not only with our technologies and products, but also by the quality of our marketing platform." Peng GUAN, VP CHINA, ADB SAFEGATE

ADB SAFEGATE provides integrated solutions that raise efficiency, improve safety, boost environmental sustainability and reduce operational costs for airports, airlines and ANSPs. The company works with airports and airlines to solve operational bottlenecks, helping them navigate today's challenges and prepare for tomorrow. Solutions encompass airfield lighting, power and control systems, smart airport and tower software solutions, intelligent docking automation and aftermarket services. With more than 1,200 employees, ADB SAFEGATE serves more than 2,500 airports in more than 175 countries, from the busiest and largest like Atlanta, Beijing, Dubai, Heathrow, Charles De Gaulle, Frankfurt, Istanbul, New Delhi and Changi to fast-growing airports across Asia and Africa.