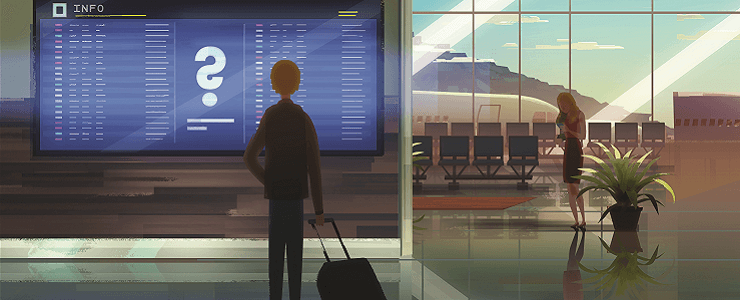 Air travel has transformed the way the world sees distance. Moving halfway round the globe often takes only a day. But airport congestion still brings more inconvenience than it should.  Most aircraft journeys are smooth and seamless affairs. But transfer stops are still the bane of all long distance journeys. At best, the long distance passenger will wait an hour or so at a key hub airport. But if there are any delays at all on the schedule, the trip can become a nightmare. And probably the main culprit for delays is airport congestion.
According to IATA's Director General and CEO Alexandre de Juniac, rising congestion is a key issue for the industry to address; one that needs to be "both smart and quick in growing airport and airspace capacity" to avoid what he called "an infrastructure crisis" of global proportions.
IATA asserts that inadequate infrastructure and congestion lead to unnecessary flight delays, the need for longer routes, and inefficient schedules. Further, it said that lost business opportunities, lost employment and lower social development also come indirectly from congestion. "Aviation is a critical catalyst for economic and social development," added de Juniac.
More worryingly, research by McKinsey suggests that congestion at one airport doesn't lead to more business at nearby alternatives, but can bring a regional downturn to other airports too. It cited a 2013 report by the UK Airports Commission that suggested failing to alleviate capacity constraints at key airports could cost nationwide users and providers of airport infrastructure some US$28 billion over the next 60 years. An Oxford Economics paper from 2015 suggested the average flight in the Middle East zone was delayed by a whopping 36 minutes, and ATC congestion issues would see the average delay increase to 59 minutes by 2025, it said, costing the region US$16.3 billion.
Although research on delays suggests that airline issues are still the biggest contributors to delays, airports themselves are still estimated to cause around 20% of all delays. Adverse weather conditions add some 13%, and security issues a further 4% to schedule slips. Which indicates that smart airport operators could potentially improve up to a quarter of all scheduling issues, especially if they worked hard on congestion relief.
Addressing Congestion Issues
One of the most important aspects of congestion relief for operators is a thorough assessment of the site's operations, looking at everything from approach to take-off, says ADB SAFEGATE´s CEO Christian Onselaere. He suggests a comprehensive look at infrastructure installations, training, tools, product check-ups, airside inspection and maintenance, spares and support, scheduling and potential future expansion paths.
"We work with an airport to explore its current situation and bottlenecks," he said. "Then we help plan a setup that efficiently meets the airport's growth ambitions, which could include looking at energy efficiency, capacity or costs."
Sectors that often offer scope for improvement include data-driven traffic management, airside audit and survey, lighting and power supply design, innovative working solutions and products, system integration, airport-specific project management, innovative training techniques, and proactive maintenance.
But urgent action on congestion is needed, said IATA's de Juniac. "I believe …that we are headed for a crisis. We need sufficient capacity to accommodate demand."
Taxi On Demand
At some airports, the impacts of weather and missed schedule slots by aircraft can mean a startlingly high 10-20% congestion time on difficult operating days. This can mean aircraft might have to wait on the apron or taxiway for up to half an hour; at Australia's Tullamarine airport, flights can see a near 30-minute taxi even without delays. With aircraft using up to one gallon of fuel a minute for delays, simply getting to takeoff becomes very expensive for the operator. And in certain cases, it can also result in fines for the airline.
So Massachusetts Institute of Technology (MIT) scientists are now working on ways to predict the optimum taxi time from gate to full-power brakes off. Using data mining optimisation, MIT has devised a program that decides if the aircraft stays longer at the gate, or taxis a different track – but either way more effectively, and with less scope for congestion.
As recently seen at Frankfurt Airport (Fraport), a double-whammy of labour issues and a Christmas peak of air cargo resulted in serious operational delays at the cargo terminal. "Interrupted network sessions severely hampered [workers] productivity," said a Fraport spokesperson. "As service vehicles moved among networks … drivers had to restart their applications and log back in all the time. We wanted their attention on [doing the job], not on authenticating." Fraport has now introduced a cross-network linking system that integrates and harmonises all communications across its airside operations – reducing potential airside congestion.
Singapore's Changi Airport Group (CAG) has likewise introduced a new Smart Apron closed loop wifi coverage for airside operations; this allows access and availability issues to be tracked in real time, lessening issues like waiting for fuelling, delayed cargo access, and re-provisioning holdups. The airport's initiative will cost US15 million and will include the introduction of 3,500 connected mobile devices across all operations.
CAG CEO Lee Seow Hiang said the new system would enhance operational efficiencies, and was based on close consultation with its partners to map out operational needs. "This will realise greater efficiencies in existing areas such as aircraft servicing, while enabling new capabilities [too]," he noted.
Related Reading:
ADB SAFEGATE is a leading provider of intelligent solutions that deliver superior airport performance and operations, and jointly identify and solve bottlenecks. Our consultative approach enables airports to improve efficiency, enhance safety and environmental sustainability, as well as reduce operational costs. Our portfolio includes solutions and services that harmonize airport performance, tackling every aspect of traffic handling and guidance, from approach, runway and taxiway lighting, to tower-based traffic control systems and intelligent gate and docking automation. ADB SAFEGATE has 900+ employees in more than 20 countries and serves some 2,500+ airports in more than 175 countries.