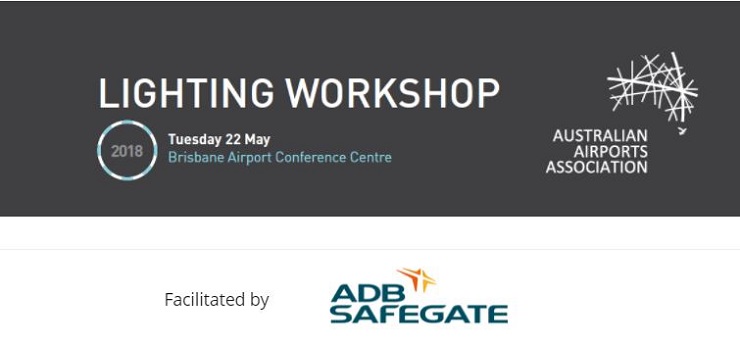 The Australian Airports Association (AAA) hosts a range of annual events for the airport industry to learn and discuss industry issues impacting their airports. A new event 2018 is the Lighting Workshop and at ADB SAFEGATE we are very proud to be the Facilitator for this May event.  The Airfield Lighting Workshop is a unique opportunity for those involved in all aspects of Airfield Ground Lighting to network, address AGL specific topics, and share and present new ideas and practices.

Airfield Ground Lighting (AGL) is the most critical visual aid system at an aerodrome, and nearly every airport depends on its safe and reliable operation. Yet it is arguably one of the most misunderstood, and most taken-for-granted, aspects of the Aviation industry. Given the niche nature of the AGL sector, it is exceedingly difficult to generate coherent conversations on key issues, challenges and developments across the breadth of the industry.
The best way to begin moving forward on many of these discussions is to have key people, from all backgrounds in AGL, in one room and with the opportunity to openly discuss the topics affecting our industry in front of our peers.
The AAA Lighting Workshop provides a rare opportunity for such a meeting. With that in mind, the Lighting Workshop aims to be delegate focused. The speakers and presentations have been chosen to inform, educate, and assist in guiding the conversation, and presentations will be complemented with time-slots dedicated to hearing from the wider audience.
Jimmy Maitland, General Manager at ADB SAFEGATE is facilitating the Lighting Workshop:
"We are proud to be the Lighting Workshop Facilitator for this event. That the industry body is prepared to organise and support such initiatives is fantastic, and I truly believe this workshop represents a big step towards the modernisation of the thinking, and practices, within the local Airfield Lighting sector.
 I would sincerely like to thank the AAA on behalf of not only ADB SAFEGATE, but also on behalf of the many people who I have talked to who are enthusiastic about this initiative. I look forward to seeing you on the day."
At the conclusion of the day, it is encouraged that delegates take the opportunity to continue the discussion at the Networking Drinks function at the IBIS Sky Lounge rooftop bar.
To read more about the Airport Conference, read the full program here.
Where & When

Brisbane Airport Conference Centre

Tuesday 22 May, 2018

Registration: 8:00, Opening: 8:45

Highlights

An open forum to allow delegates an opportunity to raise discussions
Best maintenance practices
Electrical safey systems in airfield lighting
industry presentations on new technologies
Complience with Standards
​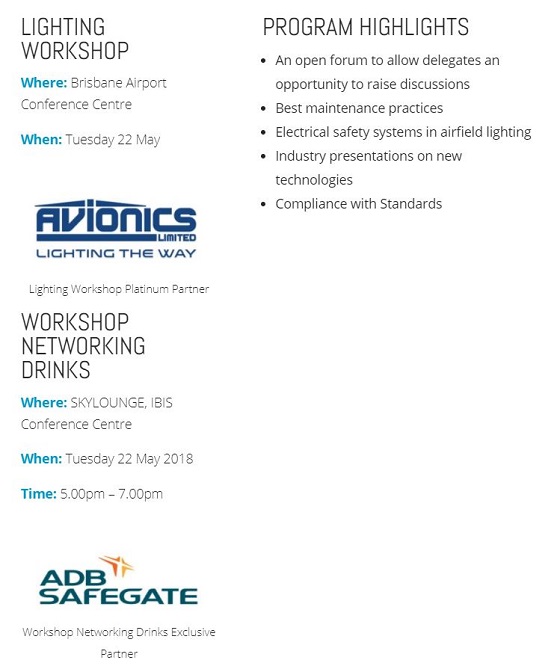 ADB SAFEGATE is a leading provider of intelligent solutions that deliver superior airport performance and operations, and jointly identify and solve bottlenecks. Our consultative approach enables airports to improve efficiency, enhance safety and environmental sustainability, as well as reduce operational costs. Our portfolio includes solutions and services that harmonize airport performance, tackling every aspect of traffic handling and guidance, from approach, runway and taxiway lighting, to tower-based traffic control systems and intelligent gate and docking automation. ADB SAFEGATE has 1,000+ employees in more than 20 countries and serves some 2,500+ airports in more than 175 countri