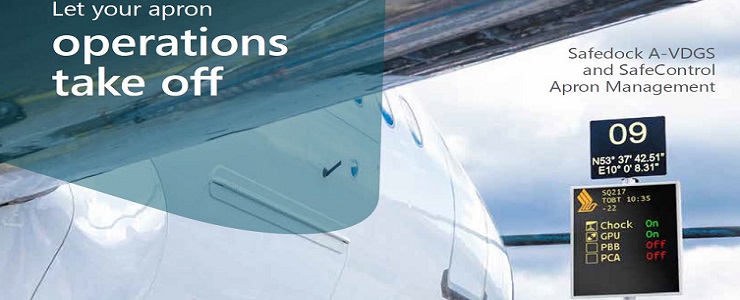 DIGITAL APRON. Safety on the ground is a top priority for airports and airlines. More than 27,000 ramp incidents and accidents happen each year according to IATA, but did you know that many of these could be prevented with an automated approach to parking aircraft? Safedock A-VDGS and SafeControl Apron Management provide safe and efficient docking at airports worldwide.
Optimizing gate operations with safer, faster and more predictable aircraft turns
Docking aircraft manually, particularly in bad weather, increases delays and the risk of accidents, but integrating Safedock Advanced Visual Docking Guidance Systems (A-VDGS) with other systems serving the apron area makes it possible to share critical data in support of airport collaborative decision making (A-CDM). Operators can manage in real-time to mitigate disruption and ensure a safe and efficient gate operation.
An automated approach to parking aircraft speeds up the docking process and improves safety by reducing the opportunity for error.  Our Safedock A-VDGS has become the global standard, enabling the world's busiest airports to handle more aircraft while maintaining a high level of safety. It uses an infrared laser and patented 3D scanning technique to provide active guidance to pilots to support safe, efficient and precise aircraft parking without marshallers.
The latest generation A-VDGS, the Safedock X, adds an advanced radar sensor to detect and dock aircraft in any weather condition, bringing safe, fully-automated docking closer to reality.  The system ensures aircraft/gate compatibility, verifies the position of the passenger boarding bridge (PBB) and scans the apron for vehicles or other obstacles in the way of arriving aircraft.
Together with SafeControl Apron Management, the Safedock A-VDGS is also used as a Ramp Information Display System (RIDS) to track the progress of the aircraft turn and share valuable
information with flight and ground crews, further streamlining and shortening the turnaround. A mobile operator panel acts like a turn manager, by tracking all activities of the aircraft turn and placing operational capacities and progress updates in the hands of operating staff.
Safedock A-VDGS and SafeControl Apron Management are part of ADB SAFEGATE's complete range of solutions for the gate, airfield and tower areas, designed to help airports and airlines secure performance today, and prepare for the traffic demands of tomorrow.
Docking with Safedock saves time and fuel, reduces CO2 emissions and lets ground crew focus on turning aircraft. See below the safety and efficiency enhancing procedures Safedock A-VDGS and SafeControl Apron Management can perform as an aircraft approaches the gate: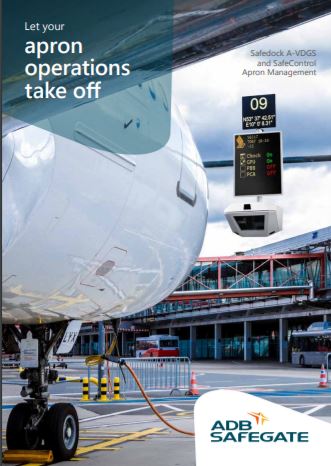 Find out more in our apron management brochure >>
ADB SAFEGATE is a leading provider of solutions that boost efficiency, improve safety and environmental sustainability, and reduce operational costs for airports and airlines worldwide. Its solutions tackle every aspect from approach to departure – airport traffic handling, airfield lighting, tower-based traffic control systems, gate and docking automation, services and advanced analytics – to increase airport performance. ADB SAFEGATE has more than 1,000 employees in more than 20 countries and operates in more than 175 countries, serving more than 2,500 airports.