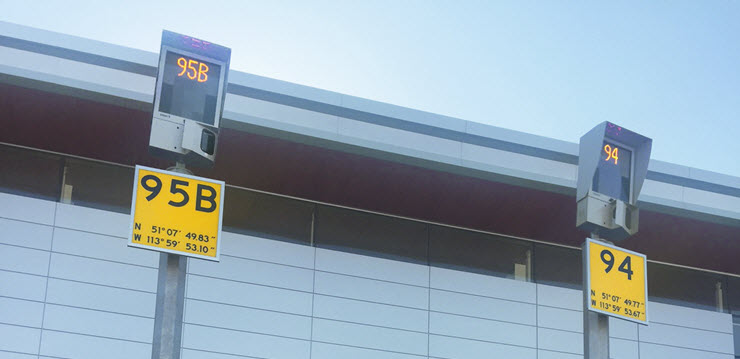 At Passenger Terminal EXPO in Amsterdam on the 14-16th of March, ADB SAFEGATE will be showcasing solutions for our apron management system which helps shorten turnaround times, reduce operational costs and damage risks. With enhanced integration and information sharing capabilities, the system creates a foundation for more effective planning with higher predictability, enhanced safety and efficiency as a result.

Did you know that 80% of airport accidents occur at the gate and apron area or that more than 40% of the flights in Europe 2015 were delayed by 5 minutes or more? Modern apron management solutions and advanced visual docking guidance system are both vital to increase safety, speed up turnaround efficiency and decrease the risk of delay – a gain for airport stakeholders as well as for the passengers.
Safedock – Safe and efficient docking
The Advanced Visual Docking and Guidance System (A-VDGS) from ADB SAFEGATE reduces congestion and the number of personnel needed on the ramp, performs an aircraft-type safety check, scans the apron for vehicles or other objects, verifies the position of the passenger boarding bridge and prevents incompatible aircraft from parking at adjacent gates. It also guides an aircraft to its correct position by providing the pilot with intuitive signals.
Information-driven approach to safe and efficient operations at gate and apron
To maximize safety and efficiency on the gate and apron area, ADB SAFEGATE has developed the software concept, SafeControl – Apron Management. SafeControl is a group of software modules used to automate and improve safety at airports around the world and is based on the same platform as used for Air Traffic Management, guaranteeing the highest safety and availability.
Apron Management Solutions key in A-CDM process
The platforms for safe and efficient apron management and aircraft docking provide real-time intelligence for stakeholders in the turnaround process to achieve the best sequencing for departure flow management and predictability. The solutions can be used for traditional docking guidance and as a communication tool within Airport Collaborative Decision Making Process (A-CDM) and as an extension, within the SESAR Follow the Greens concept where guidance and awareness can be provided accurately to all stakeholders involved.
Speeding up turnaround efficiency and thus decreasing the risk of delay – a gain for airport stakeholders as well as for the passengers.
See you at at Passenger Terminal EXPO in Amsterdam and the ADB SAFEGATE Stand 2080
ADB SAFEGATE is a leading provider of intelligent solutions that deliver superior airport performance from approach to departure. The company partners with airports and airlines to analyze their current setup and operations, identify bottlenecks, and jointly solve them using a consultative approach that enables airports to improve efficiency, enhance safety and environmental sustainability, and reduce operational costs. Our integrated portfolio includes solutions and services that harmonize airport performance, tackling every aspect of traffic handling and guidance, from approach, runway and taxiway lighting, to tower-based traffic control systems, and intelligent gate and docking automation. ADB Safegate has more than 900 employees in more than 20 countries and operates in more than 175 countries, serving more than 2,000 airports.