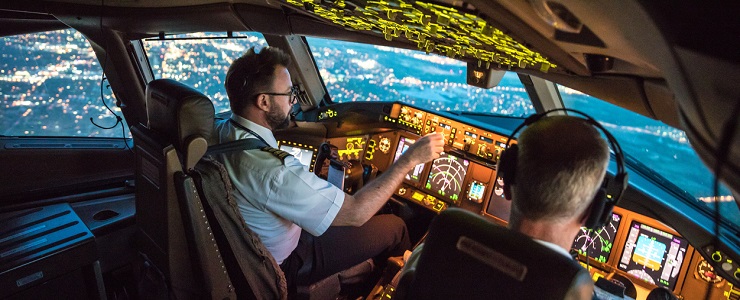 Collaboration and global standards are the keys to unlocking greater efficiency in air traffic management. The dynamic nature of aviation should be embraced, according to Christian Onselaere, CEO, ADB SAFEGATE. As he puts it: "There has probably never been a more exciting time to be in air traffic management".

Digitisation and new technology are changing the face of aviation and air traffic management. New technologies entering the ATM world from other industries are opening up huge opportunities to transform airport performance globally and improve safety. Onselaere lists fully integrated air traffic control (ATC) solutions, remote towers, airport collaborative decision making (A-CDM), advanced data analytics, automation and voice recognition software as just a few of the paradigm-shifting developments being implemented by the industry.
Operational makeover
Many of the advances are designed to increase capacity. Often,solving growth-related challenges will mean changing key airport processes and systems, or even establishing a full operational makeover. As many airports have reached their geographic boundaries due to physical or environmental limitations, the traffic increases can no longer be managed by traditional means but rather must be managed by raising operational efficiency through stakeholder cooperation.
"More and more decisions on future traffic flows and how to handle the tremendous increase in movements are handled at the air traffic / apron control level," says Onselaere.
ATC is a central part in the airport set up and
decisions are being centralised at the ATC level.
Onselaere believes that the silo thinking of the past – when different parts of the airport, such as the terminal, airfield and tower, worked independently – is finally being eradicated. "We now see that the former silos are starting to talk to each other and work together to create a unique view of the airport or to agree on a common strategy going forward," he says.
In many respects, this is a logical evolution as small improvements are gradually implemented. Aircraft get to know if gates at the terminal are free, ground teams get to know when parts of the airfield can be maintained or if traffic on the apron is particularly busy. But evolution is being turned into revolution by intense competitive pressures.
Whoever best understands how different solutions
can be integrated into one overriding view or approach
will emerge as the winner in the long run.
We believe that the introduction of airport collaborative decision making (A-CDM) and functional airspace blocks is proof that collaboration between stakeholders is the key to future success," he notes. "The efficiency gains are fundamental to the ability to meet future air traffic demand and incorporate such new concepts as free route airspace, or extended arrivals management. These concepts only work if different stakeholders cooperate with each other."
Follow the Greens
ADB SAFEGATE is supporting greater collaboration by offering solutions that integrate information from the airfield, gate and tower into single systems. Operational benefits are obtained through access to data that supports tactical and strategic decisions.
"We are also a driver of the Follow the Greens concept, we are continuously improving our advanced visual docking guidance system to create faster turnaround times and we are developing a set of analytics solutions that will give the airport and the airline full transparency on what is happening at the airport so as to create new forms of efficiency at the airport," Onselaere says.
The ADB SAFEGATE CEO is so adamant about the way forward that if he could change one thing about commercial aviation tomorrow, it would be to improve the information flow, so that information about late flights, missed connections and so forth is communicated earlier to all stakeholders and also to passengers.
"The information is already there," he insists. "However, it is fragmented and communicated too late, which leaves a bad impression for a high-tech industry."Imagine one integrated operational process from approach to departure! When all parts of the airport communicate they can work seamlessly together as one. This would provide the necessary operational support for a seamless, optimised procedure that guides aircraft during approach and landing, taxiing to the gate, and back out again, across the airfield to the departure runway – tailored to maximise the airport's throughput and safety."
To make this a reality, such a solution would integrate and intelligently support or automate many different guidance and traffic control functions, including tower control systems, airfield lighting, docking control and gate management. With aircraft time on the ground ideally limited, airports can fully utilise capacity and safely handle more traffic with their existing facilities.
"At ADB SAFEGATE we believe airports can do more with what they already have, and we can help unlock the hidden potential for airport traffic expansion," Onselaere concludes.
There are ways to expand efficiency instead of infrastructure
when we enable all parts of an airport to work together as one
to increase airport performance, from approach to departure.
This article was initially published in Airspace journal of the civil air navigation services organisation (CANSO). Issue 42, Quater 3 2018.
ADB SAFEGATE is a leading provider of solutions that boost efficiency, improve safety and environmental sustainability and reduce operational costs for airports, airlines and ANSP's. The company works with customers to identify performance bottlenecks and jointly solve them through integrated solutions that improve airport and airline performance. These solutions address every aspect from approach to departure – airport traffic handling and guidance, airfield lighting, tower-based traffic control systems, intelligent gate and docking automation, services and advanced analytics. ADB SAFEGATE has more than 1,100 employees across 45 nationalities in 25 countries, and operates in more than 175 countries, serving more than 2,500 airports globally, from the busiest and largest like Atlanta, Beijing, Dubai, Heathrow, Charles De Gaulle, Amsterdam, Frankfurt, Istanbul, New Delhi and Changi, to fast-growing airports across Asia and Africa.