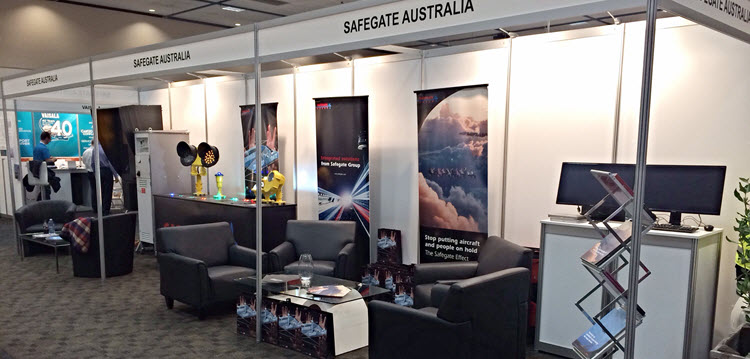 ADB SAFEGATE  was the centre of attention during last week's AAA National Conference in Hobart, Australia, as they introduced a different side of the company to the Australian aviation industry. This year's message to the Australian market was unique from previous years, as Safegate decided to present intelligent solutions for the gate, airfield and tower.
During the last decades, the Australian office has been known as the leading partner for airfield lighting projects in the country. However, this year Safegate decided to introduce their integrated solutions in order to engage a greater variety of stakeholders. During the exhibition, Safegate displayed their integrated tower solutions for the first time, which was a surprise to many of the existing customers. Safegate Group's ATM expert, Stephen O'Flynn, was also invited to present the topic "Airside Cross Silo Operations And Safety: From Gate To Runway – An Integrated Approach To Collaborative Operations". The presentation focused on the importance of bringing all stakeholders together in order to optimise the utilisation of the existing infrastructure and resources. The message was well received and created a lot of interest from the airports, ANSPs and regulators in Australia who were well aware of the importance of collaborative decision making. Most of the capital airports in Australia are planning to build new runways and taxiways within the next five years but some of them will already have reached their capacity long before project completion. That is why Safegate works with airports to collaborate with all stakeholders and take a closer look at what can be done to improve the airport throughput in all weather conditions.
The host city, Hobart, implemented a low current system in 2011 that has proven to save over 90% in power consumption, a significant difference compared to a standard LED upgrade. The low current system also requires intelligent airfield lighting which means that any airport that is looking save power will also future proof themselves by integrating the airfield with the tower and gates. The intelligent airfield lighting is compatible with the revolutionising concept "follow the greens", which in recent simulations has proven to reduce taxi-times and fuel burn whilst improving the overall traffic flow. When adding SafeControl – Apron Management into the equation, ground staff at the gate will be updated about the aircraft's estimated in-block time through the A-VDGS display in order to prepare the critical activities involved in the turn-around process.
Finally, Safegate hosted a successful networking function at the MONA (Museum of Old and New Art), which has one of the most controversial private collections of modern art and antiquities in the world. Even if I would like to say that integrated solutions and cross-silo operations were the topics of the week, I have to admit that MONA stole the show. Nonetheless, we had a great week with our friends and partners in the industry in beautiful Tasmania.
More photos of the event can be viewed on Flickr.
ADB SAFEGATE is a leading provider of intelligent solutions that deliver superior airport performance from approach to departure. The company partners with airports and airlines to analyze their current setup and operations, identify bottlenecks, and jointly solve them using a consultative approach that enables airports to improve efficiency, enhance safety and environmental sustainability, and reduce operational costs. Our integrated portfolio includes solutions and services that harmonize airport performance, tackling every aspect of traffic handling and guidance, from approach, runway and taxiway lighting, to tower-based traffic control systems, and intelligent gate and docking automation. ADB SAFEGATE has more than 900 employees in more than 20 countries and operates in more than 175 countries, serving more than 2,000 airports.