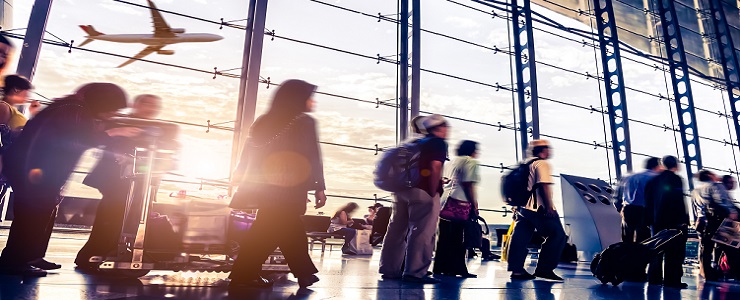 With the increased introduction of common-use facilities, integrated technologies and processes, airports have become more directly involved with the passenger process and therefore the resulting customer experience. Martin Lamprecht interviews Antoine Rostworowski, Director, Airport Customer Experience and Technology at Airports Council International (ACI-World) about  ACI's Airport Service Quality (ASQ) programme.
ACI's Airport Service Quality (ASQ) is the world-renowned and globally established global benchmarking programme measuring passengers' satisfaction whilst they are travelling through an airport. The ASQ programme provides the research tools and management information to better understand passengers' views and what they want from an airport's products and services.
Martin Lamprecht from Momberger Airport Information interviews Antoine Rostworowski, Director, Airport Customer Experience and Technology at Airports Council International (ACI-World) about ACI's Airport Service Quality (ASQ) programme.
What was the main motivator for ACI to launch the ASQ global benchmarking programme ten years ago? What needs was it to address among airports worldwide?
The Airport Service Quality (ASQ) programme was launched to primarily meet the needs of our airport members. With the increased introduction of common-use facilities, integrated technologies and processes, Airports had started to become more directly involved with the passenger process and therefore the resulting customer experience. Airports wanted to provide a voice to passengers, receive feedback and further understand their needs and wants.
ASQ is the leading industry tool to help airports not only understand their customers better, but also to allow the tracking of changes in customer needs and satisfaction, learn from other airports in the ASQ network, benchmark against themselves over time and with other airports.
Measuring customer experience through the complete airport journey is now facilitated by combining our ASQ Main departures survey with results from our brand-new Arrivals Survey; important and key tools for service excellence.
What are the main performance indicators that the ASQ programme typically measures in its airport surveys?
The ASQ departures survey, which was the first survey to be deployed by ACI in 2006, asks the passenger 55 different questions which are split into 6 main categories, along with demographic questions. The main categories cover the passengers' sentiment on the various stages of access to the airport, check-in experience, passport/ID check, security, wayfinding and airport facilities.
In the newly launched ASQ Arrivals, we help airports measure passenger sentiment based on their arrivals experience. The arrivals experience can be significantly different from the departures experience, as passengers may be in different state of mind, with different priorities.
The ASQ Arrivals survey specifically helps airports gather information on the overall arrival experience, focusing on the various arrivals processes such as de-boarding, immigration, baggage reclaim, customs, as well as towards the infrastructure & services experience. It also collects information about the passenger profile.
How has the ASQ global benchmarking programme changed over the years?
The questions of the survey have remained relatively the same in the ASQ Departures survey to allow for airports to reliably track trends and benchmarking over time, although it has gone through regular enhancements and ongoing improvements, especially since the start of 2015. There have been new automation processes, using new user friendly pre-formatted reports, new analytical web based portal tools, enhanced methodology quality control processes, additional customized solutions such as passenger personas analysis and various industry best practice reports and study documents published for members. An example could be the correlation between satisfaction and airport non-aeronautical revenues or the impact of culture on a satisfaction survey. All this is a reflection in the growth in the number of airports within the global ASQ network, and the diversity in needs and types of demands. The membership has increased 80% since 2012, to a present total of 343 airports in 85 countries.
As well as the regular updates to the background of the programme, ASQ also looks to meet additional needs of airports and recently launched two new surveys in 2017: The Arrival survey and the Employee survey for Customer Experience. ACI remains in constant contact with its members in order to identify newer tools that could improve the offering.
In 2018, the ACI ASQ program is planning to launch various new tools and services, including a survey for airport retail, an airport Customer Experience Accreditation programme, and digital questionnaires.
Why do airports join the program and what are the main benefits for participating airports and airline passengers?
There are a multitude of reasons why airports decide to join ASQ. From guidance as well as support to raising service standards, to guiding and prioritising investment decisions by highlighting key drivers of satisfaction, optimizing performance and returns, and increasing an airport's understanding of their passengers. One of the most unique benefit is that airports can benchmark not only against themselves over time, but with any other participating airport around the world.
ASQ is the only global benchmarking programme measuring passengers' satisfaction through 'live' data gathered whilst they are travelling through the airport. Airports want to make decisions based on objective data, collected according to strong methodology and guidelines, in order to move away from very subjective assumptions and points of views. Airports want to give a voice to their passengers and have them guide them in decisions impacting the services and experience.
ASQ member airports are also provided the opportunity to exchange best practices with other participating airports. This network is extremely valuable to participants as it allows them to exchange best practice and their experience. ACI encourages and facilitates such exchanges during various events, the most important being the annual ASQ Forums.
Can you describe some examples of changes that participating airports have implemented from the ASQ programme and what the results were in airport passenger service performance over time?
We are often updated by our members of the various initiatives they undertake as a result of the findings from ASQ, including deployment of interactive passenger experience tools, certain actions taken to impact the cleanliness of washrooms, how an increasing number of members maintain customer satisfaction even during times of construction by using ASQ findings to manage passenger expectations. We invite readers to refer to the monthly ACI World report for frequent interviews with ASQ member airports, which discuss very specific case studies where the ASQ survey has helped their airport gain further insight and deploy improvements specific to their airport passenger needs.
What kind of ACI activities and procedures are in place to facilitate sharing of best practices among airport operators that are the result of the ASQ programme?
At ASQ, we have a variety of platforms and channels that facilitate the sharing of best practices, whether it is through the ASQ Forums, ASQ research documents and publications, the ASQ Newsletter, the ASQ subcommittee, social media communication platforms and during global conferences. We actively encourage members to network with the ASQ community.
Do you customize the program to accommodate the different needs of airports of different sizes and cultural environments?
Yes, both ASQ Departure and Arrivals surveys are split into ASQ Main, Regional and Unique type programmes, which accommodate airports of varying sizes. We also have a wide range of portfolio deliverables which cater to the types of airports. This could be through Terminal Analysis of airports which have multiple terminals, or Passenger Personas analysis, where we define passengers for the airports based on various very specific typologies to better understand their needs and requirements.
We also provide customized training for individual airports and larger airport operators, consultancy, and with the Arrivals survey, we provide members with the opportunity to add extra questions to the survey to measure the perception on specific initiatives which may be unique to a particular airport member.
How do you see the ASQ programme evolve over the next 10 years? Does the changing nature of airport competitiveness impact the ASQ programme development?
Increasingly, as well as in other industries, customer experience and customer satisfaction is evolving at a fast pace, and requires a more personalised and tailor-made approach for the varying profiles and needs of airport customers. To further cater for this upcoming trend in the airport community, we foresee that ASQ will be providing further customized tools and solutions which can adapt to various realities, while continuing to offer the core full range of ASQ services. Our job is to provide airports with an increasingly holistic view of the passenger experience. Some things to consider are the pre/post airport experience, such as the home delivery of duty free shopping or off airport baggage processing.
Airports themselves are increasingly customizing their services, removing location based restrictions, and moving towards the new digital world. By investing in creating a unique sense of place, associated with its city/country and by creating a special experience through various ambiances for its passengers, an airport is better able to differentiate itself from others, which, in a more and more competitive world, is crucial. In addition to this, with the recent launch of the new ACI Employee Survey for Customer Experience programme, we are encouraging the industry to also engage with their employees, stakeholders and entire communities to deliver the common vision of excellent customer experience.
 How does ACI differentiate the ASQ programme and awards from other global airport performance events, like the Skytrax World Airport Awards?
ASQ varies vastly from other global airport listings, awards and other popular rankings, as other programmes are key B2C tools, whereas ASQ is predominantly a B2B tool. The ASQ surveys are also the only ones which gather data whilst the passenger is at the airport, which has an important impact on the quality and reliability of the resulting data.
ASQ is a tool widely used by the airport community to improve customer experience, whereas other listings and awards mostly act as great marketing tools for the airport community but usually have more limited usefulness in terms of the accuracy of the data, due to the market research methodology being utilised. Various programmes can be run side by side and can be quite complimentary, if utilised according to the information and services they can provide.
 What kind of highlights can we expect from the upcoming ASQ Awards Ceremony in Mauritius this fall?
The momentous evening of the ASQ Awards ceremony will be to mostly celebrate success in customer experience excellence in airports around the world. Excellence in Customer Service is almost always the result of a united effort from all airport stakeholders, working together towards a common goal; an ASQ Award is there to celebrate such efforts and good results and provides an opportunity to underline the great work of many individuals.
In extension to the ASQ Awards, during the conference, we have a panel of ASQ award winning airport CEO's which will share their stories of success in running the most customer friendly airports in the world, and share lessons learned in trying to aim for this stature. A preconference workshop on Customer Experience, which will delve further into details of why, how and who should be paying attention to the specific building blocks of airport customer experience will also take place the day prior to the ASQ Awards Gala. We invite delegates to join us for all the ASQ activities throughout the conference.
Written by Martin Lamprecht, as part of a series about airport development. Published on ADB SAFEGATE with permission of Momberger Airport Information
ADB SAFEGATE is a leading provider of intelligent solutions that deliver superior airport performance from approach to departure. We partner with airports and airlines to analyze their current structures and operations, and jointly identify and solve bottlenecks. Our consultative approach enables airports to improve efficiency, enhance safety and environmental sustainability, as well as reduce operational costs. Our portfolio includes solutions and services that harmonize airport performance, tackling every aspect of traffic handling and guidance, from approach, runway and taxiway lighting, to tower-based traffic control systems and intelligent gate and docking automation. ADB SAFEGATE has 900+ employees in more than 20 countries and serves some 2,500+ airports in more than 175 countries.