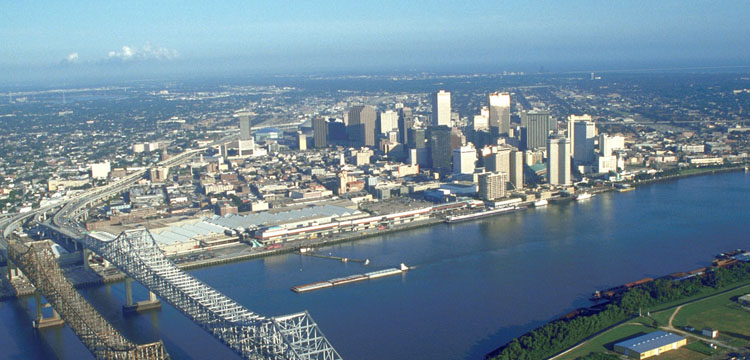 Louis Armstrong New Orleans International Airport recently completed an airfield electrical rehabilitation. These works included replacement of in-ground infrastructure, cable and airfield lighting, as well as improvements and reconfiguration of the airfield light control and monitoring system (ALCMS).

ALCMS is an airfield lighting control and monitoring system that allows accurate control of the airfield lights and associated equipment. Safe and efficient movement of aircraft on the ground is a key element in ensuring air traffic demands and time schedules are met, particularly at airports with high traffic volumes. New Orleans is a popular tourist destination and host to numerous high profile events such as the Mardi Gras. With this in mind, the transition to the new electrical infrastructure had to be completed in phases, without interrupting the existing ALCMS or power to the airfield lighting.
ADB SAFEGATE provided the existing ALCMS and switchgear power solutions at the airport. They worked closely with the airport, the FAA, consulting engineers and the electrical contractor to coordinate the phasing of the ALCMS to ensure that the system and CCR's were on line during the entire project. This enabled New Orleans to maintain their traffic demands with minimal disruption to airport operations.
With the completion of the electrical rehabilitation, Liberty is now working with the airport, the FAA, and the electrical contractor on a second project to relocate the airfield lighting vault. The airport is constructing a new vault, and Liberty will upgrade the ALCMS to include a backup wireless solution. In addition ADB SAFEGATE will aid in the transition of the ALCMS and switchgear to the new vault to ensure that the airport has continuous control of the airfield lighting.
Improving the reliability of the airfield electrical system and moving the electrical vault were important steps in allowing the airport to move forward with construction of its new North Terminal building, which will replace the existing airport terminal. These improvements will allow the Louis Armstrong New Orleans International Airport to continue to grow and meet increasing air traffic demands now and into the future.
Written by Jack Henderson, ADB SAFEGATE 2015
For more information please contact ADB SAFEGATE, North America:
Email: usa@adbsafegate.com
Phone: +1 763 535 92 99
ADB SAFEGATE is a leading provider of intelligent solutions that deliver superior airport performance from approach to departure. The company partners with airports and airlines to analyze their current setup and operations, identify bottlenecks, and jointly solve them using a consultative approach that enables airports to improve efficiency, enhance safety and environmental sustainability, and reduce operational costs. Our integrated portfolio includes solutions and services that harmonize airport performance, tackling every aspect of traffic handling and guidance, from approach, runway and taxiway lighting, to tower-based traffic control systems, and intelligent gate and docking automation. ADB SAFEGATE has more than 900 employees in more than 20 countries and operates in more than 175 countries, serving more than 2,000 airports.