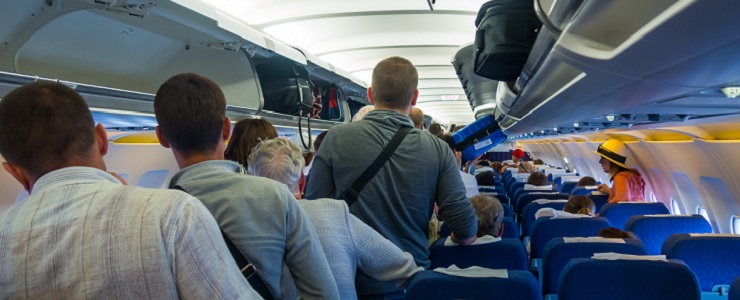 AIRPORT CAPACITY.  The new year not only is an ideal time to start afresh but also a time to reflect and look back on areas of special interest. One of these areas, close to our heart as a company is of course airport capacity and how resources in aviation are used in the most efficient way to optimize airport performance. Inspired by EUROCONTROL´s report "Challenges of Growth" from 2018 , we asked our reporter to reflect on capacity issues and scan various reports from the last few years. Lovers of facts – enjoy reading!
Modernizing airspace and solving capacity crunch could add €301 billion to Europe's GDP. This impressive figure is a result of an SEO Amsterdam Economics study commissioned by IATA to quantify the economic benefits of modernizing Europe's airspace and enhancing capacity at the region's airports. [1]. 
One of Europe's strengths is its air connectivity, but its airspace isn't operating at optimum levels
Aviation is a big employer, supporting 12 million jobs, and accounting for 4.1% of Europe's GDP according to InterVISTAS. Since its airspace was liberalized over two decades ago, consumers and businesses have benefited from lower travel and shipping costs to better global communication, mobility and trade.
Enhanced air connectivity stimulates productivity, R&D and foreign direct investment. It goes without saying that air connectivity boosts competitiveness and socio-economic growth. But this "virtuous cycle" between connectivity and economic growth can continue only if the airspaces keep up with the growing demand for air travel.
By 2040, 160 million passengers won't be able to fly, and potentially impact the economy negatively in a big way
The EUROCONTROL study forecasts +53% growth in aviation, with 16.2 million flights annually by 2040. After accounting for existing development proposals, if nothing more is done to solve the capacity gap and meet unmet demand, 1.5 million flights or 160 million passengers won't be able to fly.
The potential negative economic impacts run into €52.3 billion, and more than 818,000 jobs as per IATA/ Oxford Economics approaches. The number doesn't factor the economy-wide catalytic impacts of into €86.3 billion, and the impact on tourism – €24 billion, and 485,000 jobs, or the impact on economic welfare, which could be as high as €13.6 billion![2]
To put these figures in perspective, EU's GDP in 2013 was €13.5 trillion, while Croatia's GDP was €43.6 billion, and Germany's was €2.8 trillion. It should also be noted that the results are in constant 2012 and 2013 terms, and have not therefore been increased to allow for 2035 price levels. The EU economy in 2035 is forecast by Oxford Economics to be €20.1 billion, in constant 2012 terms.[3]
What if Europe's airspace was modernized and existing capacity issues were solved?
As per the IATA commissioned study, the positive economic impacts of solving airport capacity constraints together with airspace modernization are huge! By 2035 we could:
1. Serve an additional 174 million European origin destination passengers
2. Maximize GDP to €301 billion euro in 2035
3. Pass on consumer benefits to the tune of €43 billion
4. Generate an additional one to 1.3 million aviation jobs (direct, indirect, induced and catalytic)
5. Boost trade, tourism, R&D and innovation as shown below [4]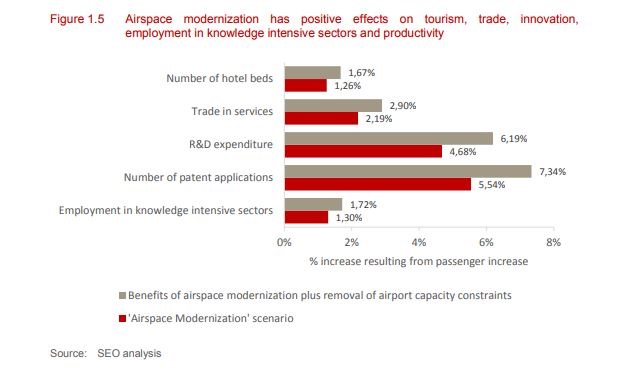 And of course, a better passenger experience
Air navigation services provisioned at a higher capacity translates into airline cost savings and lower air fares. More direct routings will reduce travel times. Average flight delays could decrease from 12 to 8 minutes per flight, and lower carbon emissions per flight. At a macro level, connectivity growth would mean more routes, more frequencies, not to mention the wider economic benefits due to agglomeration effects and higher productivity levels.
Integrated Airports can resolve capacity gaps, using existing infrastructure more efficiently
Airports can do more what they already have. Whether it is faster and more predictable turnarounds at the gate, or keeping the airfield safe and operational, raising the throughput and predictability with faster air traffic management, efficiencies can be realized when all the elements of the airport – Gate, Tower, Airfield and Services– are integrated, to work together.
At every step of the process from approach to departure, integrated systems support the highest operational efficiency to minimize aircraft time on the ground. This, in turn, leads to increased airport capacity with existing airport infrastructure. Improved efficiency of airport resources also creates cost reductions.
For instance, a Scandinavian airport's A-CDM implementation has significantly improved scheduling and reduced off-block delays from 8.4 minutes to 7.8 minutes per departure, while increasing take-off predictability by nearly 80%. Taxi out time per aircraft reduced by one minute on average. The result? Savings of €160,000 in fuel and €2.9 million in delays, annual carbon emissions reduced by around 630,000 kg, accruing from 700 fewer late gate changes, 15,000 minutes of reduced taxiing time and an overall reduction of 73,000 minutes in delays!
Find out how you can use your airport resources more efficiently:
[1] https://www.iata.org/policy/promoting-aviation/Documents/european-airspace-modernization-summary.pdf
[2] https://www.eurocontrol.int/sites/default/files/content/documents/official-documents/reports/challenges-of-growth-2018.pdf
[3] Final Report of TASK FORCE 'Economic impact of unaccommodated demand and environmental variables influencing airport capacity' released in 2015 by the European Observatory on Airport Capacity & Quality
[4] https://www.iata.org/policy/promoting-aviation/Documents/european-airspace-modernization.pdf
ADB SAFEGATE is a leading provider of solutions that boost efficiency, improve safety and environmental sustainability and reduce operational costs for airports, airlines and ANSP's. The company works with customers to identify performance bottlenecks and jointly solve them through integrated solutions that improve airport and airline performance. These solutions address every aspect from approach to departure – airport traffic handling and guidance, airfield lighting, tower-based traffic control systems, intelligent gate and docking automation, services and advanced analytics. ADB SAFEGATE has more than 1,100 employees across 45 nationalities in 25 countries, and operates in more than 175 countries, serving more than 2,500 airports globally, from the busiest and largest like Atlanta, Beijing, Dubai, Heathrow, Charles De Gaulle, Amsterdam, Frankfurt, Istanbul, New Delhi and Changi, to fast-growing airports across Asia and Africa.