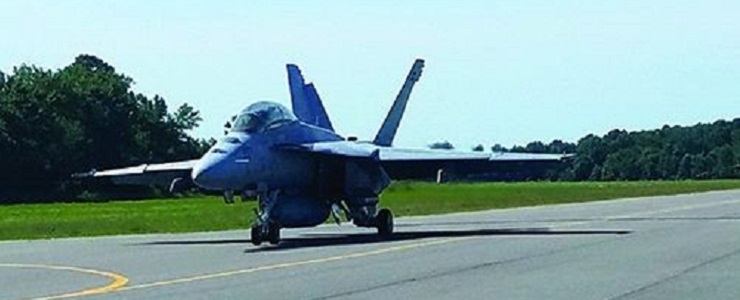 In a project to upgrade the Airfield, Naval Air Station Oceana (NTU) in Virginia Beach, is reconstructing the runway and implementing LED lighting from ADB SAFEGATE.  Not only will Oceana Naval Air Station see a reduction in energy usage, but also a substantial reduction in ongoing maintenance costs related to re-lamping incandescent fixtures. Typically, they would be re-lamping all fixtures one or two times per year. Now, they can go years without the need to re-lamp. Completion anticipated in July 2019.

Naval Station Oceana (NTU) in Virginia Beach, VA, is moving into the final stretch of a $120 million airfield project to reconstruct one runway and replace aging incandescent airfield lighting with energy-saving LED fixtures.
The $80 million electrical and lighting upgrade was a high priority because the previous system had been plagued with power failures, repeated maintenance issues and systematic shortcomings that sometimes disrupted operations. Improving the airfield lighting was imperative to support the associated Naval installation's 16 squadrons, 300 based aircraft and 250,000 annual operations, explains Airport Manager James "Gramps" McDowell, C.M.
"Oceana had suffered a number of cascading failures from old cabling, direct burial and worn-out equipment," says McDowell. "Equipment and circuit fires had forced the diversion of aircraft to other stations, which disrupted the squadron training and flight schedules. We knew it was only a matter of time before Oceana would be completely out of the night/instrument meteorological conditions flying business."
Continue reading? The full length article was published October 2018 by Airport Improvement Magazine.
ADB SAFEGATE is a leading provider of solutions that boost efficiency, improve safety and environmental sustainability and reduce operational costs for airports, airlines and ANSP's. The company works with customers to identify performance bottlenecks and jointly solve them through integrated solutions that improve airport and airline performance. These solutions address every aspect from approach to departure – airport traffic handling and guidance, airfield lighting, tower-based traffic control systems, intelligent gate and docking automation, services and advanced analytics. ADB SAFEGATE has more than 1,100 employees across 45 nationalities in 25 countries, and operates in more than 175 countries, serving more than 2,500 airports globally, from the busiest and largest like Atlanta, Beijing, Dubai, Heathrow, Charles De Gaulle, Amsterdam, Frankfurt, Istanbul, New Delhi and Changi, to fast-growing airports across Asia and Africa.