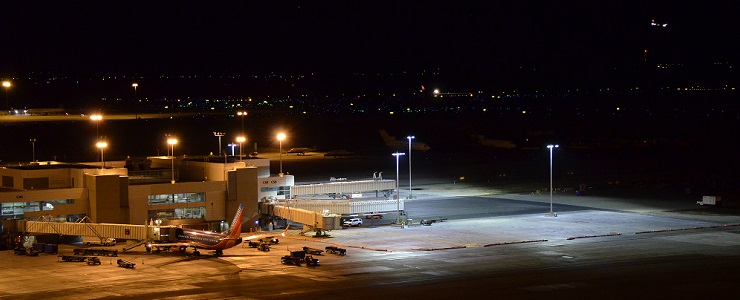 Denver International Airport recently began installing LED apron floodlighting from ADB SAFEGATE. The new LED floodlights provide a 50% energy reduction and dramatically reduce light pollution to improve visibility and security on the apron.
Denver International Airport has begun installing LED apron floodlighting from ADB SAFEGATE and in addition to a 50% energy savings, they are benefiting from reduced light pollution at the ATC tower.
I was so excited to see the photograph regarding this LED Apron Lighting projects going on at Denver International Airport. It is one of the best photos I've seen this far highlighting the light pollution that can come from spotlight type installations along with the huge difference in color rendering.
– Corey Stutz, Marketing Manager Americas
As seen in the photo, the left side of the apron is still using High Pressure Sodium (HPS) floodlights producing the yellowish light and glare towards the ATC Tower. The four new poles on the right side are the new LED floodlights with a much higher CRI (Color Rendering Index) providing much better color accuracy while the advanced optical design produces a near zero Upward Light Ratio (ULR) reducing light pollution and glare.
For more information on LED floodlighting check us out at adbsafegate.com.
ADB SAFEGATE is a leading provider of intelligent solutions that deliver superior airport performance from approach to departure. We partner with airports and airlines to analyze their current structures and operations, and jointly identify and solve bottlenecks. Our consultative approach enables airports to improve efficiency, enhance safety and environmental sustainability, as well as reduce operational costs. Our portfolio includes solutions and services that harmonize airport performance, tackling every aspect of traffic handling and guidance, from approach, runway and taxiway lighting, to tower-based traffic control systems and intelligent gate and docking automation. ADB SAFEGATE has 900+ employees in more than 20 countries and serves some 2,500+ airports in more than 175 countries.