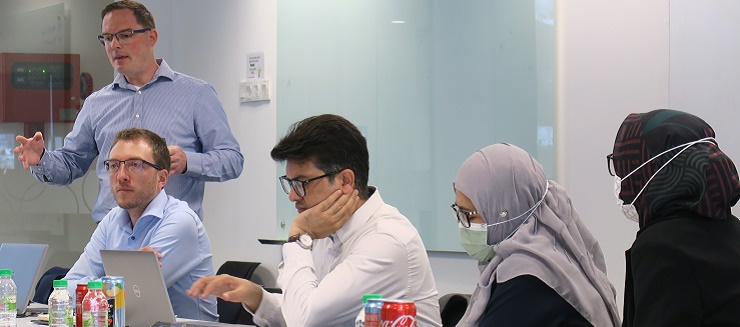 KUALA LUMPUR. ADB SAFEGATE Asia hosted its first in-person regional business partner seminar since the pandemic. The event, held at the Regional Centre of Excellence in Kuala Lumpur was attended by business partners from Sri Lanka, Indonesia, Thailand, The Philippines, Hong Kong, South Korea, Singapore, Brunei, Taiwan, Bangladesh, Myanmar, Vietnam, Nepal and Malaysia.

Two highly interactive days with our business partners in Kuala Lumpur
Together with his team, our Vice President for Asia, Waqas Ahmed, recently arranged a two-day interactive Regional Business Partner Seminar to gather business partners, account managers and ADB SAFEGATE's management to share and discuss country specific issues and resolutions.
ADB SAFEGATE portfolio news and integration ideas
During the Seminar in Kuala Lumpur,  the new ADB SAFEGATE product portfolios were presented as well as the integration ideas across the major product arms of ADB SAFEGATE; Airfield, Gate, Tower, Airport Systems and Services.
CEO applauded business partners for their contribution
The seminar was also attended by ADB SAFEGATE's CEO, Laurent Dubois, who also took the time during his visit to Malaysia to meet the Asia team and applaud them for their hard work.
ADB SAFEGATE is a leading provider of intelligent solutions that deliver superior airport performance from approach to departure. The company partners with airports and airlines to analyze their current setup and operations, identify bottlenecks, and jointly solve them using a consultative approach that enables airports to improve efficiency, enhance safety and environmental sustainability, and reduce operational costs. Our integrated portfolio includes solutions and services that harmonize airport performance, tackling every aspect of traffic handling and guidance, from approach, runway and taxiway lighting, to tower-based traffic control systems, and intelligent gate and docking automation. ADB SAFEGATE has more than 1200 employees in more than 20 countries and operates in more than 175 countries, serving more than 2,500 airports.