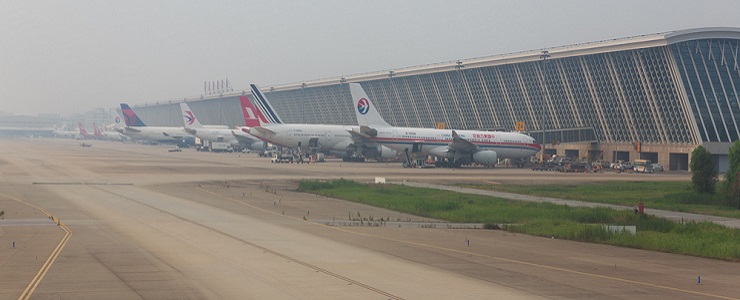 CHINA. For some time, the Chinese market has been the largest single country market of our A-VDGS solutions, from the more than 8000 units sold worldwide one in eight goes to China. Our latest win is at the PuDong Airport for the Satellite Terminal A-VDGS project. In December 2017, we were awarded a contract to supply, deliver, install, test and commission 89 Safedock T1 A-VDGS and an apron management system. It's the biggest win ever in terms of value for A-VDGS in China.

In recent years, the VDGS market in China became more and more difficult due to the fierce price war launched by our key competitors. This project was different as the customer disqualified our competitors before the tender phase. How? For this project, there were 5 combinational stands required with a big scan range, long scan distance and an apron scan function which our competitors couldn't bring to the table.
One key reason for our win is the trust we established throughout the years. From the beginning of PuDong airport dating back twenty years ago, the airport used our full portfolio of products, and we keep a constant contact to the airport's key people. Another reason why we won was no doubt the factory visits by our customers to Zaventem and Malmö last year where they were given some excellent product presentations, this convinced the customer of the superiority of our T1 A-VGDS way over what others could offer.
Given the importance of this project, the customer invited our CEO Christian Onselaere to ShangHai for the ceremony to celebrate the contract signing with Mr. Dai, Senior VP of the ShangHai Airport Group. Again, the result of a long-time cooperation.
We are confident that we can further establish ourselves as a leading player on the Chinese market with the full scope of our apron management solutions especially following the PuDong win.
ADB SAFEGATE is a leading provider of intelligent solutions that deliver superior airport performance and operations, and jointly identify and solve bottlenecks. Our consultative approach enables airports to improve efficiency, enhance safety and environmental sustainability, as well as reduce operational costs. Our portfolio includes solutions and services that harmonize airport performance, tackling every aspect of traffic handling and guidance, from approach, runway and taxiway lighting, to tower-based traffic control systems and intelligent gate and docking automation. ADB SAFEGATE has 1,000+ employees in more than 20 countries and serves some 2,500+ airports in more than 175 countries.