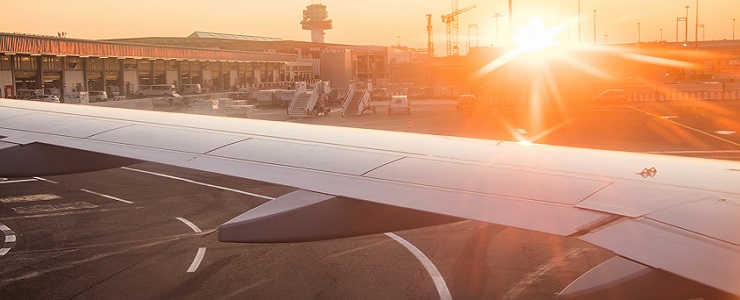 ROME. A lot is happening at Rome-Fiumicino International Airport "Leonardo Da Vinci" where Aeroporti di Roma, has entrusted ADB SAFEGATE with a number of demanding and technologically complex projects. From our offices, located in the heart of the airport,  we have worked full steam on the finalization of the SafeControl Apron Management (SAM) upgrade project, one of the first such upgrades in Europe.
Leonardo da Vinci Airport, also known as Rome-Fiumicino International Airport, is the busiest airport in Italy. For four consecutive years (2017-2020), Leonardo da Vinci Airport has won the Airport Service Quality (ASQ) Airports Council International award among European airports with more than 40 million passengers a year, and for three times in a row (from 2018 to 2020) the airport has won the Best Airport Award among European Airports with more than 25 million passengers a year. Still major infrastructure changes are planned by the airport operator to increase the operating capacity.
The SafeControl Apron Management (SAM) upgrade is one part of a big puzzle to optimize airport operations and in May 2021, the SAM Site Acceptance Tests were successfully carried out and the sign off was obtained from the airport´s operator, Aeroporti di Roma.
The (SAM) upgrade has meant that new flight load information related to all of the aircraft landing and departing from Rome-Fiumicino "Leonardo Da Vinci" International Airport had to be reviewed and reorganized, in conjunction with the customer, to reflect the new situation on the aprons. This had to be done in the 48 hours preceding the implementation of the tests. A complex and coordinated fine tuning has indeed taken place between the Aeroporti di Roma colleagues and ADB SAFEGATE Service and System Engineers, Mario Di Stefano, Giuseppe Migliore and Drago Kerec – who managed to fly from Austria to Rome – complying with all applicable travel restrictions and obligations – in the two days preceding the start of the acceptance activities.
The pre-agreed tests were successfully completed in three days with remote and on-site attendance of the Aeroporti di Roma Senior Management Team and the support of Stefaan Van Haute and Enzo Zangrilli, the ADB SAFEGATE Project Manager and Key Account Manager. As a result, Rome "Leonardo Da Vinci" Airport now officially is one of the European hubs equipped with the latest SAM update.
"It never rains, but it pours". This old English saying summarizes really well the hard times that project teams are going through since the pandemic hit our aviation world but from ADB SAFEGATE´s side we are now fully committed to successfully completing additional key projects for Aeroporti di Roma.
ADB SAFEGATE provides integrated solutions that raise efficiency, improve safety, boost environmental sustainability and reduce operational costs for airports, airlines and ANSPs. The company works with airports and airlines to solve operational bottlenecks from approach to departure. Solutions encompass airfield lighting, tower-based traffic control systems, intelligent docking automation and services, as well as applying advanced IT and analytics to deliver industry-leading Total Airport Management. For more information about ADB SAFEGATE, please visit our website at adbsafegate.com.