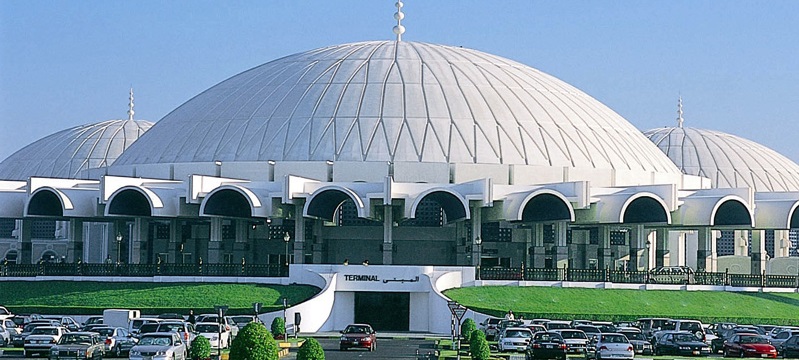 Sharjah International Airport opened a new Dh500 million runway on Wednesday, 22 October. ADB SAFEGATE was key in the implementation of this project, delivering turnkey project management including design, supply, installation, commissioning and training. Safegate Group lighting, control systems and Instrument Landing System (ILS) navigation-aids were installed. The runway is now equipped to receive large aircraft and new generations of aircraft, including the Boeing 747-800, Airbus A380, and freight planes such as the AN124 and AN225. The runway spans 4,060 meters and is 60 meters wide. It runs parallel to the former runway and includes two taxiways and eight connecting corridors.
ADB SAFEGATE's design and equipment will provide superior operating efficiency by allowing the aircraft to safely exit the runway in the shortest time possible. By enabling the aircraft to vacate the main runway safely and efficiently, ADB SAFEGATE has ensured that Sharjah will be better equipped to handle more traffic in the future. This places Sharjah in an excellent position to contribute to the continued growth of the UAE by providing the public with a high-quality service infrastructure that allows for air-traffic capacity increases now and in the future.
The use of ADB SAFEGATE systems was also vital in maintaining the runway at CAT II operating standards, as required by the UAE General Civil Aviation Authority and International Civil Aviation Organisation. These systems will allow the runway to be easily upgraded to CAT III B operating efficiency in the future, further improving the safety and efficiency at Sharjah International Airporth.
ADB SAFEGATE is a leading provider of intelligent solutions that deliver superior airport performance from approach to departure. The company partners with airports and airlines to analyze their current setup and operations, identify bottlenecks, and jointly solve them using a consultative approach that enables airports to improve efficiency, enhance safety and environmental sustainability, and reduce operational costs. Our integrated portfolio includes solutions and services that harmonize airport performance, tackling every aspect of traffic handling and guidance, from approach, runway and taxiway lighting, to tower-based traffic control systems, and intelligent gate and docking automation. ADB SAFEGATE has more than 900 employees in more than 20 countries and operates in more than 175 countries, serving more than 2,000 airports.