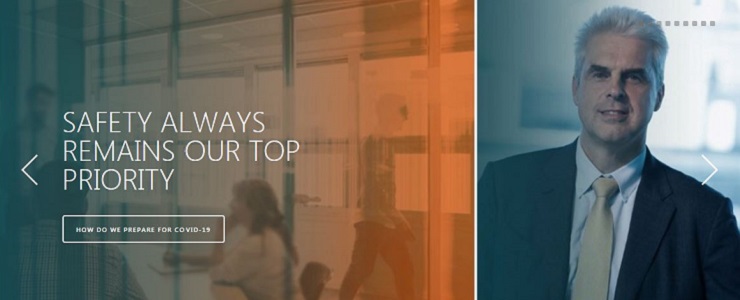 BRUSSELS. As the COVID-19 (the coronavirus) continues to affect the world's community, I wanted to personally update you on the steps we have taken as a global company to ensure business continuity for all our customers, wherever they are. Since the outbreak of the virus we have implemented a series of measures based on guidance from the World Health Organization.
Our Business Continuity Plan provides clear guidance to all our employees worldwide on how to deal with the virus and help to keep themselves and our customers, suppliers and other business partners safe.
We have immediately taken all necessary precautions to stop all travel except for business-critical issues and to ensure we keep our employees and visitors safe at all our premises. We have instructed employees to use technology to conduct internal and external meetings online wherever possible.
We have also implemented measures in our production sites to reduce contamination risks, to seek alternatives for components in short supply and to maintain production at normal levels.
Our services teams around the world have been given clear instructions to align with customers on the best way to guarantee continued service. All our customers can count on our 24/7 support, when needed, via our Network Operations Center.
Rest assured that our organization is equipped to maintain the high-quality sales and customer service you have come to expect from us. Our customer service representatives are here to assist you around the clock.
The health and safety of our employees, customers and partners is paramount. We are committed to updating our Response Plan based on the latest guidance from the World Health Organization.
This is an unprecedented time for everyone, and the situation is changing daily. We are committed to maintaining our business operations and ensuring you continue to receive the highest quality service without disruption.
I wish everyone well at this difficult time.
With kind regards,
Christian Onselaere, Chairman
ADB SAFEGATE is a leading provider of solutions that boost efficiency, improve safety and environmental sustainability, and reduce operational costs for airports and airlines worldwide. Its solutions tackle every aspect from approach to departure – airport traffic handling, airfield lighting, tower-based traffic control systems, gate and docking automation, services and advanced analytics – to increase airport performance. ADB SAFEGATE has more than 1,000 employees in more than 20 countries and operates in more than 175 countries, serving more than 2,500 airports. Even as a centenarian, ADB SAFEGATE remains committed to setting the trends in aviation for the next 100 years.