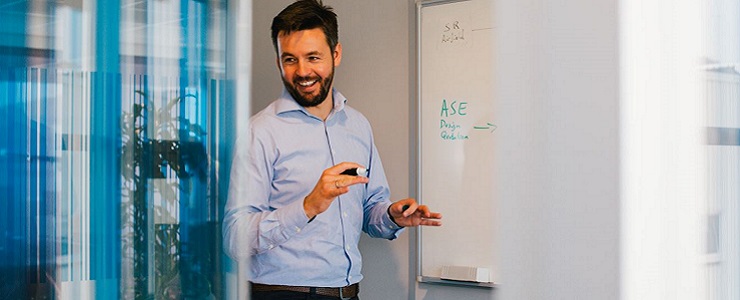 We caught up recently with Thomas Harboe, head of Design at ADB SAFEGATE. With airports and airlines looking for efficiency gains worldwide the role of the design of run- and taxiways is critical and this is where Thomas and his team comes in.
Thomas Harboe, Design Department Manager at ADB SAFEGATE joined the ADB SAFEGATE back in 2012 taking up the challenge of growing the company's design services. His professional experience spans more than 12 years, and includes designing and managing airfield system projects. While the primary focus has been on airport visual aids, Thomas has also been involved in some navigation aid and meteorological system projects. His educational qualifications include a degree in engineering and an MBA in Air Transport Management.
Can you introduce what you do and the team behind it? Since how long does the team exist?
As the manager of the design department, my main activities are to assist our designers in the more complex design projects, plan resources, define the department goals and basically make sure the designers have all they need to develop their design work to the highest quality.  The team exists since November 2008 when André Jelu, Systems Director at ADB SAFEGATE, put together the Design Team by internally recruiting staff with a proven knowledge in aeronautical ground lighting. Since then, the department has grown steadily from its initial three-member team in Belgium to 15 designers spread globally over three locations – Zaventem, Abu Dhabi and Melbourne.
Our team comprises highly qualified electrical and civil engineers, and CAD technicians working on airfield development projects all around the world. Our main projects cover airfield lighting, visual docking guidance systems and apron floodlighting, and all their associated infrastructures. Our experience spans from undertaking preliminary studies to developing detailed issue-for-construction designs. We have worked across a great range of project complexities from greenfield large international hubs to infrastructure development projects at small airfields, all of them on a global scale.  This requires us to be adept in international, national as well as local aviation regulations.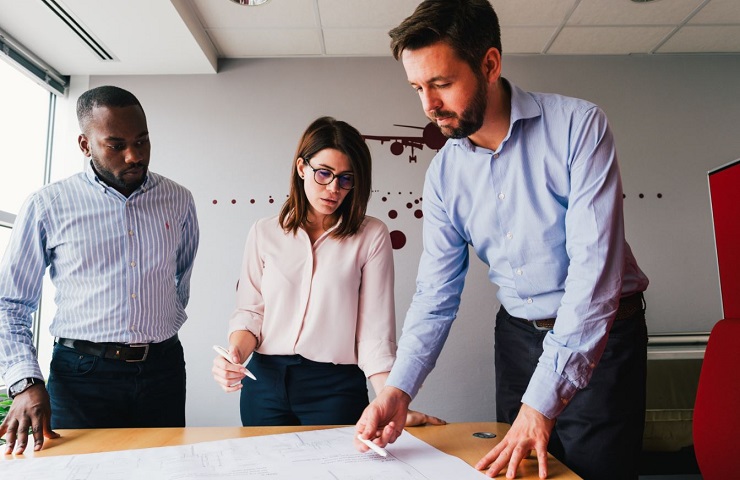 Our team comprises highly qualified electrical and civil engineers, and CAD technicians working on airfield development projects all around the world.
Can you talk about some of the projects you have done, illustrate the multi‑disciplinary aspects of team and experience?
It's difficult to choose just a couple of projects out of so many. I suppose the case of the Abu Dhabi Airfield Development Project is a good example of how we applied our multidisciplinary skills to successfully complete a complex project at an operational international hub. The design covered visual aids, a large amount of civil infrastructure as well as Medium Voltage and Low Voltage electrical design with the aim of achieving the smooth implementation of a follow-the-green AGL at this CAT III airport. As this is a turnkey project for ADB SAFEGATE, including design, supply, construction and installation, it was interesting for us to be able to follow-up in detail and oversee the step-by-step the implementation of our design on-site.
I would also like to mention the design projects we have completed for Taiwan Tayouan International Airport. These design projects covered the complete airfield of this three-runway airport including the complete rehabilitation of the existing airfield as well as the development of a number of new taxiways and aprons. Our detailed design successfully defined the works needed to upgrade the airport to become a full CATIII airfield including Individual Lamp Control and Monitoring on most of the more than 10,000 lights on the airfield as well as to implement aircraft and vehicle detection systems to improve the safety of operations.
To finalize I must mention a more recent project: the new airport at Istanbul. What started as a task of reviewing and proposing optimizations to the airfield lighting design done by others, ended up in a much broader design scope including defining the circuitry distribution of the more than 170 individual lamp control and monitoring circuits, completing the PAPI design, completing the aircraft and vehicle detection systems design and defining the light segmentation among other design tasks. Once we had proven to the client the added value of using ADB SAFEGATE's design capabilities, our scope gradually increased helping the construction work progress smoothly and reach its very tight deadline.
What sets you apart from others?
Not only are airports and more specifically airfield systems our passion but they are also our day-to-day business. Unlike consultants, we are truly specialized in this field and are fortunate enough to be a part of ADB SAFEGATE, surrounded by all the different specializations within this niche field, from product R&D to maintenance and system engineering, technical services, project management and training among others. In other words, the airfield is our field.

ADB SAFEGATE is a leading provider of solutions that boost efficiency, improve safety and environmental sustainability and reduce operational costs for airports, airlines and ANSP's. The company works with customers to identify performance bottlenecks and jointly solve them through integrated solutions that improve airport and airline performance. These solutions address every aspect from approach to departure – airport traffic handling and guidance, airfield lighting, tower-based traffic control systems, intelligent gate and docking automation, services and advanced analytics. ADB SAFEGATE has more than 1,100 employees across 45 nationalities in 25 countries, and operates in more than 175 countries, serving more than 2,500 airports globally, from the busiest and largest like Atlanta, Beijing, Dubai, Heathrow, Charles De Gaulle, Amsterdam, Frankfurt, Istanbul, New Delhi and Changi, to fast-growing airports across Asia and Africa.