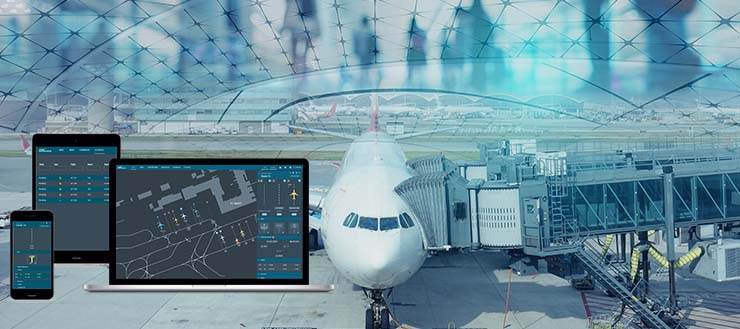 What happens on the apron impacts everything at the airport — from safety and security to on-time departures and customer experience. Airport World, the official magazine of the Airports Council International (ACI), recently published an article about ADB SAFEGATE's Digital Apron solution. The article explains how advanced technologies including fully-automated aircraft docking, data analytics, machine learning, artificial intelligence and real-time video surveillance can provide the information needed to transform airport operations.
Apron operations and efficiency across the entire airport can be improved by the integration of information and technology, writes Jodi Richards.
Arguably, the current volatility of traffic levels has made the need for flexibility, close collaboration and constant communication all the more critical for airports as they strive to best meet demand.
It certainly provides a cheaper and more effective alternative to solving capacity issues than investing in costly, and often time consuming, new infrastructure.
"Instead of building more, airports need to make better use of what they have," notes Peter Håkansson, head of gate product management for ADB SAFEGATE.
Indeed, much of what is needed to maximise facilities already exists — through information, says Håkansson.
He adds that because the apron sits at the centre of airport operations, it is a crucial focus for improving airport performance via the coordination and exchange of data. Faster turnarounds, run more efficiently and safely, can help airports flexibly respond to fluctuating traffic, grow revenue and improve the passenger experience.
For more than 75 years, ADB SAFEGATE has worked with its airport partners to develop integrated solutions to optimize safety and operations, and now takes integration to the next level with its Digital Apron solution.
Apron impact
In order to achieve the highest operational efficiency, safety and passenger experience levels, shared communication and data are necessary, says Håkansson.
He explains: "There are many stakeholders, which makes it complex. They all have their own information and don't necessarily share it, and it's difficult to get a good picture of what's happening on the apron."
Designed to support a more flexible operation, ADB SAFEGATE's Safedock advanced visual docking guidance systems (A-VDGS) and web-based SafeControl Apron Management (SAM) software provide a platform to increase efficiency and situational awareness to all stakeholders involved in the aircraft turn by bringing automation and digitalization to the apron.
SAM is a natural intelligent hub for controlling, merging, storing, analysing and predicting operational performance with an apron management perspective. Clear information keeps all personnel informed and enables a more elastic operation that helps deliver on-time departures in an ever-changing environment.
SAM enables Airport Collaborative Decision Making (A-CDM) by connecting A-VDGS to flight information systems and other equipment.
As a result, gate availability, flight status. equipment status, aircraft servicing progress and other critical information is shared in real time, helping avoid disruptions. SAM also facilitates automated billing of services for airports, and scales well to provide benefit to large or small airports, which is a mandatory need considering our footprint with 200+ apron management systems worldwide, states Niclas Svedberg, global product manager SAM for ADB SAFEGATE.
'Tight integration' of the airfield, tower, terminal and apron systems provides an unequivocal, single source of truth to enable collaboration among all stakeholders and drive efficiency. That single source of information can be found in the Digital Apron, which Håkansson insists "can help with optimisation of operations".
Written by Jodi Richards and published by Airport World Magazine, March 2022.  Read the full article here.
Also, download The Elastic Apron white paper here.