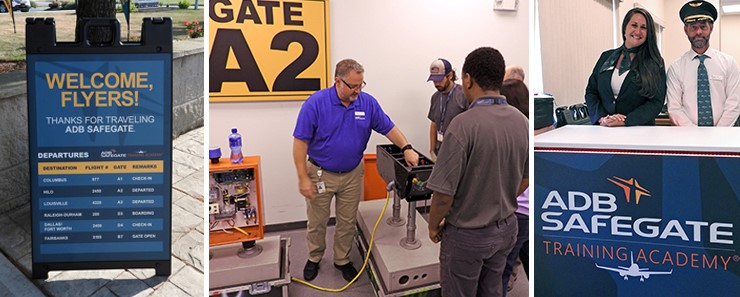 TRAINING ACADEMY. ADB SAFEGATE's Training Academy in the U.S. launched its newly redesigned airfield lighting maintenance seminar. In addition to content changes, including more hands-on training, the seminar now has an interactive format with an engaging aviation motif. "Passengers" received airline tickets that allowed them to "board" the Training Academy plane, which was piloted by Captain Dustin Blackstone and Flight Attendant Mandi Fulk, training team members, who dressed the part to get everyone "on board."
Two 3.5-day seminars were held at the ADB SAFEGATE facility in Columbus, OH, during the month of August. Class sizes were reduced from 40 to 36 to help facilitate better learning and both sessions were full. Attendee ticket stubs went into a raffle for the chance to win "fabulous prizes" throughout the seminar, and airport-themed signs were used throughout the training area.
Tablets were used for interactive quizzes on the seminar material, for looking up answers to FAA Advisory Circular questions, and for end-of-the-day surveys to gain feedback on the new training format. A new spiral-bound Training Guide was used in combination with the tablets to show passengers where to find helpful information online.
Hands-on learning stations were located at Gates A1 and A2, providing additional interaction with ADB SAFEGATE tech support engineers and sales managers, many of whom were also presenters. The expanded hands-on training included: thyristor CCR calibration and troubleshooting; ferroresonant CCR troubleshooting with ACE2 and capacitor testing; LED REIL and Halogen/LED sign troubleshooting; single, dual and LED PAPI sighting and troubleshooting, and LED sign upgrade and L-829 ACE3 stations.
Attendees enjoy our training seminars for the shared industry knowledge and access to not only ADB SAFEGATE experts, but also other aviation professionals from across the country. Guest lecturer, Kerry Bock, sales engineer from Heico Fasteners, Inc., gave a presentation on bolt torqueing, fasteners, and the recently released FAA Engineering Brief 83A: In-Pavement Light Fixture Bolts.
After three days of intense AGL training, seminar attendees had the option to stay an extra day to take a test to become a Certified Airfield Professional.
Response to the new interactive format was very positive. Some passengers' responses included:
I really enjoyed the seminar, the information exchange and networking were great. The technical skills that you shared have a great deal of value to me and my airport. I look forward to sending other technicians to your school.

Troubleshooting, networking, really all class material was great!
Learn more about our U.S. training offerings here including our new regional field seminars. Dates for our 2020 seminars will be available on the website in January.

ADB SAFEGATE is a leading provider of intelligent solutions that deliver superior airport performance from approach to departure. We partner with airports and airlines to analyze their current structures and operations, and jointly identify and solve bottlenecks. Our consultative approach enables airports to improve efficiency, enhance safety and environmental sustainability, as well as reduce operational costs. Our portfolio includes solutions and services that harmonize airport performance, tackling every aspect of traffic handling and guidance, from approach, runway and taxiway lighting, to tower-based traffic control systems and intelligent gate and docking automation. ADB SAFEGATE has more than 900 employees in more than 20 countries and operates in more than 175 countries, serving more than 2,000 airports.