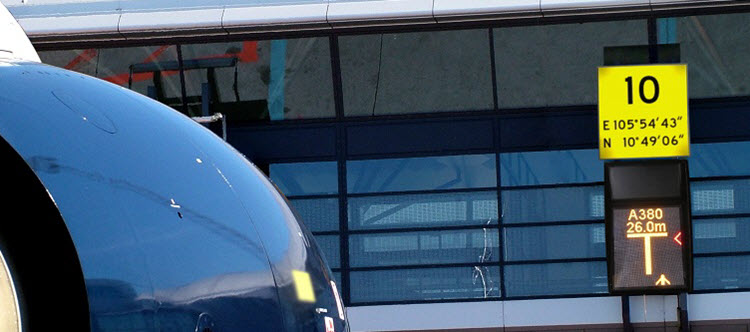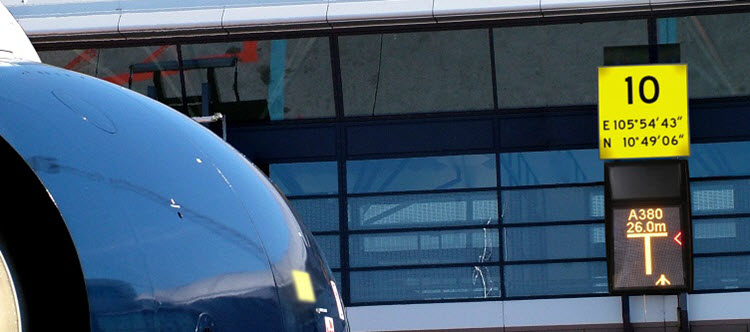 ADB SAFEGATE is committed to ongoing R&D of our portfolio. The Safegate team is dedicated to maintaining high quality solutions for the benefit of our customers. In today's competitive and growing aviation industry, everyday operations should not be threatened by adverse weather conditions, especially in maintaining throughput. Safegate Group understands the operational challenges our customers face and is answering their needs throughout our portfolio offering. Safedock® ensures aircraft docking is safe and smooth in a variety of adverse weather conditions.
As part of our ongoing R&D activities, Safegate recently conducted two weather condition tests on our Safedock® product line. These tests reaffirmed our 40 years of experience and R&D; Safedock®'s T1, T2 and T3 performance is successful in a diverse array of adverse weather conditions.
Frankfurt Airport Fog Test
With our partners Fraport at Frankfurt International Airport, ADB SAFEGATE recreated a variety of fog conditions and docked an aircraft at a Safedock® unit already installed at the airport. This experiment recreated the closest conditions possible that aircraft and Safedock® have to handle. The experiment was conducted on the movement area with the help of the local fire department and most importantly, using a real aircraft to test the Safedock® system itself.
The Safedock® performed correctly and as expected under all the conditions of this test.
Cerema Laboratory Test
ADB SAFEGATE  collaborated with the Cerema Laboratory, the only one of its kind in Europe, to test the Safedock® system in a controlled environment. The system was subjected to the most rigorous fog testing possible. Safedock®'s three models – the T1, T2 and T3 – were put to the test.
The Cerema's fog tunnel facility makes it a unique testing and experimental venue for R&D. This state-of-the-art laboratory has never been used in the advanced airport equipment and solutions industry before. It was a pioneering test for the industry.
The fog-tunnel facility, pictured here, produced different fog densities and measured the results. The results indicated that Safedock® performed successfully.
The Safedock® is an essential component to superior Category III airport operations.
ADB SAFEGATE has been producing docking systems since 1973. Our experience in the field is significant and we continue to build on our knowledge. Weather conditions continue to be a source of runway incursions, delays and costs for airlines and airports alike. Safegate offers a suite of solutions to make airports weather-proof and future-proof.
ADB SAFEGATE solutions help airports reach the future of aviation.
ADB SAFEGATE is a leading provider of intelligent solutions that deliver superior airport performance from approach to departure. The company partners with airports and airlines to analyze their current setup and operations, identify bottlenecks, and jointly solve them using a consultative approach that enables airports to improve efficiency, enhance safety and environmental sustainability, and reduce operational costs. Our integrated portfolio includes solutions and services that harmonize airport performance, tackling every aspect of traffic handling and guidance, from approach, runway and taxiway lighting, to tower-based traffic control systems, and intelligent gate and docking automation. ADB SAFEGATE has more than 900 employees in more than 20 countries and operates in more than 175 countries, serving more than 2,000 airports.