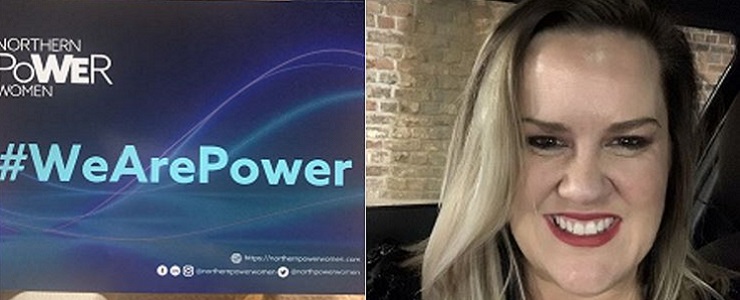 OUR PEOPLE. How is it to work at ADB SAFEGATE? To be a woman with a career in the aviation business? This week we caught up with Laura Bowley, Vice President HR Europe and Managing Director Airport Systems) who has gone from strength to strength in her own career at ADB SAFEGATE and encourages others to believe in themselves.

As a female leader, what would you say is important for young girls who want to start their career in business?
It is important to have great people who boost your confidence, and believe in you. Build a network of good mentors and ambassadors, there are some great open programs out there. . Don't think 'what I can't do', believe what you can do, look right past that glass ceiling because it's getting thinner and thinner! At the recent Northern Power Women's awards I saw some young women who had seen an opportunity to start a business, and were running at it full force, and I was super inspired.

What features do you think are important in a good leader?
I think every leader is different, so make sure you are genuine and sincere about your approach- don't copy others. Keep a clear eye on the future, and don't get bogged down in the day to day. Openness and transparency, when it's good recognize it and reward it, when it's not be open and real- treat your team like adults, they can handle the truth. Don't forget people spend a long time at work help them enjoy it and have fun.
Who inspired you to be a leader and why?
Honestly it's not one single person, but a whole collection of amazing people that help. The senior team I work with today are fantastic to work with and I enjoy how much we all push each other.
What would you say is the hardest obstacle you've come across in your career and how did you overcome this?
I made a career switch early in my life as I was in a role that I hated. I made great money and the 'lifestyle' was good but I felt I'd sold my sole to the devil. I had to be strong, and walk away, and rebuild my career. Don't be afraid to do that at any point, it will be worth it because then you do something you enjoy!

How important is company culture to you?
It is everything, simple.
Which of our ADB SAFEGATE values do you resonate with the most?
Driven by customers. Always have your customers voice in your mind, ask yourself, "What does this decision I am making mean for my customers?"
What advice would you give your younger self?
Not everyone has an end destination in mind, and that's ok, but make sure you enjoy each step along the way, it's going to be a fun ride!
How do you think we can encourage more women in leadership and engineering roles?
I think we should remove gender from the discussion. Make sure gender, age, religion, and any 'category' is removed, let's just talk inclusion. I see so many types of stereotypes, e.g. she is female so must be XYZ. Everyone is individual and unique so let's just get as many people discussing difference and embracing them. I love that the culture I work in embraces every type of learning style/character and we don't all look or talk like carbon copies of each other here. I feel I can be authentic and true.
And finally, leave us with your favorite quote
I don't trust anyone that doesn't laugh…. Maya Angelou!
ADB SAFEGATE provides integrated integrated solutions that raise efficiency, improve safety, boost environmental sustainability and reduce operational costs for airports, airlines and ANSPs. The company works with airports and airlines to solve operational bottlenecks, helping them navigate today's challenges and prepare for tomorrow. Solutions encompass airfield lighting, power and control systems, smart airport and tower software solutions, intelligent docking automation and aftermarket services. With more than 1,200 employees, ADB SAFEGATE serves more than 2,500 airports in more than 175 countries, from the busiest and largest like Atlanta, Beijing, Dubai, Heathrow, Charles De Gaulle, Frankfurt, Istanbul, New Delhi and Changi to fast-growing airports across Asia and Africa.