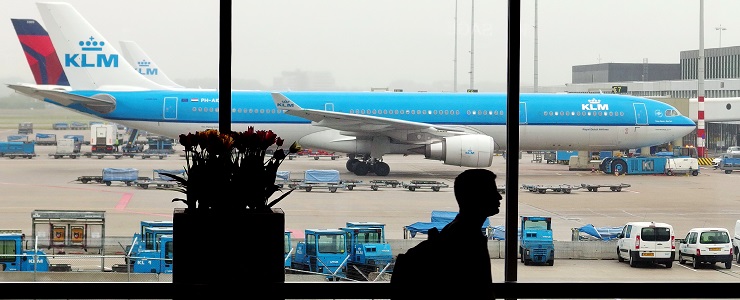 The air transport industry is based on the premise that it can take people and goods safely, reliably and efficiently almost anywhere in the world. But as demand continues to grow exponentially, operational inefficiencies and flight disruptions have become one of the core challenges airlines and airports face on a daily basis. Disruptions alone cost airlines around US$ 25 billion in 2016.
The industry is responding strongly, ramping up investments in tools that will enable them to predict disruption. 'The Future is Predictable' – a recent report published by SITA – shows that 91% of airlines are investing in business intelligence and 84% in predictive analytics to help them address disruption over the next three years.
The permutations for any kind of disruption are considerable. Bad weather, industrial action, IT outages, unexpected technical faults, staff sickness can hit at any time. Delays involving another airline or airport disruption may also result in the crew running out of legal work-time and overly-complex Notice to Airmen (NOTAMs) which are not fully digested, leading pilots to miss potentially important information. The list is long and the consequences problematic.
We all know how frustrating and stressful it is for passengers who face a delay at the airport and flight cancellations add a whole new dimension of stress and inconvenience. But it's hugely frustrating for airlines and airports too. It might be through no fault of their own, but a disruption hampers their ability not only to provide exceptional customer service, but also to reduce operational costs while expanding their network and maximizing revenues.
Poor on-time performance results in loss of revenue and passenger loyalty, and can eventually affect brand and reputation. SITA analysis shows that around 50% of delays are under the airlines' control, with 30% due to weather, 20% to air traffic control issues and less than 1% to security. That's 50% which airlines can mitigate against with the right technology and the right processes.
Some of the sources of disruption can be addressed immediately. For instance, by collaborating more effectively and making the right decisions earlier, airline Operations Control Centers (OCCs) and Hub Control Centers (HCCs) could prevent and mitigate over 20% of those delays (i.e. 10% of total disruptions). On top of the increased passenger satisfaction, brand reputation and loyalty, this mode of disruption prevention could save the industry an estimated US$3 billion annually.
Airlines and airports are focusing their immediate efforts on disruption management to improve recovery, in particular resolving the impact of disruption on passengers. Recent initiatives have included Italian airline Meridiana's disruption notification service via SMS and email, which enables the airline's passengers to accept or amend proposed flight changes at the touch of a button and, in some cases, apply for refunds.
KLM provides rebooking via WhatsApp for connecting passengers arriving at Schiphol Airport during a major disruption. Insight from the 'The Future is Predictable' report also notes that about two thirds of airlines are planning to enable re-booking services for all passengers, including self-service tools via kiosk or mobile.
Airline staff and operational service partners, such as ground handlers, are also vital links in the chain and, over the next three years, a growing number of airlines will be rolling-out mobile devices to staff to allow team members to access information and tools to help them deal with flight delays and cancellations.
Technology is the critical element here. To enhance their capabilities, airlines are turning to common or well-integrated systems to improve the quality of their data and their ability to share it internally. Airlines also intend to implement automated tools to prevent or mitigate predicted flight disruptions: by the end of 2019, 63% of airlines expect to have implemented integrated systems to predict potential disruptions and their impact before they occur; and 61% expect to be automatically preventing or mitigating predicted flight disruptions, according to the 'The Future is Predictable' report.
Airports are looking to mobile devices too, as well as social media, to provide mass notification of disruption while improving the flow of information to staff and stakeholders. By the end of 2019, almost two thirds of airports will have implemented tools for automated and real-time communications and status visibility for service stakeholders.
Increasing focus is also being placed by airports on collaborative decision-making programs – not only to maintain flight schedules and aircraft turn-around times, but also as the key to managing disruptions.
While these actions are an essential part of the response to any kind of disruption, they all fall under the umbrella of disruption management. For a real step-change in the way airlines and airports deal with disruption, disruption management needs to be complemented by disruption prediction. It's great that airports are managing disruption more effectively but what if they could nip disruption in the bud, resolving the issue before it even became an issue? They need technology which gives them more time to plan ahead.
A small number of airports are already using predictive technology to minimize disruptions. However, by 2019, almost 50% of the world's airports expect to be using integrated systems to predict potential disruptions and their impact before they occur, while four out of 10 airports are looking to implement automated predictive alerts before flight disruption events.
All of these initiatives depend on ready access to high quality data – and the tools to interpret and deliver relevant information which can be used to avoid disruption or to manage it so that there is minimal impact. Technology is critical, but so is the process used to provide the best results.
For example, interpretation will depend on the perspective of the airline or airport towards disruption. Is passenger satisfaction a greater priority than minimizing the cost of disruption? Is the airport constrained by night-time flying limits? Is resolving disruption constrained by runway and taxiing capacity? To what extent is passenger flow management constrained by security and immigration?
In 2016, SITA launched a number of community innovation programs to explore innovative solutions to some of the industry's most pressing challenges. The programs look further into the future at promising technologies or new ways of doing things that could have a big impact on the industry.
One such program is to explore the provision of information and updates through a global disruption warning system. The system will consider the common issues faced by all stakeholders, but also the different perspectives and objectives of each to identify the most suitable technologies and approaches to help the industry defeat disruption.
Any new program should investigate the potential use of emerging and new technologies, including operational intelligence, business intelligence, artificial intelligence and cognitive computing.
SITA's initiatives in the field of real-time disruption management began on a platform in partnership with Australia-based Constraint Technologies International (CTI). SITA Lab subsequently entered the picture to look at disruption detection and disruption prediction.
Early results are already exciting. By integrating siloed data into one 'single truth' data set in real-time and applying optimization algorithms to that data set, a wide range of day-to-day operational issues could be solved in real time. Flight delays, total delay cost and the impact on subsequent flights, crew assignments, connecting passengers and baggage could all be dealt with instantaneously. This innovative disruption management solution could enable airline OCCs and HCCs to make the right decisions earlier.
Taking into account flight, weather and other important data, SITA will explore the possibilities for airline and airport visualization and monitoring of incidents, as well as historical and trend data, and emerging technologies such as artificial intelligence.
The success of disruption detection and prediction hinges on a thorough understanding of historical data. By analyzing a mass of existing data on flight movements, weather and flight delays, the industry can build an environment that looks as close as possible like the real world. This includes NOTAMs (which alert pilots about potential hazards along a flight route or at a location that may affect the safety of the flight), as well as news feeds from local and national sources across the world.
Airlines have increasingly large repositories of data, but they tend to regard it as proprietary. If the community can pool and analyze that data, then greater accuracy can be found in predictions. There's strong potential to use artificial intelligence machine learning with its sophisticated analytics to extract and decode information from the data.
Predictability is a natural antidote to passengers' anxiety and, for many, the inevitable stress of traveling. It also helps all those working to ensure the smooth operation of air transport. A far greater sense of predictability for day-to-day travel would be a valuable step forward for the air travel community, helping airlines and airports reduce the US$ 25 billion wasted every year through flight disruption.
This article is written by Matthys Serfontein, Vice President, Airport Solutions, SITA, as part of a series about sustainability and airport development. Published on ADB SAFEGATE with permission of Momberger Airport Information.
The airport photo was taken by Martin Lamprecht.
SITA is a specialist in air transport communications and information technology: Nearly every passenger flight relies on SITA technology. SITA works with air transport owners and members to provide technology solutions that make a difference at a community level. SITA innovates collaboratively, while developing and managing solutions over the world's most extensive network – one that forms the 'communication backbone' of the global air transport industry.

ADB SAFEGATE is a leading provider of intelligent solutions that deliver superior airport performance from approach to departure. The company partners with airports and airlines to analyze their current setup and operations, identify bottlenecks, and jointly solve them using a consultative approach that enables airports to improve efficiency, enhance safety and environmental sustainability, and reduce operational costs. Our integrated portfolio includes solutions and services that harmonize airport performance, tackling every aspect of traffic handling and guidance, from approach, runway and taxiway lighting, to tower-based traffic control systems, and intelligent gate and docking automation. ADB SAFEGATE has more than 900 employees in more than 20 countries and operates in more than 175 countries, serving more than 2,500 airports.