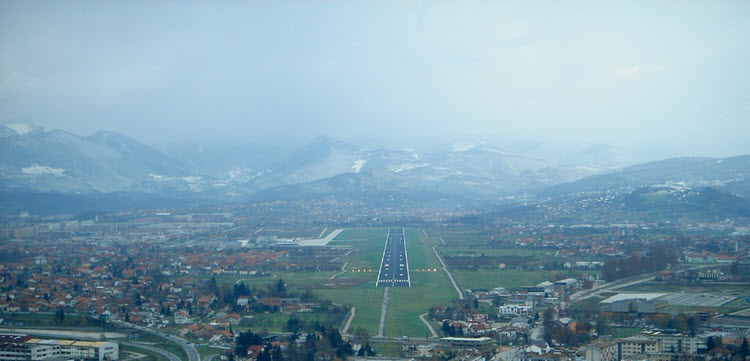 Sarajevo International Airport and Safegate Group have been working together since the 1984 Sarajevo Winter Olympics. Idman Airfield Lighting Oy., now part of the Safegate Group, upgraded the airport to Category I status in preparation for the thousands of visitors who were going to pour in. This history continues with Sarajevo's modernization project today.
Recently, Sarajevo decided to join many airports around the world by advancing to LED lighting on their airfield. Safegate Group is upgrading Sarajevo's airfield ground lighting system (AGL) by transitioning it to LED technology. This is bringing the airport a number of benefits.
Sarajevo saw that the return on investment of LED airfield lighting coincided with their goals of minimizing power consumption and lowering maintenance costs. The modernization project starts with a complete exchange of all existing halogen lights for Taxiways Alpha, Bravo and
Charlie to LED lights. The full plan includes fully replacing the Category II system.
Despite the installation costs of LED airfield lighting, which tends to be higher than halogen is, Mr. Avdulah Hamzic, who is the AGL & Electrical Facilities Staff Associate at P.C. Sarajevo International Airport, explained that the advantages and ROI return makes the investment worthwhile. They expect to benefit from fewer field inspections, expansive lamp fixture durability, and higher winter operations efficiency, which are key factors in their airport performance and long-term goals.
Sarajevo International Airport is leading the way in LED airfield lighting in this region of Europe. From the 1984 Winter Olympics to today and beyond, this 30 year partnership between Sarajevo International Airport and Safegate Group will continue.
For more information, contact Safegate Finland: finland@safegate.com
Image via: Sarajevo International Airport