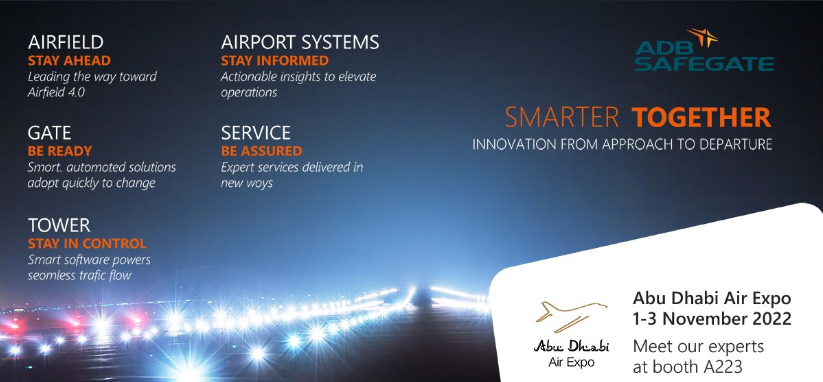 ABU DHABI. ADB SAFEGATE will be participating at the ABU DHABI AIR EXPO on November 1- 3. Join us on stand A223 to discuss how we can work together to take airport operations to the next level!
The Abu Dhabi Air Expo brings together major players in Aviation & Aerospace and offers a unique platform for industry leadership through its high-level conference, latest developments and innovations in a remarkable and convenient location, downtown in Abu Dhabi, the UAE Capital.
ADB SAFEGATE provides integrated solutions that raise efficiency, improve safety, boost environmental sustainability and reduce operational costs for airports, airlines and ANSPs. The company works with airports and airlines to solve operational bottlenecks, helping them navigate today's challenges and prepare for tomorrow. Solutions encompass airfield lighting, power and control systems, smart airport and tower software solutions, intelligent docking automation and aftermarket services. With more than 1,200 employees, ADB SAFEGATE serves more than 2,500 airports in more than 175 countries, from the busiest and largest like Atlanta, Beijing, Dubai, Heathrow, Charles De Gaulle, Frankfurt, Istanbul, New Delhi and Changi to fast-growing airports across Asia and Africa.