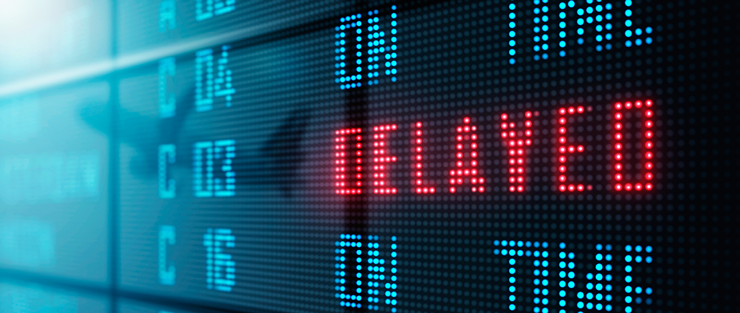 INTELLIGENT SOLUTIONS. Irregular operations (IROPS) is one of the most pressing daily challenges for airports and airlines across the globe. Ilya Burkin, Business Development Director, Apron Solutions at ADB SAFEGATE, looks at how the COVID-19 pandemic has intensified the IROPS issue and shares solutions available today to help manage IROPS effectively.
Airports worldwide grapple with a multitude of daily challenges, one of the most pressing being irregular operations (IROPS). As defined by the International Air Transport Association (IATA), IROPS are events or circumstances that disrupt an airport's standard operations, resulting in delays, cancellations, diversions, or other operational disturbances. These disruptions can arise from various factors, including adverse weather conditions, technical issues, labor strikes, security threats, and other unforeseen events. The consequences of IROPS are far-reaching, often causing significant inconvenience and financial losses for passengers, airlines, and airports alike.
IATA reveals that around 30% of all flight delays and cancellations worldwide are due to irregular operations. The cost of these disruptions is staggering, with the industry losing an estimated $25 billion annually. Moreover, the European Organization for the Safety of Air Navigation (EUROCONTROL) reported that the average delay per delayed flight in Europe increased by 50% from 2013 to 2019, underscoring the escalating challenge of managing IROPS.
The COVID-19 pandemic has further intensified the issue of irregular operations. The unprecedented decline in air traffic during the pandemic placed financial strain on airlines and airports, hampering their ability to recover from disruptions swiftly. This issue is compounded by the rapid recovery in certain regions where airlines and airports were simply unprepared.
There are several solutions to help manage IROPS effectively:
Enhanced Planning and Coordination
To mitigate the impact of IROPS, airports must develop comprehensive contingency plans outlining procedures for various disruption scenarios. These plans should involve close coordination among all stakeholders, including airlines, ground handlers, air traffic control, and emergency services. Regular training and exercises should be conducted to ensure all parties are well-prepared to manage disruptions effectively.
Investment in Technology and Infrastructure
Airports must invest in advanced technologies and infrastructure to bolster their resilience to disruptions. Examples include automated all-weather docking guidance systems, state-of-the-art de-icing and snow removal equipment, and backup power systems. Additionally, airports should adopt digital solutions, such as real-time data sharing platforms and artificial intelligence-driven decision-making tools, to optimize operations during IROPS.
Improved Communication and Passenger Support
Effective communication is crucial during irregular operations, as passengers need accurate and timely information about their flights and available options. Airports and airlines should invest in robust communication systems and trained personnel to keep passengers informed. After all, an informed passenger is a happy passenger!
Feel free to reach out to me to discuss how ADB SAFEGATE can help airports and airlines improve their operations and minimize the effects of irregular operations. Let's work together to create a smoother, more efficient travel experience for everyone!
Ilya Burkin
Business Development Director, Apron Solutions
ilya.burkin@adbsafegate.com
ADB SAFEGATE provides integrated solutions that raise efficiency, improve safety, boost environmental sustainability and reduce operational costs for airports, airlines and ANSPs. The company works with airports and airlines to solve operational bottlenecks, helping them navigate today's challenges and prepare for tomorrow. Solutions encompass airfield lighting, power and control systems, smart airport and tower software solutions, docking automation and intelligent apron management, as well as aftermarket services. With more than 1,200 employees, ADB SAFEGATE serves more than 2,500 airports in more than 175 countries, from the busiest and largest like Atlanta, Beijing, Dubai, Heathrow, Charles De Gaulle, Frankfurt, Istanbul, New Delhi and Changi to fast-growing airports across Asia and Africa.