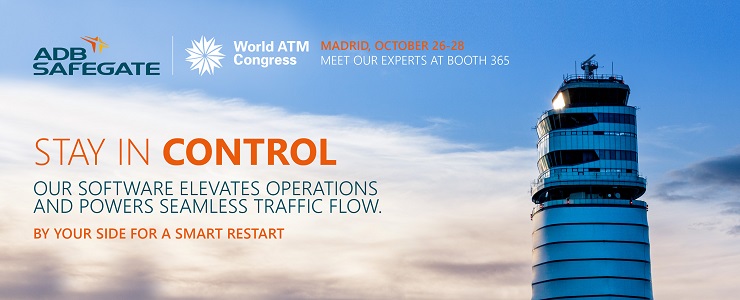 World ATM Congress is the world's largest international air traffic management (ATM) exhibition and conference, attracting over 9,500 people from more than 130 countries. At ADB SAFEGATE we are looking forward again to meeting you in person and showing you how we can be at your side for a smart restart. Come meet our experts at Booth 365, Hall 9, 26-28 October at the World ATM Congress 2021.

During the three days in October, the world's leading product developers, experts, stakeholders, and air navigation service providers (ANSPs) are gathered in Madrid, Spain for conference sessions, product demonstrations and launches, contract closures and educational and networking opportunities. The Congress offers visitors insight into key issues in the ATM industry, hands-on experience of the latest products and innovation.
With ADB SAFEGATE's Integrated Tower, Air Traffic Controllers get complete control
At our stand 365, we will demo our solution to help reduce complexity. At ADB SAFEGATE we're rethinking how the tower is set up so your airport can do more with what you already have. Safer, more sustainable and more efficient air traffic management is now within your reach. From handling ever-evolving operational challenges in air traffic to making sense of huge volumes of data, our smart airport and tower software solutions manage traffic and operations with ease.
OneControl –  a part of ADB SAFEGATE´s Tower ATM package – that follows the concept of an integrated controller working position, bringing all systems that air traffic/apron controllers need in their daily work to a single screen, providing a consistent layout and user experience, so that the controllers can go back and focus on their real tasks: managing air traffic.
Complete integration via collaboration: With our full turnkey approach, we work with you to learn your challenges and partner with best-in-class providers. The result is a cohesive solution that's just what your airport needs.
AS-Vision, our mobile web-based Airport Management System and A-CDM platform: Airports and their stakeholders can anticipate change and decide what's best, using accurate, real-time data in fluid situations, to maintain a reliable passenger experience.
Mobile web-based SafeControl Apron Management (SAM): Flexible apron solutions can enable operational elasticity to help airports and airlines easily and quickly scale up or down to meet changing demand.
The airport must always stay in control, maintaining safe, reliable throughput, no matter the situation.
Meet with us again at the World ATM Congress 
After a very challenging 18 months for the industry, we are looking forward to finally meeting you in person. Come meet our experts at Booth 365 to  learn how we can be your side for a smart restart.
Opening hours
Tuesday, 26 October          10:00 – 19:30
Wednesday, 27 October    10:00 – 18:00
Thursday, 28 October        10:00 – 14:00
Location
Hall 9 at Feria de Madrid (North Entrance)
You will find ADB SAFEGATE at Stand 365.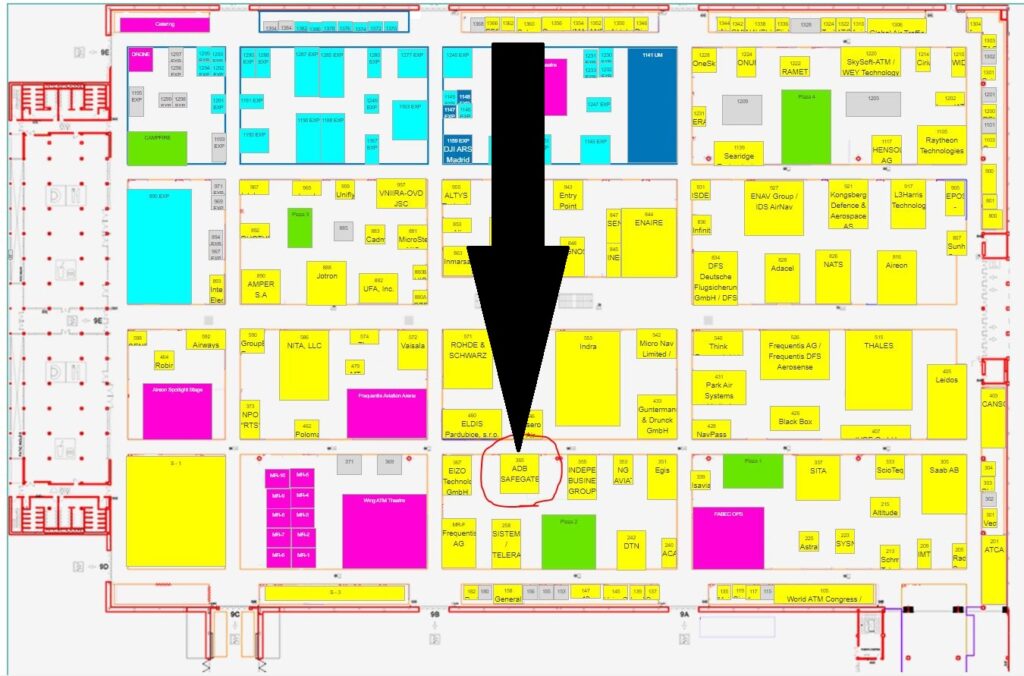 ADB SAFEGATE is a leading provider of intelligent solutions that deliver superior airport performance and operations, and jointly identify and solve bottlenecks. Our consultative approach enables airports to improve efficiency, enhance safety and environmental sustainability, as well as reduce operational costs. Our portfolio includes solutions and services that harmonize airport performance, tackling every aspect of traffic handling and guidance, from approach, runway and taxiway lighting, to tower-based traffic control systems and intelligent gate and docking automation. ADB SAFEGATE has 900+ employees in more than 20 countries and serves some 2,500+ airports in more than 175 countries.