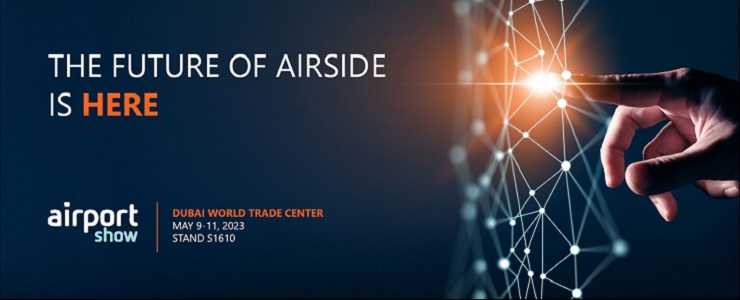 DUBAI. Airport Show Dubai is one of the biggest events in the aviation industry, bringing together airport operators, airlines, and technology providers from around the world. This year, we are excited to announce our presence at the show and showcase some of our latest innovations and solutions. See you there to discuss intelligent AiPRON, AXON lights, OneContol and much more.
At our booth, visitors will be able to experience our intelligent AiPRON, an exciting new operational platform that goes beyond digitalization to bring a holistic, intelligent and sustainable approach to managing apron activities from landing to takeoff. We've integrated the systems and processes important to apron operations into a single ecosystem that uses machine learning technologies to optimize taxiing, docking and pushback procedures and improve the efficiency of ground handling operations as a whole.
Another highlight of our exhibit is our high intensity AXON lights, a cutting-edge lighting system designed to improve safety and efficiency on airport aprons. With smart features such as automatic dimming and directional lighting, AXON lights can help reduce accidents, save energy, and optimize operations.
We will also be showcasing our new weather sensors and reporting systems, which provide real-time weather information to airport operators, airlines, and ground handlers. With accurate and timely weather data, airports can plan and optimize operations, minimize delays, and enhance safety.
Our latest version of OneControl, our airport management software, will also be on display at the show. OneControl offers a comprehensive suite of tools for airport managers, enabling them to monitor and control all aspects of airport operations from a single platform.
In addition to these solutions, we will be showcasing our cloud enabled ALIS service tool will also be on display, providing a comprehensive suite of services for airport operators, including maintenance and repair services, data analytics, and performance monitoring.
We are excited to be part of this year's Airport Show Dubai and look forward to sharing our latest innovations and solutions with visitors from around the world. Come visit us at our booth S1610, May 9-11, to learn more about how we can help transform your airport operations and enhance your passengers' experience.

ADB SAFEGATE provides integrated solutions that raise efficiency, improve safety, boost environmental sustainability and reduce operational costs for airports, airlines and ANSPs. The company works with airports and airlines to solve operational bottlenecks, helping them navigate today's challenges and prepare for tomorrow. Solutions encompass airfield lighting, power and control systems, smart airport and tower software solutions, docking automation and intelligent apron management, as well as aftermarket services. With more than 1,200 employees, ADB SAFEGATE serves more than 2,500 airports in more than 175 countries, from the busiest and largest like Atlanta, Beijing, Dubai, Heathrow, Charles De Gaulle, Frankfurt, Istanbul, New Delhi and Changi to fast-growing airports across Asia and Africa.