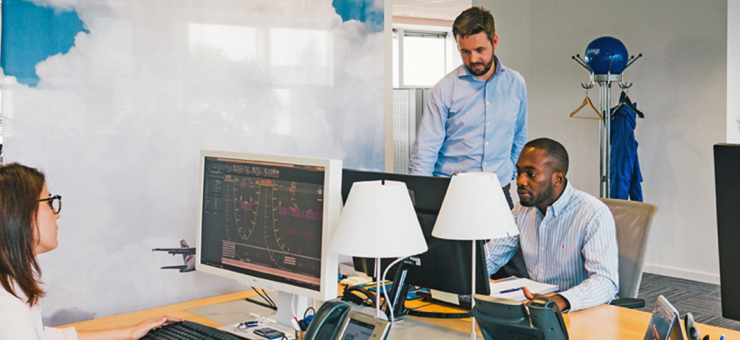 DESIGN & CONSULTING. As worldwide air traffic gradually returns to normal, the International Air Transport Association (IATA) predicts overall traveler numbers to surpass pre-COVID 19 levels by 2024, reaching 4 billion. Never before has it been more crucial to have efficient and safe airfield operations and purposeful innovations to keep up with ever-changing aviation challenges.
ADB SAFEGATE continues to lead the way to the future by driving the pulse of aviation development. For over 75 years, ADB SAFEGATE has shown their dedication to understanding the unique attributes, infrastructure, and business objectives of a specific airport to offer the most successful solutions and services such as our highly experienced Design & Consulting services
The ADB SAFEGATE Design & Consulting team is comprised of specialized design technicians and electrical, mechanical, and civil engineers that have daily hands-on connections with all functions of airfield operations and infrastructure. By working directly with airports, they understand the complexities of airfield operations and how best to tailor solutions and services to meet individual needs.
Whether it's helping airports analyze their overall infrastructure to define needed improvements, provide planning for apron expansion, overhauling existing situation drawings, or even creating an overall plan for airside development options, ADB SAFEGATE's Design & Consulting team has the expertise to meet a comprehensive range of aviation demands.
Watch our new video to learn more about our extensive Design & Consulting Services.
ADB SAFEGATE is a leading provider of solutions that boost efficiency, improve safety and environmental sustainability and reduce operational costs for airports, airlines and ANSP's. The company works with customers to identify performance bottlenecks and jointly solve them through integrated solutions that improve airport and airline performance. These solutions address every aspect from approach to departure – airport traffic handling and guidance, airfield lighting, tower-based traffic control systems, intelligent gate and docking automation, services and advanced analytics. ADB SAFEGATE has more than 1,100 employees across 45 nationalities in 25 countries, and operates in more than 175 countries, serving more than 2,500 airports globally, from the busiest and largest like Atlanta, Beijing, Dubai, Heathrow, Charles De Gaulle, Amsterdam, Frankfurt, Istanbul, New Delhi and Changi, to fast-growing airports across Asia and Africa.