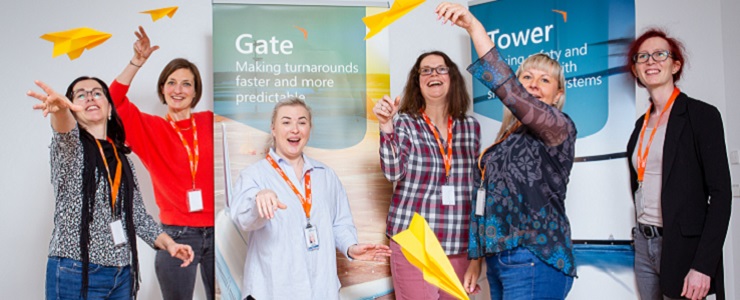 Women of Aviation Worldwide Week (WOAW) is a global awareness week for girls of all ages observed to mark the anniversary of the world´s first female pilot license, issued to Raymonde de Laroche on March 8, 1910.  This week is a call to address gender imbalance in the air and space industry. Join the ADB SAFEGATE Graz team for the celebration! Thank you, Andrea Schroeder, for the fabulous paper plane idea, and Stefan Kunz, for taking the photo.

March 8 is the anniversary date of the world's first female pilot license, issued to Raymonde de Laroche on March 8, 1910. It´s also the International Women's Day (IWD). At ADB SAFEGATE we use this opportunity to celebrate all strong women in aviation and especially our ADB SAFEGATE colleagues across the globe. IWD marks a call to action for accelerating women's equality and is celebrated on March 8 every year since the early 1900s to emphasize the importance of achieving gender equality, women's rights and women empowerment.
The aim of the IWD 2023 #EmbraceEquity theme is to get the world talking about Why equal opportunities aren't enough. People start from different places, so true inclusion and belonging require equitable action.
The theme for International Women's Day, shared by UN Woman is, "DigitALL: Innovation and technology for gender equality". This theme is aligned with the priority theme for the upcoming 67th Session of the Commission on the Status of Women (CSW-67):
Innovation and technological change, and education in the digital age for achieving gender equality and the empowerment of all women and girls.
At ADB SAFEGATE, innovation and technology are in our blood. We work actively for gender equality and  are proud to be an equal opportunity workplace. With offices around the globe that are filled with passionate employees representing different nationalities, cultures, languages, and identities, we pride ourselves on being a colorful melting pot.
At ADB SAFEGATE, we are committed to:
Respect the personal dignity, privacy, and personal rights of every individual.
Welcome and celebrate various ethnic backgrounds, cultures, religions, ages, races, sexual identities, bodies, world views, and genders.
Not tolerate discrimination against anyone, whether they be our employees or the many clients, suppliers, and consultants we work with.
Ensure equitable pay practices across all genders.
ADB SAFEGATE provides integrated solutions that raise efficiency, improve safety, boost environmental sustainability and reduce operational costs for airports, airlines and ANSPs. The company works with airports and airlines to solve operational bottlenecks, helping them navigate today's challenges and prepare for tomorrow. Solutions encompass airfield lighting, power and control systems, smart airport and tower software solutions, docking automation and intelligent apron management, as well as aftermarket services. With more than 1,200 employees, ADB SAFEGATE serves more than 2,500 airports in more than 175 countries, from the busiest and largest like Atlanta, Beijing, Dubai, Heathrow, Charles De Gaulle, Frankfurt, Istanbul, New Delhi and Changi to fast-growing airports across Asia and Africa.