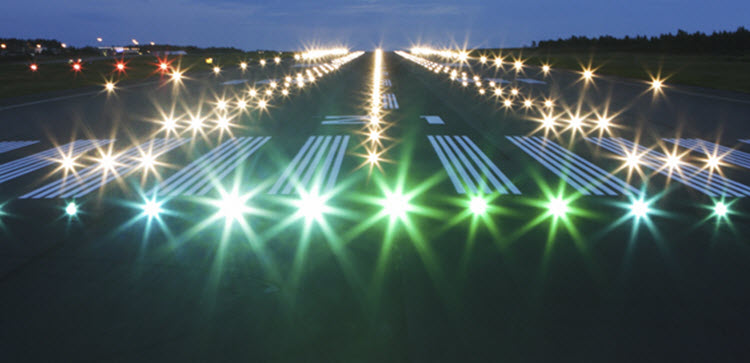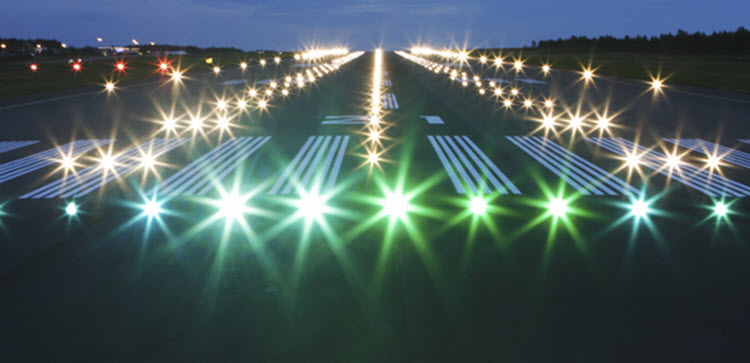 Airfield lighting (also known as airfield ground lighting) has come a long way since its beginnings in the 1940s during the rigors of war-time. Considering the increasing demands on the aviation industry today, what would pilots, airports and passengers have done had they been limited to flying only during daylight? Air traffic demand is rising and will double within 15 years, just as it has done since the 1970s. Airfield lighting has played a significant part in enabling the growth of the aviation industry that has revolutionized how we travel, work and enjoy our leisure time.
Today, the airport industry is well under way in transitioning to a new phase of airfield lighting thanks to LED lighting technology. This technology is reaching maturity in the airfield context and the effects are global. First appearing on runways, taxiways and even aprons approximately 10 years ago, there is a visible perception shift about LED airfield lighting. From Australia where Brisbane West Wellcamp Airport is Australia's first fully LED lighting airfield system, to Stockholm Arlanda with its SafeLED IQ stop-bars and runway guard lights, LED lighting technology offers value to airports seeking energy savings, lower maintenance costs and higher performance from airport infrastructure. Many stakeholders across airport operations benefit from this shift, not to mention pilots and passengers who experience safer and more efficient airport operations.
Airfield ground lighting remains an essential visual aid for pilots around the world. As airports develop and gain from this technology's benefits, regulatory awareness of the differences between halogen and LED lights is also slowly growing. Careful regulatory changes over time will move the industry towards new standards more attune to the technical differences between these two lighting technologies.
From being one of the missing links in visual aids that are necessary to the goals of NextGen to the enabler of the future-air traffic concept Follow-the-Greens, many exciting changes in aviation are on their way. Seeing this global airport evolution to LED airfield lighting is a moment for early adopters and developers of LED airfield lighting technology to be proud to have been involved from the beginning. They see that this transition to LED airfield lighting plays an essential part in preparing airports and the greater aviation industry for the air traffic demands and challenges of the future.
ADB SAFEGATE is a leading provider of intelligent solutions that deliver superior airport performance from approach to departure. The company partners with airports and airlines to analyze their current setup and operations, identify bottlenecks, and jointly solve them using a consultative approach that enables airports to improve efficiency, enhance safety and environmental sustainability, and reduce operational costs. Our integrated portfolio includes solutions and services that harmonize airport performance, tackling every aspect of traffic handling and guidance, from approach, runway and taxiway lighting, to tower-based traffic control systems, and intelligent gate and docking automation. ADB SAFEGATE has more than 900 employees in more than 20 countries and operates in more than 175 countries, serving more than 2,500 airports.