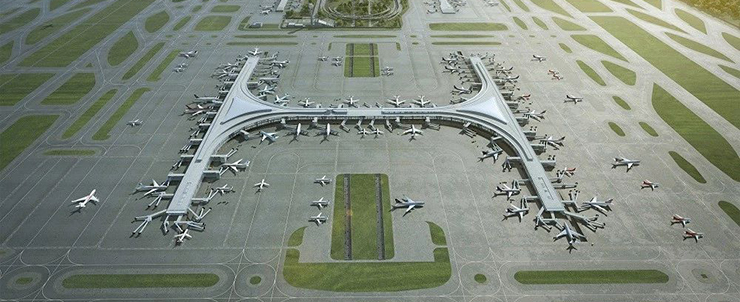 CHINA. Shanghai Pudong International Airport is the largest hub airport in East China. In the past 23 years, ADB SAFEGATE has had close cooperation with Pudong Airport from airfield, gate and airport systems business. On September 15, 2022, ADB SAFEGATE signed a two-year A-VDGS service contract, which is our largest in China.
Shanghai Pudong International Airport, as the largest hub airport in East China, is the 'gateway' from China to the rest of world. The first phase of the airport was completed and opened on September 16, 1999. The total airport area has now reached 1.46 million square meters, with two terminal buildings and a satellite terminal.
ADB SAFEGATE has been a trusted business partner of Shanghai Airport Group since delivering 28 Safedock T3 advanced visual docking guidance systems (A-VDGS) together with a gate operating system (GOS) at Pudong Airport in 1998. Since then, ADB SAFEGATE has been firmly established in China civil aviation. Pudong Airport chose ADB SAFEGATE again in 2006 when all gates were equipped with Safedock T2, and again in 2012 and 2015 when T3 systems were upgraded to T2. In 2018, Shanghai Airport Group once again turned to ADB SAFEGATE with the largest Safedock T1 A-VDGS contract in the China market.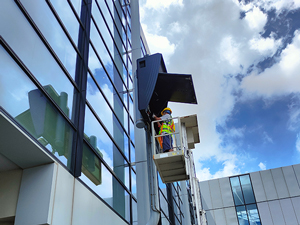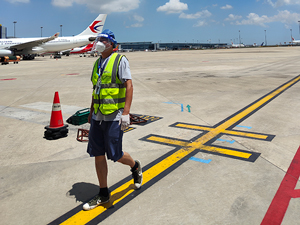 On September 15, 2022, the 23rd anniversary of Pudong Airport's operation, ADB SAFEGATE signed its largest A-VDGS Maintenance Service Contract in China. The new two-year service contract follows the warranty of the Satellite project.
The scope includes regular maintenance, spare parts, 7×24 emergency support, specific software upgrades, analysis reports and optimization advice covering all Safedock systems and gate operating systems in operation at Pudong Airport. ADB SAFEGATE China has also provided an experienced on-site engineer since 2012, which has helped the airport improve safety and efficiency without challenging the workload in the busy operation.
"During the past 23 years, ADB SAFEGATE has been a reliable partner providing high quality products and service to Pudong Airport and ensuring the safe and efficient operation of the airport apron," said an engineer of operation and maintenance department at Shanghai Pudong Airport.
"I hope ADB SAFEGATE will continue to bring us reliable and advanced solutions and contribute even more to helping Pudong Airport stand out as a centennial gateway and world hub," said the director of Shanghai Airport Group.
Over the past two decades, from landing to takeoff, ADB SAFEGATE China kept growing together with Pudong Airport. From complete airfield and gate solutions and integrated systems such as AODB/RMS/IB, to long-term maintenance agreements covering the entire airport, ADB SAFEGATE is always beside Pudong Airport.
ADB SAFEGATE provides integrated solutions that raise efficiency, improve safety, boost environmental sustainability and reduce operational costs for airports, airlines and ANSPs. The company works with airports and airlines to solve operational bottlenecks, helping them navigate today's challenges and prepare for tomorrow. Solutions encompass airfield lighting, power and control systems, smart airport and tower software solutions, intelligent docking automation and aftermarket services. With more than 1,200 employees, ADB SAFEGATE serves more than 2,500 airports in more than 175 countries, from the busiest and largest like Atlanta, Beijing, Dubai, Heathrow, Charles De Gaulle, Frankfurt, Istanbul, New Delhi and Changi to fast-growing airports across Asia and Africa.