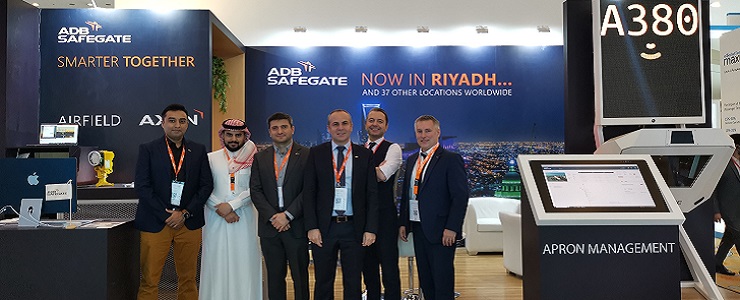 SAUDI. ADB SAFEGATE´s local Saudi office was announced at the premier Saudi Airport Exhibition, and that was welcomed by our long-standing customers in the Kingdom. We´re glad that so many could join us to discuss how we can work together to take airport operations to the next level.
At the first Saudi Airport Exhibition, 7 – 8 November 2022, ADB SAFEGATE presented our Airfield 4.0 concept and Axon lights, along with our Safedock X and turnaround management platform. We appreciate the big interest we saw in our AI and machine learning applications that are brought in by these technologies.
To help airports work safely, sustainably, and profitably, in an ever-changing world we offer innovative solutions and services:
Our new Airfield 4.0 portfolio uses sensors and wireless telemetry to collect real-time data from multiple sources, giving airports a complete overview of their airfield's status allowing them to make faster and more accurate decisions.
The latest generation of intelligent gate and apron solutions – including our mobile web-based SafeControl Apron Management solution – can enable operational elasticity to help airports and airlines achieve the next big operational gains.
We´re here to help you!
We are glad that so many could join us and had a chance to discover how we can work together to take your airport operations to the next level. For continued discussion, please contact your local salesperson.
ADB SAFEGATE is a leading provider of intelligent solutions that deliver superior airport performance from approach to departure. The company partners with airports and airlines to analyze their current setup and operations, identify bottlenecks, and jointly solve them using a consultative approach that enables airports to improve efficiency, enhance safety and environmental sustainability, and reduce operational costs. Our integrated portfolio includes solutions and services that harmonize airport performance, tackling every aspect of traffic handling and guidance, from approach, runway and taxiway lighting to tower-based traffic control systems, and intelligent gate and docking automation. ADB SAFEGATE has more than 1200 employees in more than 20 countries and operates in more than 175 countries, serving more than 2,500 airports.