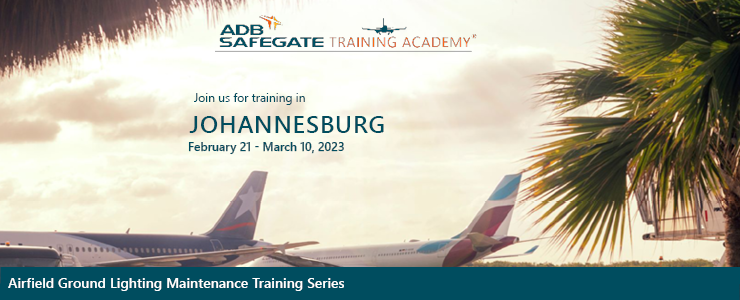 TRAINING ACADEMY. Join us in February and March, 2023, to learn from the experts! Three of our most popular airfield training courses will be jointly delivered in Johannesburg by our Training Academy staff and our Africa Service Team to provide you the best advice possible. Block your agenda and register now!
Three airfield training sessions delivered in Johannesburg
Do you need more information before booking your trip? Here we go!
AGL+1: From the 21st to the 24th of February, the AGL+1 Basics of AIRFIELD Ground Lighting will guide you through the major aerodrome-related requirements, applicable to airfield ground lighting and to our ADB SAFEGATE equipment. This is the perfect knowledge primer about the regulations in terms of operation and maintenance of AGL equipment, to start interacting safely with our equipment.
AGL +2. From the 27th to the 3rd of March, we will continue with the AGL+2, which focuses on ADB SAFEGATE equipment. We will learn together about the functionalities, structure, installation, and maintenance of ADB SAFEGATE's products and systems. This course also provides an extensive understanding of product safety. This training is a must-have for technicians and engineers requiring a deep understanding about AGL products.
AGL +3. We finish this training series on a strong note. The AGL Maintenance management training, or AGL+3, is reserved for the elite experienced AGL professionals who are active or aspiring shift managers or maintenance managers. The session explains the differences between corrective and preventive maintenance systems and their impact on airport operations. It will help you in establishing a state-of-the-art maintenance structure and defining the roles and responsibilities of each member of the AGL maintenance team, including competency management.
Be sure not to miss this opportunity, book your tickets now and join us in South Africa in February and March 2023.
The ADB SAFEGATE training and service team are looking forward to welcoming you!
South Africa AGL training series.mp4 from ADB SAFEGATE on Vimeo.
ADB SAFEGATE provides integrated solutions that raise efficiency, improve safety, boost environmental sustainability and reduce operational costs for airports, airlines and ANSPs. The company works with airports and airlines to solve operational bottlenecks, helping them navigate today's challenges and prepare for tomorrow. Solutions encompass airfield lighting, power and control systems, smart airport and tower software solutions, intelligent docking automation and aftermarket services. With more than 1,200 employees, ADB SAFEGATE serves more than 2,500 airports in more than 175 countries, from the busiest and largest like Atlanta, Beijing, Dubai, Heathrow, Charles De Gaulle, Frankfurt, Istanbul, New Delhi and Changi to fast-growing airports across Asia and Africa.