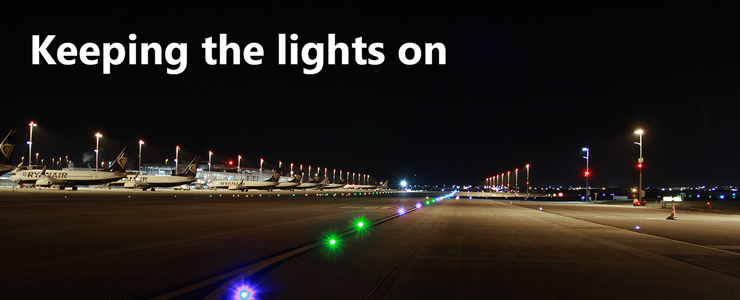 In an executive interview with Airside International, ADB SAFEGATE's Joe Pokoj, COO and Executive Vice President Airfield, and Regardt Willer, CMO and Vice President Airfield, reflect on key AGL projects delivered during the pandemic which have led to new ways of working and bringing the company closer to its customers. They share the company's renewed focus on its core business of airfield with strategic investments in talent, innovation and manufacturing to introduce next generation solutions that will help solve customer challenges and ensure a bright future for aviation.
Published by Airside International Magazine, Winter 2021 – read the full article here.
Keeping the lights on.
Some airfield ground lighting (AGL) projects have gone ahead as planned despite the downturn in the aviation industry and the many social distancing requirements of the pandemic, and the market is not perhaps as depressed for those companies that supply airfield lamps, fittings and other ancillary equipment as might be expected.
ADB SAFEGATE is very much a leading player in AGL provision and system installation, with airfield lighting being an important component of its overall product mix. The company's integrated solutions for the airfield, gate, tower and terminal offer to "raise efficiency, improve safety, boost environmental sustainability and reduce operational costs" for both airports and airlines.
Products across its wide-ranging portfolio are designed to "loosen operational bottlenecks" that exist anywhere from "aircraft approach to departure".
Joe Pokoj was appointed ADB SAFEGATE's global chief operating officer (COO) and executive vice president (airfield) in September (he also retained his previous role of CEO Americas). As the company's COO, Pokoj oversees ADB SAFEGATE's operations in terms of production, supply chain and quality assurance.
Talking to Airside soon after his appointment, Pokoj explained that there had been significant developments at the company in the months leading up to that point, based primarily on changes introduced by Laurent Dubois, who took over as CEO in spring 2020.
Dubois set in motion a restructuring of the business, putting focus on responsibility across all areas of the company, Pokoj explains. He introduced a new senior leadership team that is based on six sales regions alongside a number of different business lines (such as 'gate' and 'airfield') and company functions (such as finance and human resources).
"It's all about accountability and responsibility," Pokoj says. Moreover, the new corporate structure has stimulated greater co-operation and collaboration across the different areas of the company, he believes.
Pokoj's colleague, Regardt Willer, head of ADB SAFEGATE's airfield business line, adds that the new organisational structure has also enabled the company to focus on its core areas of business and its core competencies.
ADB SAFEGATE is a leading provider of intelligent solutions that deliver superior airport performance from approach to departure. The company partners with airports and airlines to analyze their current setup and operations, identify bottlenecks, and jointly solve them using a consultative approach that enables airports to improve efficiency, enhance safety and environmental sustainability, and reduce operational costs. Our integrated portfolio includes solutions and services that harmonize airport performance, tackling every aspect of traffic handling and guidance, from approach, runway and taxiway lighting, to tower-based traffic control systems, and intelligent gate and docking automation. ADB SAFEGATE has more than 900 employees in more than 20 countries and operates in more than 175 countries, serving more than 2,500 airports.