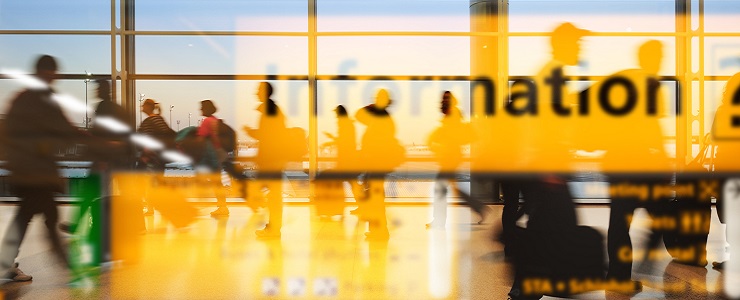 From flight status to gate number, travelers rely on accurate and timely data wherever they are in the terminal. While critical to relaying flight information to passengers, FIDS technology and the content displayed have evolved tremendously through the years to further enhance not only the passenger experience but also overall operation of the airport. 
FIDS leveraged to enhance overall airport experience

Flight information display systems (FIDS) are integral to relaying necessary travel information to passengers throughout their airport journey.
"FIDS, traditionally, was to replace the old fashioned flap boards and display information to the public," relates Jeremy Gilbert, product owner at ADB SAFEGATE Airport Systems. "Then in some airports, that was extended to display information to the airport staff in the back of the house and slowly it's grown from there."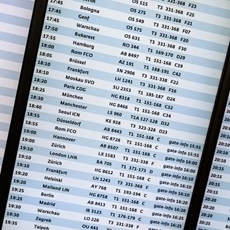 ADB SAFEGATE Airport Systems Flight Information Display (AS-FIDS) is a content visualization communication system that goes well beyond just the display of typical flight-related information, like flight summary, check-in, gate and baggage claim, Gilbert says.                                                                                                                                    AS-FIDS integrates with the Airport Operational Database (AODB), receiving and relaying real-time flight status data in the appropriate language and format to both inform the passenger and enhance the overall passenger experience, explains Gilbert. When passengers have timely, accurate information, even if there a change in flight status, impact on the overall experience is less negative, he adds. "They know what's going on and what to do."
Key to ensuring a positive passenger experience
A comprehensive FIDS deployment is key to ensuring a positive passenger experience, he stresses, and as technology has advanced, the capabilities of FIDS have advanced as well. AS-FIDS can be customized and driven dynamically to provide passengers with a variety of additional content, including security alerts, weather, wayfinding, immigration/security lane information, website feeds, concessions and retail offerings as well as advertising. Information can be relayed in multiple languages and display logos and high definition videos.
AS-FIDS also aids in an airport's compliance with Americans with Disabilities Act (ADA) regulations by displaying visual paging messages. At Minneapolis-St. Paul International Airport, Gilbert says, the Federal Amber Alert system is also integrated to display on the FIDS.
Relaying information through FIDS can also play a role in terminal operations, Gilbert says, in terms of crowd control and flow of passengers through the facility. "Depending on the physical layout, some airports like to keep people centrally by the shops and only send them to the gate when the aircraft is there," he explains.
When travelers have accurate and real-time flight information, they might be encouraged to spend more time and money on retail and concessions at the airport, Gilbert notes. Not only are passengers well-informed, but accurate and timely information ensures the airlines experience fewer delays from passengers arriving late to the gate.
Additionally, with more efficient passenger flow, new revenue opportunities exist through advertising displayed on the FIDS. "A quality FIDS system is dynamically working out what content it needs to display," Gilbert says. "If it doesn't need to display flight information on the screen, it can display advertising, enhancing non-aeronautical revenue."
In the event of an emergency, critical information is relayed through the FIDS system in the same manner as flight information and helps to ensure a measured response from all affected. "We can also then integrate with other emergency systems," Gilbert adds, "so during a fire evacuation, for example, we can blank the screens or display suitable messages to direct people out of the building."
When not displaying critical information, the FIDS displays can also benefit the general ambiance of the airport through eye-pleasing images.
Baggage handling information is integrated as well, providing benefits to both passengers and ground handlers, Gilbert says. Passengers know when and where to collect their bags, while ground crew and pilots receive real-time status updates to ensure efficient operations.
Outside of the terminal, as part of the overall product offering from ADB SAFEGATE Airport Systems, airports can deploy a digital apron, displaying information to ramp workers and pilots. Task management, milestones for fueling and catering completion as well as baggage status can be displayed on the staff FIDS screens, Gilbert notes.
Expert Installation, Customized Experience
ADB SAFEGATE Airport Systems' extensive experience means a flexible and configurable product deployment designed to meet a client's unique requirements and budget, Gilbert notes, and includes installation and employee training.
For example, at London-Heathrow Airport, ADB SAFEGATE Airport Systems delivered a comprehensive FIDS system that includes more than 2,800 displays throughout the facility, a flexible staff information system as well as the design and implementation of the FIDS tree concept. From the airline side, Delta Air Lines relies on AS-FIDS across 23 of its United States airport terminals.
AS-FIDS technology is "very mature" relates Gilbert and all configurable through timing rules set by the airport. With user-friendly display screens and device management options, users can add, modify and delete display screens and organize them into zones to represent various parts of an airport, ensuring easy visual media management.
Additionally, the administrator can search for a specific device in the system and manage specific items in a zone to view the FIDS page that is currently on display in that location, monitor the display device and detect alarms raised location of any failed devices.
An easy and intuitive page design allows users to customize display features, such as color, layout, fonts and format of the text, including right to left scrolling. Messages can be programmed to be broadcast based on priority, length of time to be displayed and paging zones.  An easy-to-use interface allows for quick updates, which can be viewed in real-time, but appear only on display screens after the page has been saved to the database.
The Future of FIDS
While the AS-FIDS is currently windows-driven, Gilbert says his team is developing a web-based system, designed to save clients costs on hardware, infrastructure and reduce the overall environmental footprint. He explains, "once you're driving an application in a browser, it's much easier to become more of a content management system, rather than specifically a FIDS system." For the operations side, the web-based offering will deliver content directly to staff via mobile devices, Gilbert adds.
ADB SAFEGATE is a leading provider of solutions that boost efficiency, improve safety and environmental sustainability, and reduce operational costs for airports and airlines worldwide. Its solutions tackle every aspect from approach to departure – airport traffic handling, airfield lighting, tower-based traffic control systems, gate and docking automation, services and advanced analytics – to increase airport performance. ADB SAFEGATE has more than 1,000 employees in more than 20 countries and operates in more than 175 countries, serving more than 2,500 airports.