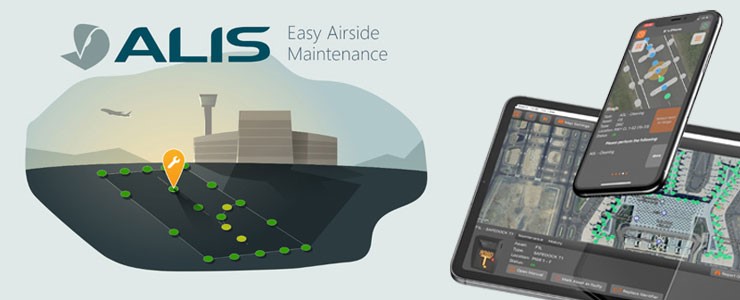 Imagine simplifying airside maintenance by digitally registering airfield and gate assets, electronically scheduling and tracking maintenance, and recording maintenance and inspection tasks – all in one cloud-based subscription. Airports can have all that and more with ALIS, ADB SAFEGATE's Airside Location-based Inspection and Service solution.
ALIS's core functions bring visibility, work order management and reporting to airside maintenance as well as new opportunities for airside asset maintenance, including lights, signs, regulators and docking systems. ALIS helps airports plan and schedule airfield and gate preventive maintenance more easily, implement corrective maintenance more quickly, reduce downtime and significantly improve operational availability. The cloud-based solution replaces manual, paper-based systems to enable a more reliable and fail-safe approach to collaboration between maintenance teams, managers and even airside operations by improving visibility and eliminating inefficiencies caused by human error.
>> Discover more on our ALIS microsite.

New pricing model designed to fit any budget.
A new pricing model makes ALIS more affordable than ever and able to fit any maintenance budget by offering the basic ALIS solution for free. And, through 2021, airports can try out new functionalities and add-on features free for 90 days! This free trial is an excellent way for airports to kickstart their digital transformation journey for airside asset maintenance. After the 90-day trial, subscribers can choose to continue with the free ALIS basic version or sign up for any add-on features, such as photometric data imports or ALIS on-site, at a low monthly subscription price.

Learn more about what's included in the free version and how to upgrade your experience with some essential add-ons by checking out the ALIS microsite.
Standard product data sheets for ALIS can be found in the product center on the main ADB SAFEGATE website.
ADB SAFEGATE provides integrated solutions that raise efficiency, improve safety, boost environmental sustainability and reduce operational costs for airports, airlines and ANSPs. The company works with airports and airlines to solve operational bottlenecks from approach to departure. Solutions encompass airfield lighting, tower-based traffic control systems, intelligent docking automation and services, as well as applying advanced IT and analytics to deliver industry-leading Total Airport Management. For more information about ADB SAFEGATE, please visit our website at adbsafegate.com.