Join ADB SAFEGATE at this year's Australian Airports Association's (AAA) National Conference and Industry Expo in Adelaide. The theme of the year is Connecting the Future and at ADB SAFEGATE we are excited to contribute with Airfield 4.0. What is it? Why is it important? What are the key technologies? If you want to find out more about Airfield 4.0 – Come visit us at booth 63 & 64 or listen to Taylor Diao´s presentation about Airfield 4.0!
The AAA National Conference will showcase diverse and far-reaching repercussions the airport industry will face over the next decade and focus on challenges and risks facing the industry, sustainability, the customer experience, technology and more.
The theme of this year´s Conference is Connecting the Future — with our community, the travelling public and our peers.  To highlight these themes, The AAA National Conference features a three-day program and exhibition which will include plenary sessions, case studies and concurrent breakout sessions. Day three on the event is given the name "the Technical Day" and on this day, ADB SAFEGATE´s Taylor Diao will present Airfield 4.0.
Harnessing smart technologies to revolutionize airfield operations
From ADB SAFEGATE´s side we see Airfield 4.0 as the core of future air travel. Intelligent hardware devices – equipped with the right-sized wireless medium for communication, together with AI-enabled analytics – are set to take operations and situational awareness to a whole new level. We envision smart interconnected airfield assets that result in predictive maintenance operations, providing an end-to-end collaborative solution.
• What is Airfield 4.0?
• Why is Airfield 4.0 important?
• What are the key technologies in Airfield 4.0?
Visit the event on November 17th and listen to Taylor Diao´s presentation "Airfield 4.0 – harnessing smart technologies to revolutionize airfield operations" and you´ll find the answers you need for smarter airfield operations.
You´ll find us at booth 63 and 64 at the Adelaide Convention Centre. See you soon!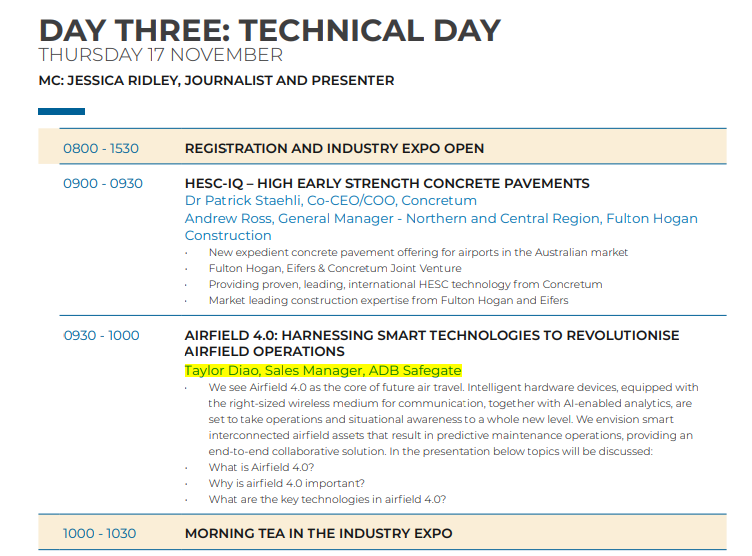 ADB SAFEGATE is a leading provider of solutions that boost efficiency, improve safety and environmental sustainability and reduce operational costs for airports, airlines and ANSP's. The company works with customers to identify performance bottlenecks and jointly solve them through integrated solutions that improve airport and airline performance. These solutions address every aspect from approach to departure – airport traffic handling and guidance, airfield lighting, tower-based traffic control systems, intelligent gate and docking automation, services and advanced analytics. ADB SAFEGATE has more than 1,100 employees across 45 nationalities in 25 countries, and operates in more than 175 countries, serving more than 2,500 airports globally, from the busiest and largest like Atlanta, Beijing, Dubai, Heathrow, Charles De Gaulle, Amsterdam, Frankfurt, Istanbul, New Delhi and Changi, to fast-growing airports across Asia and Africa.