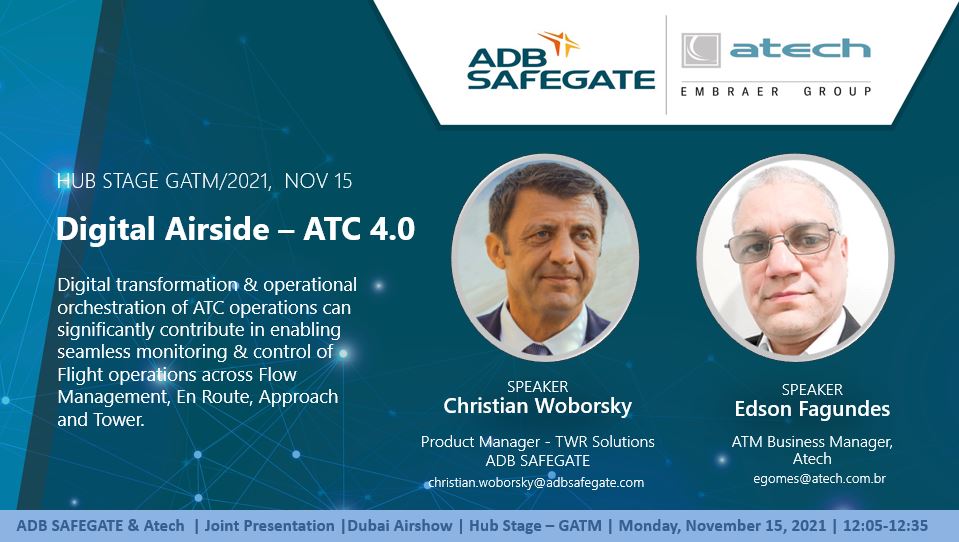 DUBAI AIRSHOW. Christian Woborsky from ADB SAEGATE and Edson Fagundes from Atech vill give a joint presentation at the Dubai Airshow. Join us on November 15 at the GATM Hub Stage when this experienced team will deep dive into Digital Airside – ATC 4.0.

The Dubai Airshow returns for its 17th edition from 14-18 November 2021 at DWC, Dubai Airshow Site. The event to be held in a live format will be the most important and critical point of convergence in 2021 where the future of the global aerospace industry will be showcased and analysed.
Attendees from all over the world will meet on Monday November 15 to discuss best practices on how to make the aviation world not just safe but more connected. On the Hub Stage for Global Air Traffic Management (GATM),  ADB SAFEGATE´s Christian Woborsky will give a joint presentation with Edson Fagundes from Atech. The topic is Digital Airside – ATC 4.0.

Find the full agenda for the Hub stage – GATM here.

Dubai Airshow introduces a host of free-to-attend conferences featuring 150+ industry experts that will share invaluable insights and trends across 9 tracks including cargo, sustainability, technology, and space among others.
Read more and register here >>
ADB SAFEGATE is a leading provider of intelligent solutions that deliver superior airport performance from approach to departure. The company partners with airports and airlines to analyze their current setup and operations, identify bottlenecks, and jointly solve them using a consultative approach that enables airports to improve efficiency, enhance safety and environmental sustainability, and reduce operational costs. Our integrated portfolio includes solutions and services that harmonize airport performance, tackling every aspect of traffic handling and guidance, from approach, runway and taxiway lighting, to tower-based traffic control systems, and intelligent gate and docking automation. ADB SAFEGATE has more than 900 employees in more than 20 countries and operates in more than 175 countries, serving more than 2,500 airports.