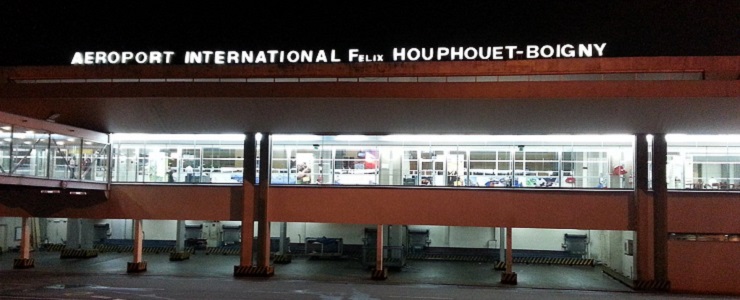 With an expanding portfolio which now includes runway lighting, docking guidance and control tower systems and other state-of-the-art technologies, ADB SAFEGATE has become a key partner for airports on this continent. One such airport is Félix-Houphouët-Boigny International Airport in Abidjan for which Gilles Darriau, General Director of AERIA, and Alexander Herring, Regional Sales Director Africa and Managing Director ADB SAFEGATE South Africa, have great ambitions. What are these ambitions and how can they be achieved? An interview with two people who are passionate about the industry.

What is your vision for Abidjan Airport?
Gilles Darriau: "We would like to consolidate its position as the leader in West Africa and a key Pan-African hub, particularly thanks to the company Air Côte d'Ivoire. Its central geographical position between West, Central and East Africa also plays an important role here."
Alexander Herring: "This is an airport which underwent modernization in 2012 and has since doubled its passenger numbers to more than 2 million in less than five years. In the future, it will be among the top 20 airports in Africa. It is a key hub not only for the sub-region but also for intercontinental flights to Europe, the Middle East and, most recently, to New York too which means that Ivory Coast is now connected to the United States. Various modernization and construction projects are under way and these too offer huge potential for the future."
What are the challenges?
Gilles Darriau:  "Traffic must be high enough to fill the planes with regard to both models, whether point-to-point or hub-and-spoke. The infrastructure at the airport must also be able to cope with the extremely high levels of traffic at a hub where planes are landing and taking off almost simultaneously. I should also point out that integrated management of the various departments (runways, terminal, control tower) plays a crucial role when it comes to optimizing plane movements on the runway from the approach to the final disembarkation."
How can ADB SAFEGATE help to achieve these plans?
Gilles Darriau:  "I regard ADB SAFEGATE as a facilitator. Thanks to the company, we have a high-quality runway lighting system as well as docking guidance systems to help with docking on passenger boarding bridges. A study looking at the installation of extra docking guidance systems is under way and an ASECNA AERIA working group has been created."
Alexander Herring: "We are keen to strengthen our already close links with Abidjan Airport. It should also be noted that the airport operates an ADB SAFEGATE runway lighting system and it was the first to be equipped with ADB SAFEGATE T1 docking guidance systems in order to make the turnaround even more efficient, especially with the arrival of the first A380 flight in West Africa on February 10, 2014. For us, having a genuine partnership with the airports is the key to success. Especially now that areas that were once very separate are becoming more and more integrated. We have put in place a team that is responsible for assessing the vast African market and its many growing airports. This dynamic and professional team operates from various sites in Brussels, Paris, Hamburg, Johannesburg and Cape Town. Hervé Daligaux is the commercial manager responsible for French-speaking Africa. He is following developments at Abidjan Airport."
ADB SAFEGATE is a leading provider of solutions that boost efficiency, improve safety and environmental sustainability and reduce operational costs for airports, airlines and ANSP's. The company works with customers to identify performance bottlenecks and jointly solve them through integrated solutions that improve airport and airline performance. These solutions address every aspect from approach to departure – airport traffic handling and guidance, airfield lighting, tower-based traffic control systems, intelligent gate and docking automation, services and advanced analytics. ADB SAFEGATE has more than 1,100 employees across 45 nationalities in 25 countries, and operates in more than 175 countries, serving more than 2,500 airports globally, from the busiest and largest like Atlanta, Beijing, Dubai, Heathrow, Charles De Gaulle, Amsterdam, Frankfurt, Istanbul, New Delhi and Changi, to fast-growing airports across Asia and Africa.